HTPC Credentials
The GIGABYTE GB-BXi7-4500U is a compact PC, but, thanks to the 15W TDP CPU inside, it doesn't require a noisy thermal solution like what we saw in the BRIX Pro and BRIX Gaming units. With the latest BIOS version, the fan curves have been improved and the unit is silent for most common HTPC use-cases. Only under heavy CPU / GPU loading does the fan become audible. From a subjective viewpoint, one could say that it has worse acoustics compared to the Intel NUC kit (probably due to differences in the chassis materials and thickness). However, as mentioned before, it still makes a good HTPC for folks who don't want to pay the premium for a passively cooled system.
Refresh Rate Accurancy
AMD and NVIDIA have historically been able to provide fine-grained control over display refresh rates. The default rates are also quite accurate. Intel used to have an issue with 23 Hz (23.976 Hz, to be more accurate) support, but that was resolved with the introduction of Haswell. As expected, the GIGABYTE GB-BXi7-4500 has no trouble with refreshing the display appropriately in the 23 Hz setting.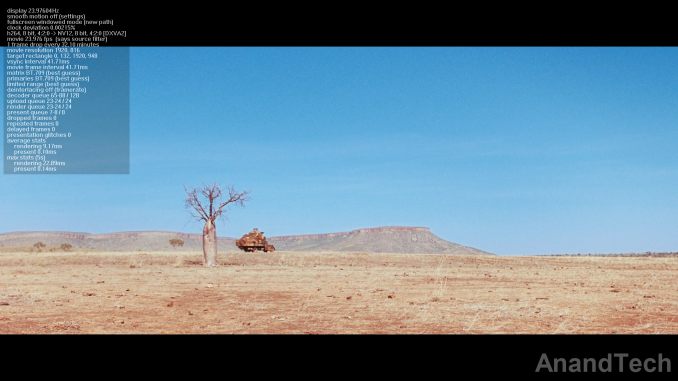 The gallery below presents some of the other refresh rates that we tested out. The first statistic in madVR's OSD indicates the display refresh rate.
Network Streaming Efficiency
Evaluation of OTT playback efficiency was done by playing back our standard YouTube test stream and five minutes from our standard Netflix test title. Using HTML5, the YouTube stream plays back a 720p encoding, while Adobe Flash delivers a 1080p stream. Note that only NVIDIA exposes GPU and VPU loads separately. Both Intel and AMD bundle the decoder load along with the GPU load. The following two graphs show the power consumption at the wall for playback of the HTML5 stream and the Adobe Flash stream in Mozilla Firefox v32.0.1. The i5-equipped Intel NUC is obviously more power efficient thanks to its lower clocks. The GPU is hardly stressed enough for the higher clocks to make a difference. For the HTML5 streaming case, GPU-Z reported an average utlization rate of 16.85% over the course of playback. The reuivalent for the Adobe Flash streaming case was only 8.3%. The increased loading in the former case could be due to the need to scale the 720p video for display on a 1080p screen.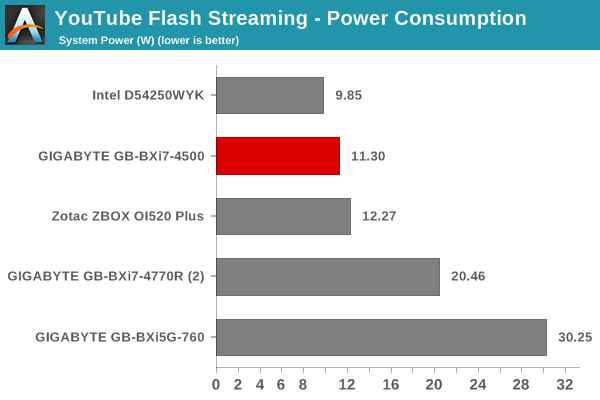 Netflix streaming evaluation was done using the Windows 8.1 Netflix app. Manual stream selection is available (Ctrl-Alt-Shift-S) and debug information / statistics can also be viewed (Ctrl-Alt-Shift-D). Statistics collected for the YouTube streaming experiment were also collected here. The GPU loading for the Netflix streaming case was quite interesting to observe. For non-SuperHD bitrates (such as the 1750 kbps 480p version), the utilization varied between 7.38% and 9.72%. However, once the 5.8 Mbps 1080p stream took over, the loading reduced to 3.22% (indicating that scaling the decoded video was the factor keeping the GPU busy).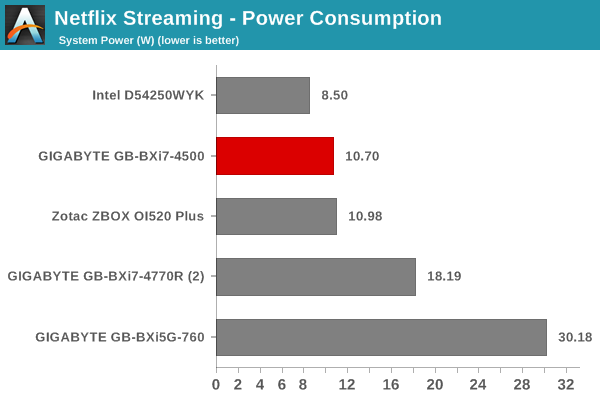 Decoding and Rendering Benchmarks
In order to evaluate local file playback, we concentrate on EVR-CP and madVR. We already know that EVR works quite well even with the Intel IGP for our test streams. We tested out native DXVA2 decoding with EVR-CP. Under madVR, we used the default scaling options as well as DXVA2 scaling logic (as it is well known that the stressful configurations don't work even on the Iris Pro-equipped processors). The decoder used was LAV Filters bundled with MPC-HC v1.7.7
GIGABYTE GB-BXi7-4500 - Decoding & Rendering Performance
Stream
EVR-CP
madVR - Default
madVR - DXVA Scaling
GPU Load (%)
Power (W)
GPU Load (%)
Power (W)
GPU Load (%)
Power (W)
480i60 MPEG2
22.83
12.73
73.26
18.65
54.41
16.78
576i50 H264
20.47
12.43
68.87
20.62
56.07
17.03
720p60 H264
27.12
14.14
73.07
27.51
63.80
19.30
1080i60 MPEG2
29.36
14.94
49.21
20.94
71.32
29.15
1080i60 H264
30.50
15.34
46.83
22.94
70.16
29.44
1080i60 VC1
29.69
15.10
48.77
21.09
69.80
29.48
1080p60 H264
31.01
15.32
70.12
26.36
68.44
29.37
1080p24 H264
12.41
12.31
25.03
13.86
29.17
15.04
4Kp30 H264
28.78
16.08
47.55
30.89
69.03
35.31
Entries in bold in the above table indicate failure to playback the stream at the required frame rate with the corresponding post processing options. The GB-BXi7-4500U is not a madVR machine for high frame rate materials, but, for odinary Blu-rays (1080p24), it is more than capable.