A Closer Look
One major upgrade over the Vengeance K60 is the inclusion of backlighting. The silver version of the Vengeance K70 has blue LEDs installed, while the black versions come with red LEDs. Every typical key has one LED installed beneath it, illuminating both the major and minor character, with the sole exception being the Space Bar. In order to improve the uniformity of the backlighting, Corsair added two stand-alone LEDs beneath the Space Bar. This definitely helps aesthetically but the backlighting of the Vengeance K70 is perceptibly uneven, which is natural for a construct of multiple-point lighting and without a reflective background. This is a problem with all such keyboards but the "levitating" design of the Vengeance K70 enhances the effect. Furthermore, most manufacturers install highly reflective surfaces beneath the keys in order to reduce the problem and the black anodized aluminum body of the Vengeance K70 is not up to the task.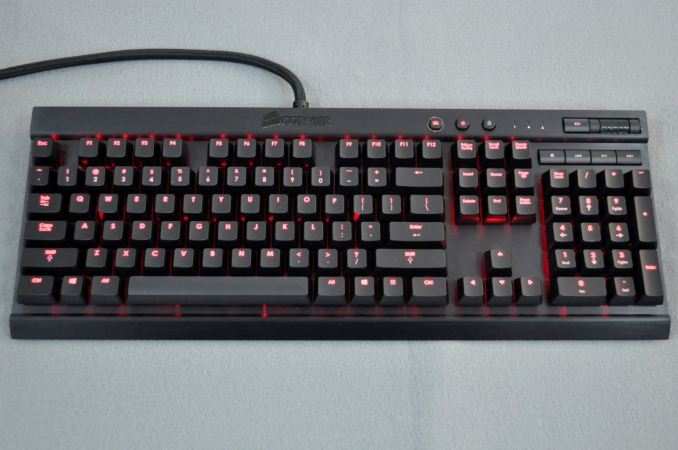 As expected, beneath every keycap is a Cherry MX mechanical switch, even under the longer keys. Cross type supports can be found under the five long keys (Space, Shift, Enter and Backspace), which prevent the keys from wobbling and give the Vengeance K70 a very robust feel. Red Cherry MX switches are very soft and linear, Brown are soft with a very light and noiseless tactile feeling, while Blue are similar to the Browns but have a strong and raucous tactile feedback instead.
There is a lot of marketing hype going around about which switch is better for gaming, typing, and overall use. We strongly believe that there is no single switch that is right for everyone—it simply is a matter of personal preference. For example, there are gamers that prefer the tactile Blue switches over the linear Red switches and typists that enjoy the comfort of the Red switch over the noisy Blue switch. There are even gamers that do not prefer mechanical switches and would rather use rubber dome switches.
Ultimately, the choice of switch should be based entirely on the personal preferences of each user. Unfortunately, that makes first time mechanical switch keyboard purchases a bit tricky. If you have no experience with mechanical keyboards and do not know which switch is right for you, you could acquire a tester board before your final selection. It won't really let you experience actual typing/gaming, and as such it would be better if you could get hands-on time with several keyboards with the different switches, but at least the tester board will let you feel/hear what the switches are like.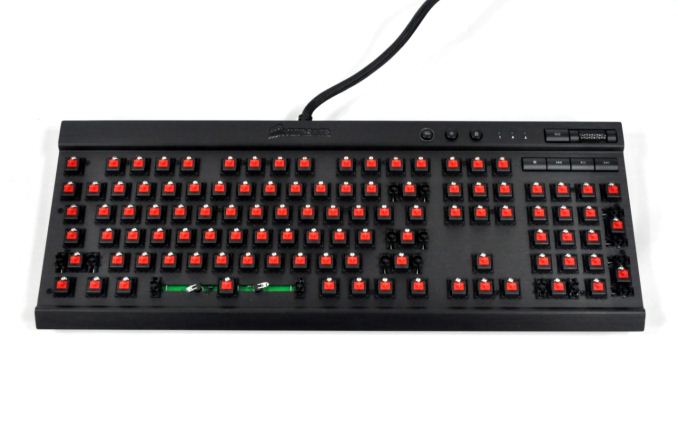 Quality-wise, the Vengeance K70 is one of the best made keyboards that we have ever seen. The aluminum chassis offers excellent mechanical strength and the plastics are of very high quality. Inside the keyboard, we discovered a very clean assembly accompanied by a textbook soldering job. A Freescale MC9S08JM32 Microcontroller and a Holtek HT1632C LED driver are the heart of the Vengeance K70.
Final Words
Performance is a qualitative factor when it comes to keyboards, almost exclusively depending on the keys used and the features that the user requires. Beyond that, few quantifiable figures can be used to measure the performance of a keyboard, with the key rollover being perhaps the only exception. The Corsair Vengeance K70 supports n-key (infinite key) rollover, meaning that you can press virtually any number of keys simultaneously and every single one of them will register.
While this is true, as the Vengeance K70 registered all 12 keys that we pressed simultaneously, given human beings are limited to ten fingers anything above this level is practically useless under in most circumstances—even if you were to play a split-screen game with two people using one keyboard, it is unlikely you'd need more than 10-15 keys (and getting that many fingers on a single keyboard is going to be very crowded). We also found no key combinations that would cause the keyboard to "ghost" (i.e. not register the keystrokes), something that gamers will be really glad about. In terms of feel and quality, the Corsair Vengeance K70 also scores very high, being one of the most robust and consistent keyboards that we have ever used.
Where the Vengeance K70 does not fare well at all is on versatility and software—there is none. There are no macro keys and no programming capabilities at all, leaving the Vengeance K70 without any advanced keyboard capabilities. With a price tag of $129.99 at the time of this review, the Vengeance K70 feels more like an overly glorified simple keyboard and less of a product designed for advanced users. If you simply enjoy simplicity and do not care about having programmable keys or macros, the Vengeance K70 is one of the highest quality products that money can buy, albeit for a hefty price tag. For those that merely need macro keys, Corsair retails the Vengeance K95, an extended version of the K70 with eighteen programmable keys on its left side, which however only comes with Cherry MX red switches and with an even heftier price tag of $179.99. If however you want/need something more advanced, you might want to wait a few months for the MX RGB versions of the Vengeance K70/K95, as they will include advanced features (at higher prices than the standard models reviewed here).