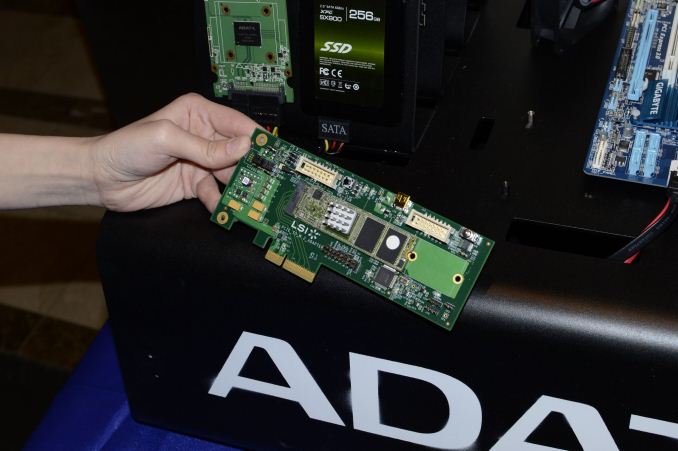 Visiting any of the former RAM companies these days usually results in the same result: lots of SSDs, with RAM still there in the background and maybe PSUs and some other accessories thrown in for good measure. ADATA is no exception, and like many they're working on getting SSDs with LSI's new SF-3700 controller out the door. From what I've heard, that won't happen until June or later most likely, but performance is looking good – at least for the PCIe-based solutions. ADATA was showing maximum transfer rates of over 1800MB/s, though obviously there's more to it than that, like random IO and worst-case response times. It appears tuning of the latter is a big part of what is holding back the launch, given ADATA's demo shows an average response time of 8.4ms with a maximum response time of…35685ms. Hmmm…you think a 36 second pause in the middle of heavy IO might represent a bug that needs to be worked out? Hahaha….
Besides the typical SSDs, ADATA had a few other SSD items on display, like a PCIe x4 card with SF-3700. More interesting perhaps was the XU41 SI-uSSD, a "micro SSD" designed to be surface mounted by system integrators. It's a 16x20mm BGA package available in capacities ranging from 8GB up to 128GB (in powers of two), and ADATA rates it at 20K IOPS and 400/180MB/s read/write. In the right hands this could be a great solution for something like a tablet or laptop (assuming power use is where it needs to be), perhaps as a less expensive alternative to M.2 drives. We'll have to see how much traction ADATA can get for the idea. Elsewhere, ADATA had a Steam Machine from one of the boutiques in their suite, using an ADATA SSD of course. Sony is apparently also using M.2 PCIe SSDs from ADATA in their VAIO Pro 13, which I reviewed last year.
Moving on to the other stuff, there were power banks of varying styles ranging in terms of capacity and features, a wireless charging station, a selection of potential memory heat spreader colors (feel free to comment on your favorite, as ADATA was asking for feedback – I thought the purple was pretty striking, especially next to the purple roll-cage case), and last but not least is the DashDrive and DashDrive Air products. The former is typical USB storage, while the latter combines a power bank and a WiFi hotspot/repeater with optional USB storage. I've played around with the AE400 a bit, and it basically works as advertised, though using it in saturated 2.4GHz environments (like CES) is just asking for trouble. The AE800 adds a built-in 2.5" drive bay with support for up to 500GB of storage, though presumably with 2TB 2.5" drives now shipping those could work as well.