GIGABYTE F2A85XN-WiFi In The Box
Most mini-ITX motherboards on sale today implement the cost-down strategy: the main feature of the package is the motherboard, and extras in that package should be minimal to keep the costs down or push the motherboard into the category below. Unless the motherboard is aimed at a particular market (gamers), mini-ITX owners will not get many platform-specific extras (USB 3.0 brackets etc). The F2A85XN-WiFi is no exception to this, as we get:
Rear IO Shield
Manual
Driver CD
WiFi Driver CD
Two SATA Cables
WiFi Antenna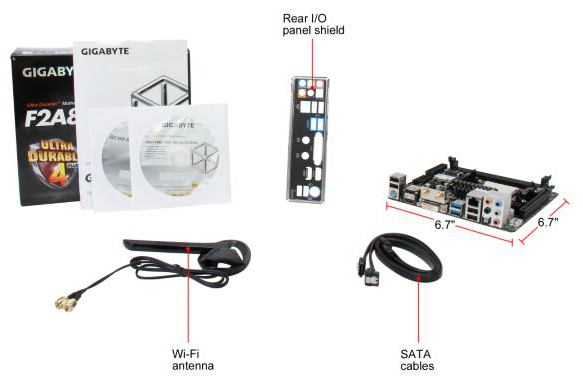 The WiFi antenna is a different design to previous GIGABYTE WiFi models, offering a single adjustable ring platform antenna to increase signal strength and range. Aside from this, there is little to add cost to the SKU.
GIGABYTE F2A85XN-WiFi Overclocking
Experience with GIGABYTE F2A85XN-WiFi
Overclocking a mini-ITX motherboard is often mildly amusing, given the propensity for manufacturers to use a varying standard of power delivery, and/or the space for efficient cooling is perhaps not up to standard. This GIGABYTE motherboard however is set using 40A IR 3550s, the smaller current PowIRStages used from the bigger high-performance brethren. This offered a chance to push the system, even if it was my first overclocking experience with Richland.
In terms of overclocking experience, the automatic overclock options were random at best, with all three causing issues with EasyTune6: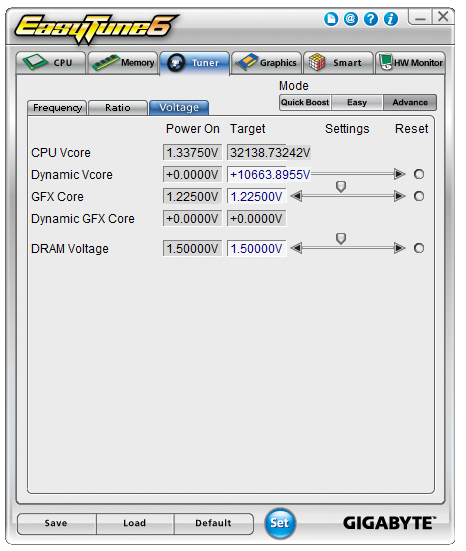 CPU speed also seemed to jump around at stock (no XMP):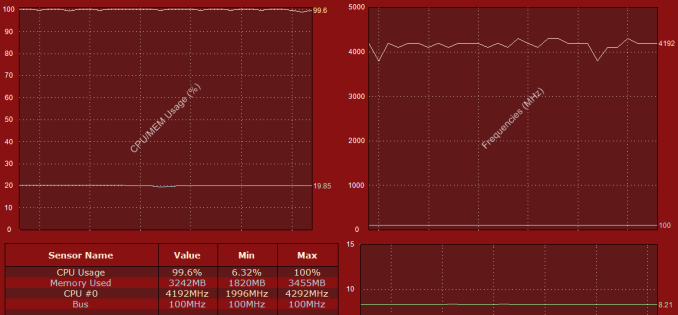 Resulting in perhaps lower results than expected for our stock benchmarks.
Using the insights gained from automatic overclocking, the manual overclocks performed a lot better. We were able to go through a large amount of overclock at just over stock voltage, before our CPU struggled with 5 GHz, but gave 4.9 GHz stable as a rock.
Methodology:
Our standard overclocking methodology is as follows. We select the automatic overclock options and test for stability with PovRay and OCCT to simulate high-end workloads. These stability tests aim to catch any immediate causes for memory or CPU errors.
For manual overclocks, based on the information gathered from previous testing, starts off at a nominal voltage and CPU multiplier, and the multiplier is increased until the stability tests are failed. The CPU voltage is increased gradually until the stability tests are passed, and the process repeated until the motherboard reduces the multiplier automatically (due to safety protocol) or the CPU temperature reaches a stupidly high level (100ºC+). Our test bed is not in a case, which should push overclocks higher with fresher (cooler) air.
Automatic Overclock:
Using the EasyTune6 overclock options: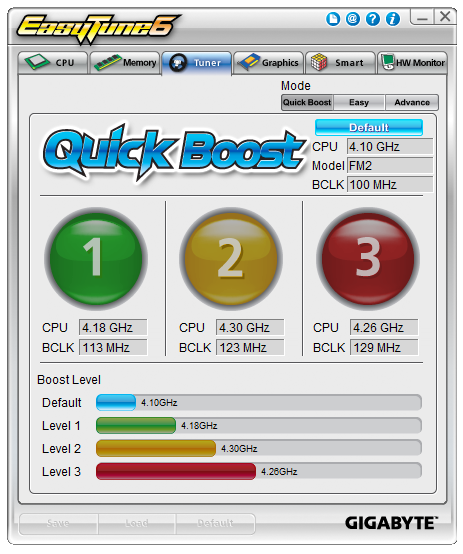 QuickBoost Level 1 was not the 4.18 GHz overclock listed above – we got a 41x106.5 overclock, giving 4366.5 MHz and a load voltage of 1.308 volts. While this gave a PovRay peak score of 759.53, it BSODed quickly while running OCCT.
QuickBoost Level 2 was also a little off, giving a 34x124.82 overclock (4243 MHz). This gave a load voltage of 1.440 volts, a PovRay score of 748.09 and a peak OCCT temperature of 51C.
QuickBoost Level 3 followed a similar tack, giving a 33x131 overclock (4323 MHz). This gave a load voltage of 1.440 volts, a PovRay score of 763.28 and a peak OCCT temperature of 50C.
Manual Overclock:
For our manual overclocks, CPB was disabled in the BIOS and the CPU ratio was manually adjusted. We start at the 40x multiplier and at 1.400 volts, with no changes to LLC. Here are our results: