In and Around the Mythlogic Callisto 1512
In my introduction, I pointed out that SIs like Mythlogic are at the mercy of ODMs like Clevo, MSI, and Compal for notebooks. Sometimes we get compelling products; there's been an ebb and flow in the primary retail sector where none of the major vendors were really serving the customers that boutiques could. Vendors weren't shipping notebooks that had decent graphics hardware or quality displays, and this was where boutiques could make up the difference. While it's still largely true, there are enough solid offerings from companies like ASUS, Samsung, and Dell to cover these bases that Clevo can't get away with just showing up anymore.
I can't throw Mythlogic under the bus when the problem is (and historically has been) Clevo. The Clevo W550EU that Mythlogic sells as the Callisto 1512 is the same hardware-in-a-candy-shell that Clevo chassis often are. Dull, gunmetal gray matte plastic is used for the entire shell save the bottom and the display bezel, which employ garden variety black matte plastic. I can at least be thankful there's no glossy plastic to be found anywhere on the W550EU. The lid has a brushed aluminum pattern to it that belies the dreary interior, and the silver Mythlogic logo is attractive without being ostentatious.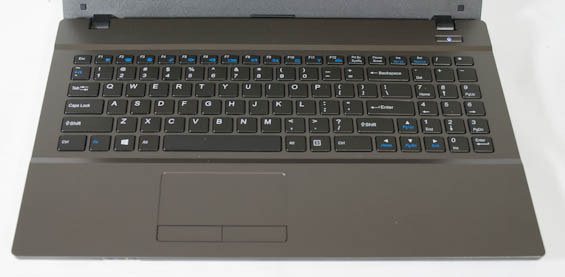 As I said, though, the interior of the W550EU is utterly devoid of style. This is an inherent problem all the Taiwanese ODMs have: either obscenely bland, chintzy, and style-free (Clevo and Compal), or gaudy to the point of delerium (MSI). Clean, elegant, attractive designs are rarefied. We're also stuck with the old style Clevo keyboard, but its sins are compounded by mushy tactile response that's somehow worse than many of the thinner ultrabooks I've recently tested. That's despite having enough Z-height to allow for better key action. The touchpad itself is, as I often lament, part of the same piece of plastic as the inner shell, just slightly bevelled. Thankfully it's not a clickpad; we get two dedicated mouse buttons.
I don't like dragging Mythlogic or any other boutique through the mud. They need to offer a product, this is what they've been provided by the ODMs, and the best way to lose the game is not to play. I just wish they could collectively go back to the ODMs and dress them down a bit. It's unfortunate there's nothing they can really do, and while the W550EU isn't terribly built, it's hard to recommend it when Dell is willing to sell you a far better designed and assembled XPS 15 for around the same price.