Application and Futuremark Performance
As the mobile benchmarking suite has been updated recently, the desktop suite is going right along with it. Thus there may not be quite as many comparison points between the Puget Systems Genesis II Quiet as we'd like, but enough to at least get a feel for how the system performs.
This is the second dual-CPU workstation we've tested; the Lenovo ThinkStation D30 is the first, and features two faster Xeons owing to their higher 150W TDPs.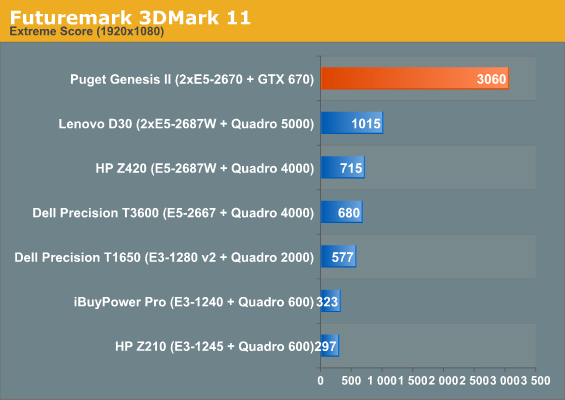 In terms of pure graphics performance, the GeForce GTX 670 is miles ahead of the anemic stripped down GF100 powering the Quadro 5000 in the Lenovo D30, but remember that this is a consumer card competing with a series of workstation cards. PCMark continues to be limited principally by storage performance and clock speed.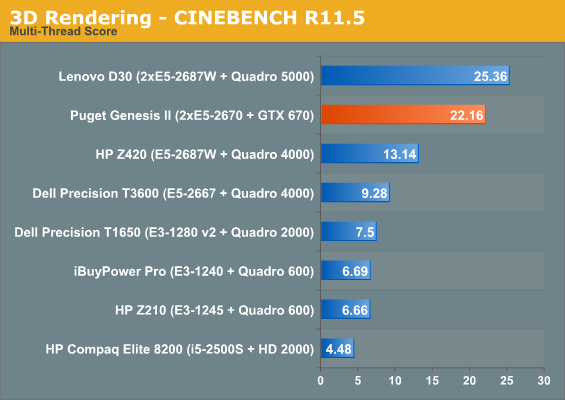 In multi-threaded testing, everything lines up as it ought to. The two octalcore Xeons in the Genesis II are incredibly fast, but the D30's are faster.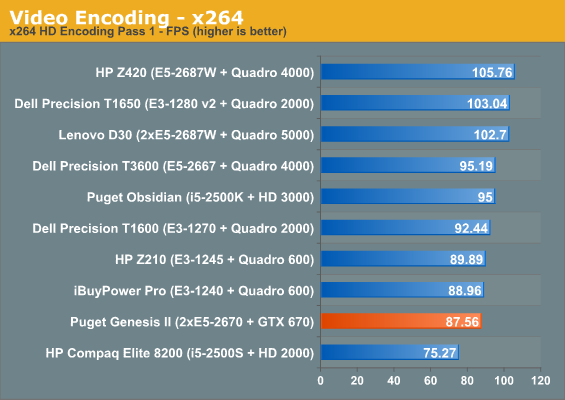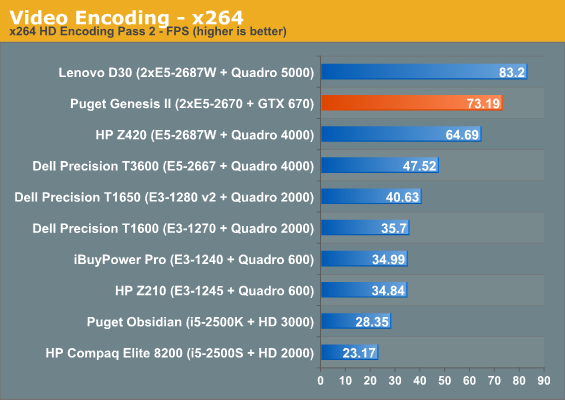 Our original x264 encoding test demonstrates about what we'd expect. The initial pass is not as heavily threaded as the second, and benefits more from high clock speeds than copious core counts. When we can leverage the additional throughput in the second pass, the Genesis II surges forward.
This is as good a time as any to point out why $4,000 of eight core Xeons are for very specific tasks, and why we haven't seen (and may not see for some time) an enthusiast-class octalcore i7. More cores mean more heat, which means reduced clocks. Six cores (twelve threads) have been, in my experience, about the limit for what a consumer or even prosumer can really take advantage of, and quad cores really are excellent for almost everyone in that class. This isn't one of those "better to have it and not need it than need it and not have it" situations, either; as the test results for x264 and PCMark 7 demonstrate, if your workload can't take advantage of the extra cores you've effectively left performance on the table by going for more cores instead of fewer, faster ones. That's why you're seeing dual-CPU workstations but virtually no dual-CPU enthusiast machines.