Conclusion: Successful for It's Intended Purpose
If you're looking for a small fanless PC, there's typically a good reason why. It goes without saying that the CompuLab Intense PC isn't for everybody, or even for the majority of users, but it definitely serves its purposes. Like the fanless Logic Systems LGX AG150 we tested, the Intense PC can handle kiosk duty, but its more burly chassis also lends itself well to industrial environments, and it's more customizable as well. The front of our review unit features four USB 2.0 ports, but CompuLab offers alternative "FACEs" which can change the connectivity of the unit. That includes adding more gigabit ethernet ports, which can allow the Intense PC to operate as a heavy duty router or server.
Where things get hazy is the price tag. The 2-year warranty is good but not earth shattering for what's essentially a business-class product, and if you want this bad boy shipped with Windows you might be paying a premium. The LGX AG150 can be had for $409 with Windows 7 32-bit, but an Intense PC with a Celeron will cost you $549 before you even add in a Windows license. The LGX AG150 also ships with an SSD standard, something CompuLab can't claim.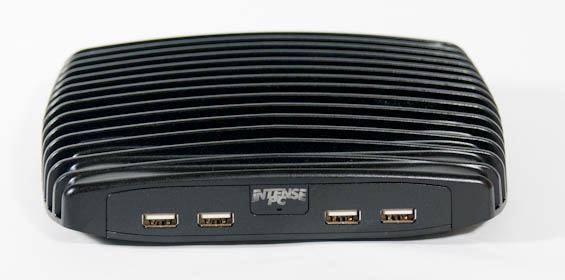 Thankfully for CompuLab, they're not in the most direct of competition. If barebones x86 performance is where you need to be, the LGX AG150 will take care of you, but if you need some horsepower or a more rugged build, you're already looking at the Intense PC. The Intense PC also offers substantial customization options. If you need more performance and are willing to sacrifice complete silence and some durability, Lenovo's ThinkCentre M92 Tiny is also a solid alternative. My point is that while each of these systems has something to recommend it, none of them directly outclass each other.
I'm almost getting tired of saying this in reviews, but I've handled a lot of specialized kit and the Intense PC is no different. You already know if you were in the market for something like this, and the information you needed was just if it worked and how well it worked. I'm pleased to report it works and works well, and while you do lose a small chunk of the performance you might have expected from the i7, it's otherwise a fine and solid product. If you need it, and the price is not an object, the CompuLab Intense PC will serve you well.
Update: The mini-PCIe slot does support mSATA. The i7-3517UE is also 200MHz shy of the stock i7-3517U, so the performance drop is actually a more reasonable one.