The Display
The Note 8.0 holds a slight pixel density advantage over the iPad mini (189 ppi vs. 163 ppi). Just like the earliest Android tablets that held a similar pixel density advantage (~13%), the improvement is noticeable. At the price point and device size however, the Note 8.0 remains under-specced. Just as the iPad mini would benefit from a Retina class display, the Galaxy Note 8.0 could use a 1080p panel as well. Given we're seeing flagship ~5" Android smartphones ship with 1080p displays, a flagship 8" tablet should meet the same criteria.
Unfortunately one of the hallmarks of TouchWiz is that all icons and widgets are considerably larger than they are under iOS, which results in a lot of wasted space on the 8-inch 1280 x 800 display. Despite having a larger display, higher resolution and higher pixel density, I feel more cramped on the Galaxy Note 8.0 than I do on the iPad mini. I understand this is a conscious design decision by Samsung and I can definitely see larger icons, fonts and touch targets resonating very well with certain demographics, but at the same time I believe the design decision flies in the face of what Samsung is hoping to accomplish with the Note family.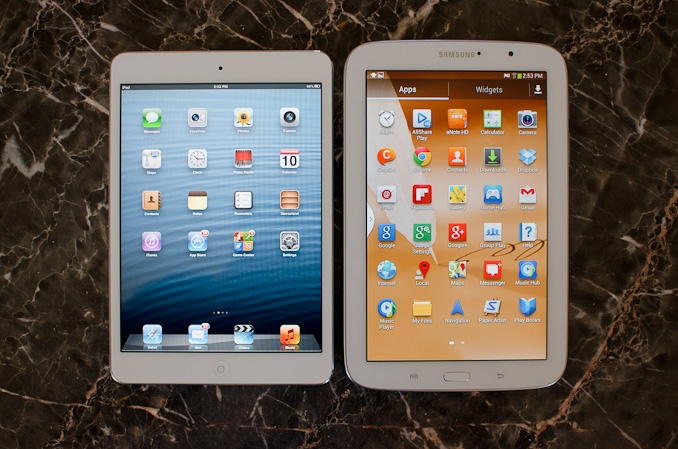 The Note 8.0 can get very bright, but black levels suffer as a result. Overall contrast ratio is a bit better than the iPad mini, but I'd prefer better black levels to absurdly high white levels. The latter can help improve readability outdoors, but even cranked all the way up you'll have issues in direct sunlight.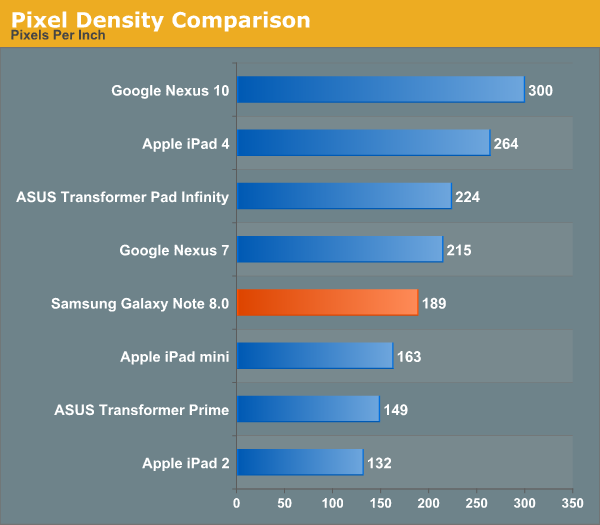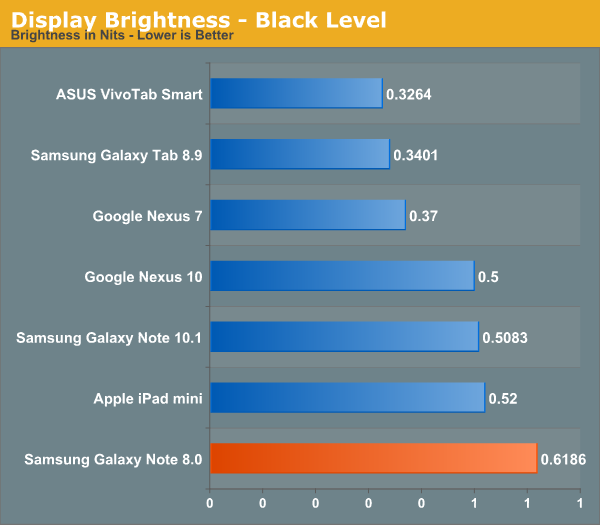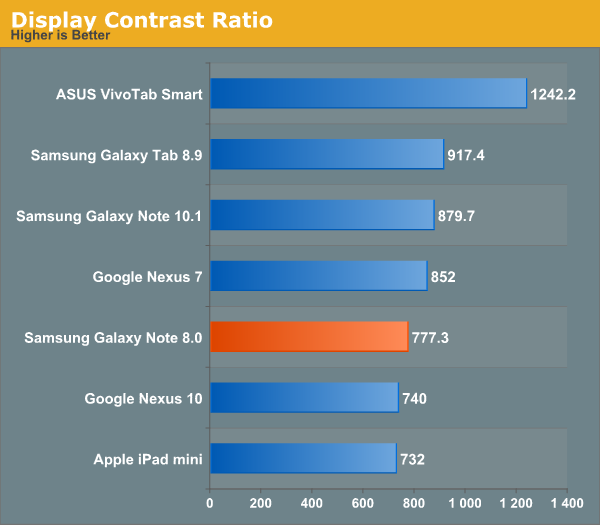 The Galaxy Note 8.0 uses a standard LED backlit LCD display instead of the AMOLED based panels common in Samsung's smartphones. The departure is a welcome change in my opinion as the Note 8's avoids Samsung's AMOLED color calibration tendencies. In fact, the Galaxy Note 8.0's display performed very similarly to the iPad mini in our color accuracy tests: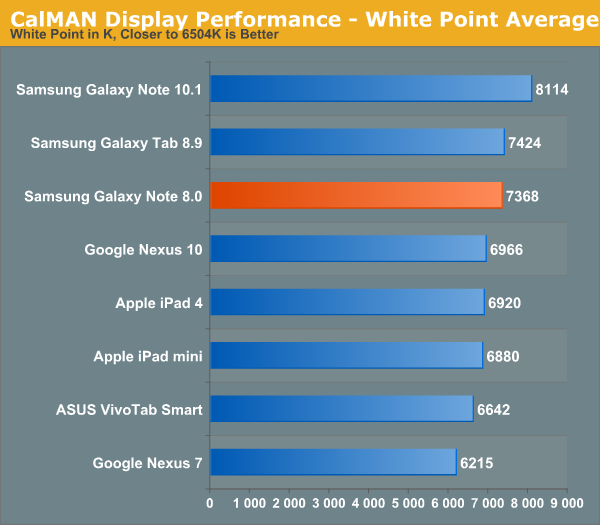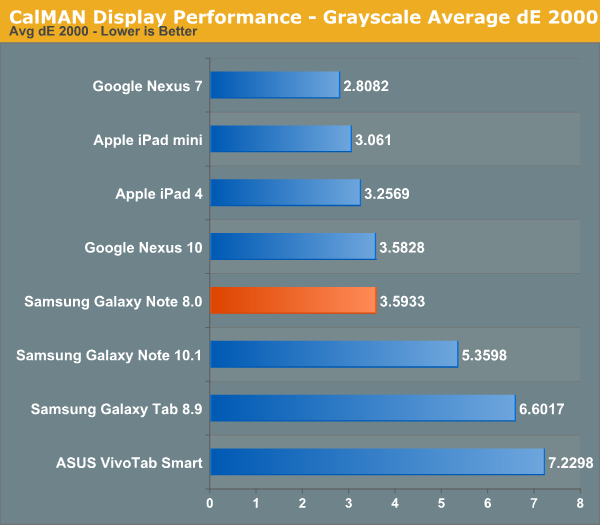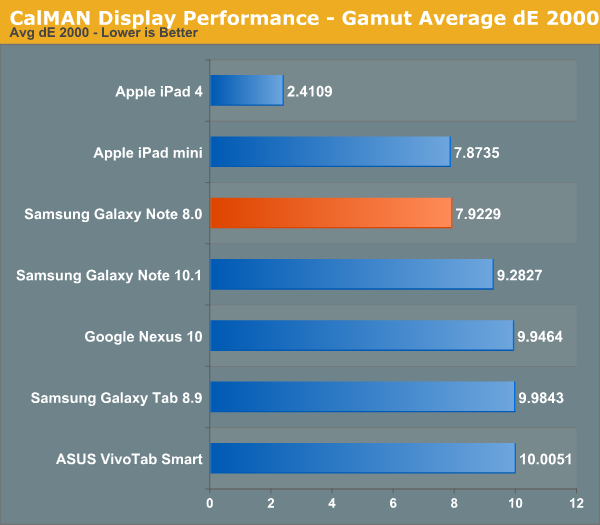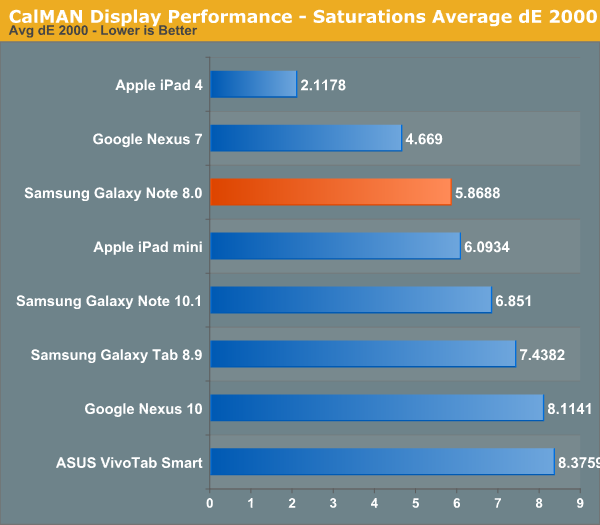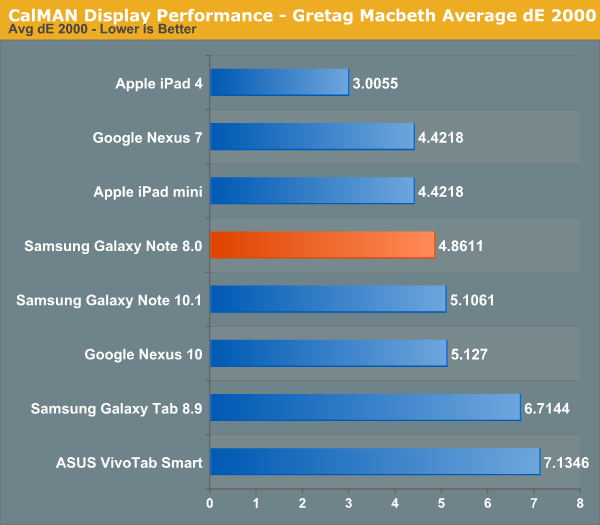 The mini doesn't feature as accurate of a display as the bigger Retina iPads, which gives the Note 8 a lower target to shoot for, but its performance is admirable nonetheless.
Samsung does offer a couple of display presets on the Note 8, similar to what it does on other platforms. Choosing between Dynamic, Standard and Movie modes plays around with white points and color balance a bit. The standard setting is pretty good out of the box, although movie mode does move the white point closer to 6500K and improved color accuracy by a little bit.



The Note 8's software build also ships with support for a reader mode that further warms up the white point in an attempt to make reading text easier on your eyes. In an attempt to bring as much of the PC experience as possible to Android tablets, Samsung bombards you with customization options - including the ability to select which applications use reader mode when it's enabled. You can't enable reader mode for all apps, but 3rd party apps are supported.