HP 2311xi - Display Uniformity
Until now, all measurements on the HP 2311xi have been done in the dead center of the screen where we would expect the best performance. The best displays remain uniform across the whole panel and not just the center, so we measure nine spots across the display to see how well it does overall.
Looking at the white level for 200 nits of light output, most of the screen is very uniform given the price. The right side begins to have some drop off, with light output falling off by 15% at the right center location. This isn't perfect, but it's still pretty decent as most of the display is very uniform.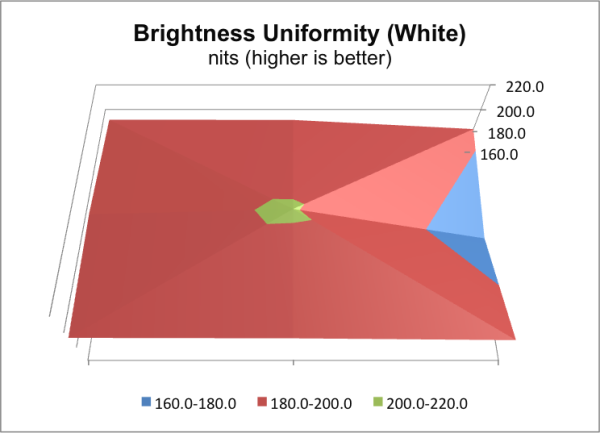 Since the uniformity issues with white are typically caused by uneven backlighting we might expect to see something similar with black levels, and we do. They are uniform across the left and center of the display, but then rise again on the right side of the display. This combination is a bit disappointing as lower white levels and higher black levels mean that we will see a lower contrast ratio when we look at that next.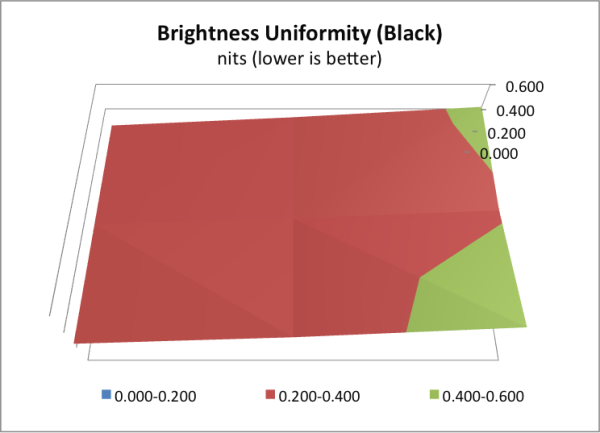 As mentioned, the contrast is very variable across the screen. It ranges from very good on the left side to pretty poor on the right side. The center is right around what we expect from our previous measurements, but the rest of the screen measures from 780:1 on the left to 409:1 in the lower right.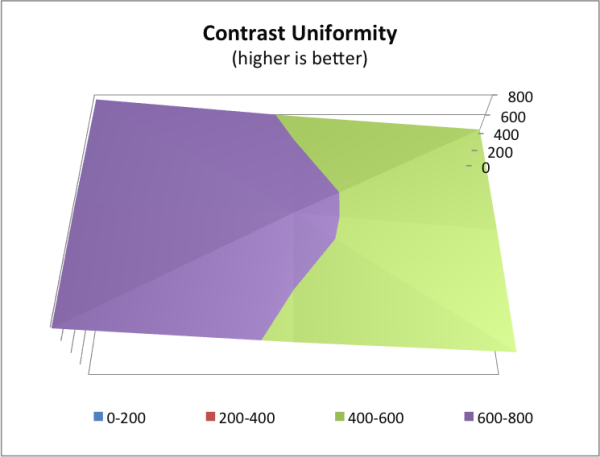 Looking at the color uniformity, here the upper right corner has the largest issue. Since the backlighting is uneven on the right side, that unevenness can lead to a slightly different shade of light being used in that corner, which can lead to the higher dE we see there. Most of the difference is with the grayscale and not colors, which is common. Overall the color errors are very consistent across the display, even if the level of light isn't as much on the right side, and it performs better than most displays I see pass through my system as far as uniformity is concerned.