HP 2311xi - Brightness and Contrast Ratios
HP rates the 2311xi for 250 nits maximum brightness and that's exactly what I found it produced. If I turned the brightness all the way down it then put out only 41 nits, which gives you a lot of flexibility around adjusting the backlight level. 250 nits should be enough light output for most people, but if you have direct sunlight on your display for most of the day you might need something even more powerful to avoid it looking washed out.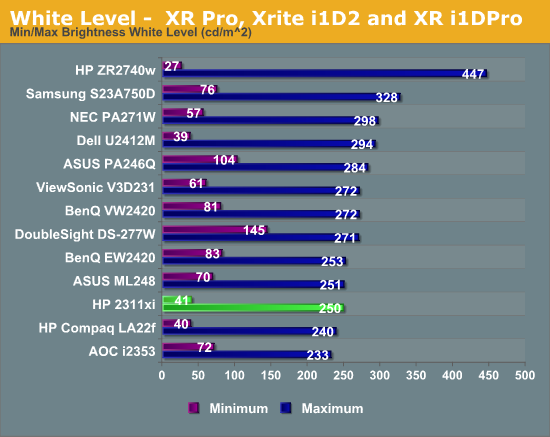 For measuring the black levels, I made sure to leave the Dynamic Control off for the LEDs. With that enabled, it could potentially turn off the backlight completely, which would result in a black level of 0.000, but one that has no practical implications aside from a totally black screen. By leaving that disabled, we get a real-world measure of the black level. At maximum brightness, our black level is right around 0.4 nits, which is a little higher than other displays we have measured with similar peak white levels. The minimum level was 0.066, which correlates well with the white level change. Black levels are typically a little worse with IPS than with VA panels, which is the trade off for getting the other advantages an IPS display offers for color and viewing angles.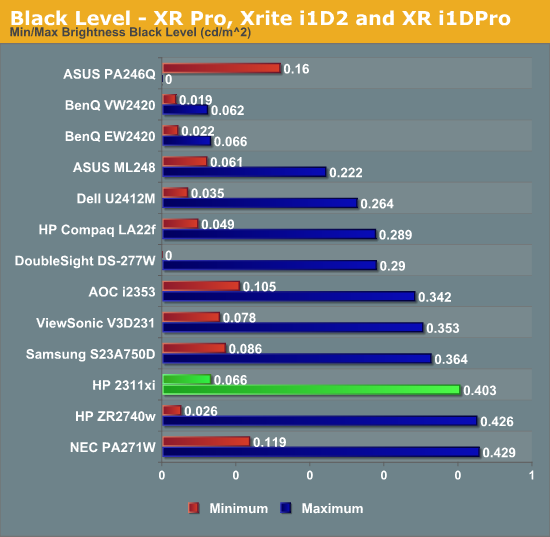 Looking at the contrast ratio, we are almost exact the same at minimum and maximum backlight, right around 620. I went ahead and measured this at 0-100% in increments of 10, and every measurement was between 620 and 625, so it's a very consistent contrast ratio all across the range. It's a perfectly normal and average contrast ratio, about what I'd expect from a budget IPS display.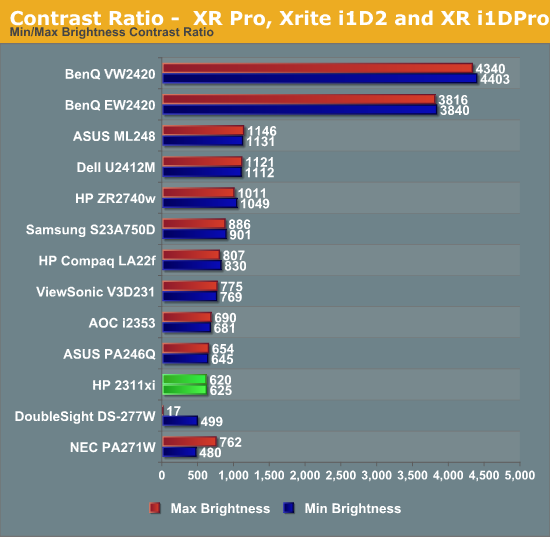 Looking at the Brightness and Contrast numbers, the HP 2311xi is a decent but not exceptional performer. Nothing stands out, but everything about the performance so far is perfectly acceptable with the price involved.