External Impressions and Cables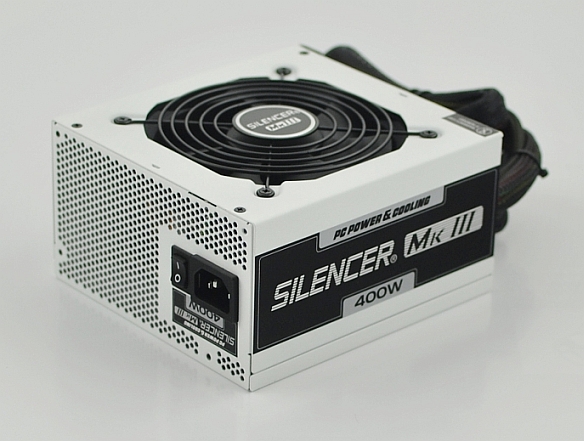 In contrast to all the other power supplies from PC Power & Cooling the Silencer Mk III comes in a white matte coating. The fan and the fan grille are black as always, although there's a small change this time: the grille has a small Silencer logo in the middle. Like many others, PC Power & Cooling uses hexagonal shaped holes for ventilation, which are supposed to create the least are resistance and produce less noise. Other than the fan intake, there are no other openings on the power supply, so the airflow only has one path to travel.
Cables and Connectors

Connector type (length)

Main
1x 24-pin (55cm) fixed
ATX12V/EPS12V
1x 4+4-pin (55cm) fixed
PCIe
1x 6/8-pin (55cm) modular
Peripheral
2x SATA (ca. 55, 70cm) modular
2x SATA (ca. 55, 70cm) modular
2x SATA (ca. 55, 70cm) modular
3x Molex, 1x FDD (ca. 55, 70, 85, 95cm) modular
There are three Molex and six SATA connectors attached. Moreover there is a 4/8-pin connector for the motherboard and one more plug for a graphics card. You won't be able to run an SLI or CrossFire setups, but one connector is exactly as much as we would expect from a 400W power supply. In addition all cables are quite long which is nice when using a large PC case. All modular cables got a black cable sleeving, just like the fixed ones.