Introducing the iBUYPOWER Erebus GT
Boutique gaming desktops are nothing new around here; while enthusiasts may readily dismiss them, it's easy to forget they do serve a purpose and a market beyond the do-it-yourself crowd. There are certain things even a lot of enthusiasts, myself included, aren't able to do that boutiques can; specifically, assembling custom liquid cooling loops. The last one of these we saw was Puget Systems' Deluge, a behemoth of a machine that retailed for more than seven grand.
Today iBUYPOWER is making available a system with many of those same perks at a fraction of the cost. The Erebus GT uses an entirely custom enclosure, has a laser-etched panel window with white LED lighting, and most importantly includes a custom liquid loop attached to a massive top-mounted radiator that cools the CPU and GPU. Can iBUYPOWER deliver a truly compelling boutique build at a reasonable price without cutting any corners?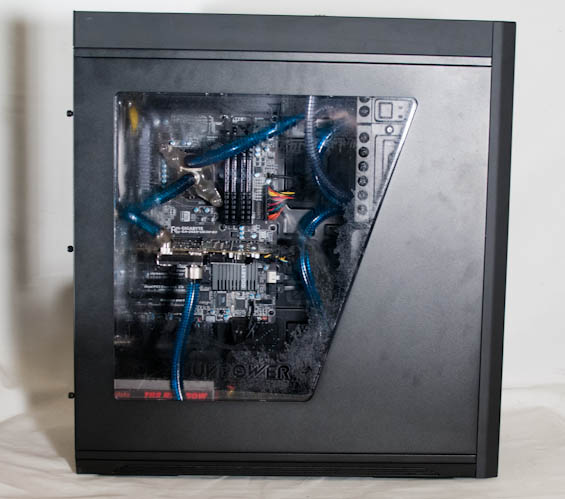 At first glance it certainly looks that way. When you check out the specs below you'll undoubtedly see a system that could be built and air-cooled at two-thirds of the price from the same vendor, but the hardware used for the liquid cooling loop can be pricey on its own.
iBUYPOWER Erebus GT Specifications
Chassis
iBUYPOWER Custom
Processor
Intel Core i7-2700K
(4x3.5GHz + HTT, Turbo to 3.9GHz, 4.6GHz Overclock, 32nm, 8MB L3, 95W)
Motherboard
Gigabyte GA-Z68X-UD3H-B3 (Z68 Chipset)
Memory
4x4GB Corsair Vengeance DDR3-1600 (expandable to 32GB)
Graphics
AMD Radeon HD 7970 3GB GDDR5
(2048 shaders, 925/5500MHz core/RAM, 384-bit memory bus)
Hard Drive(s)
AData S510 120GB SSD (SF-2281)
Hitachi Deskstar 7K1000.D 1TB 7200-RPM HDD
Optical Drive(s)
LG BD-RE
Power Supply
Thermaltake TR2 RX 850W PSU
Networking
Realtek PCIe Gigabit Ethernet
Audio
Realtek ALC889
Speaker, mic/line-in, surround jacks, optical out for 7.1 sound
Front Side
Optical drive
SD card reader
2x USB 2.0
2x USB 3.0
Headphone and mic jacks
Top
-
Back Side
4x USB 2.0
PS/2
DVI-D (IGP)
VGA (IGP)
HDMI (IGP)
DisplayPort (IGP)
Optical out
eSATA
6-pin FireWire
Ethernet
Speaker, mic/line-in, surround, and optical jacks
DVI-D (7970)
HDMI (7970)
2x Mini-DisplayPort (7970)
Operating System
Windows 7 Home Premium 64-bit SP1
Extras
Card reader
Custom liquid-cooling loop
Custom LED lighting
Warranty
3-year parts, lifetime labor and support
Pricing
$2,499
For this build, iBUYPOWER opted to stick with Sandy Bridge instead of Sandy Bridge-E. This is undoubtedly going to be a source of some contention; Sandy Bridge-E is a fantastic workstation processor (at least the hex-core variants are) but is generally excessive for gaming systems, substantially raising both the cost to purchase and the cost to run it (by way of your power bill) for benefits within gaming that are negligible at best. The i7-2700K remains essentially the fastest quad-core processor available, and iBUYPOWER has overclocked it from 3.5GHz all the way to 4.6GHz.
The Erebus GT is also equipped with what's presently the fastest single-GPU video card available, the AMD Radeon HD 7970. Despite the liquid cooling loop that includes the HD 7970, though, iBUYPOWER opts not to overclock the card, leaving its 2048 shader cores clocked at the stock 925MHz despite reports that the card is very overclockable. It's a mild disappointment, but we have yet to see a system come in from a boutique with the graphics card overclocked (e.g. beyond what the video card manufacturer might provide).
Thankfully they didn't skimp on quality kit for the rest of the build, either. The Gigabyte GA-Z68X-UD3H-B3 is based on Intel's Z68 chipset and is a fine motherboard that sports all the trimmings, while iBUYPOWER has also outfitted the system with 16GB of Corsair Vengeance DDR3-1600 in four DIMMs running at 1.5v. Arguably the only place you could say they cut a corner was by opting for an A-Data SSD instead of one from Intel or another vendor, but SSD reliability is still a relative unknown, and the A-Data part is still a second-generation SandForce drive with a decent amount of storage. A-Data may not update their firmware quite as fast as some other SSD vendors, but otherwise performance and reliability should be the same as any other (non-Intel) SF-2281 SSD.
If we breaking down the pricing compared to rolling your own at Newegg, let's start with the basics. You can get all of the core components and put them in an Antec Twelve Hundred case for around $1850. However, that doesn't give you a factory overclock (covered by the warranty), and it doesn't include any form of liquid cooling. That's where assaying the price of the build becomes a bit more difficult. FrozenCPU has this EK 7970 cooler and backplate that will add $155 to the cost of the system. A similar LGA 1155/1156 CPU cooler and backplate will tack on another $90 or so, and a 3x140mm radator would add another $108. That doesn't even include a water pump or reservoir, which could add anywhere from $50 to $100 for basic components, and you still need to add fittings and tubes! If you want to go higher-end on the liquid cooling parts, you could spend two or three times as much depending on what you purchase.
Put it all together and iBUYPOWER's $2500 sticker price actually doesn't seem that bad—provided of course that you really want a liquid cooled system. Also, let me put in a quick disclaimer that the above parts were selected based purely on availability and roughly similar features to the cooling setup used in the Erebus GT. I make no promises on the quality of any of those parts; they're there simply to illustrate roughly how much you might pay should you want to take the plunge into a liquid cooled PC.
Let's hold off on any further analysis until we've actually put the Erebus GT through our benchmark suite. Yes, $2500 is a lot of money to spend on a gaming system, but we've certainly seen more exotic and costly systems over the years. How does this unit compare to other high-end gaming systems from the past year or so?