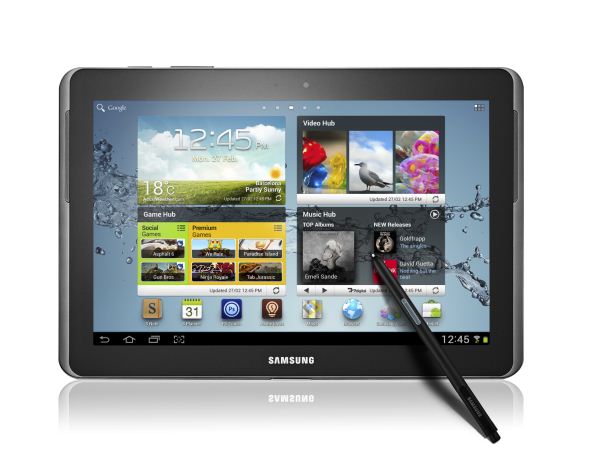 The Galaxy Note, in 5.3" guise, has just hit the States after decent sales in Europe and Asia; and now we have a new member of the Note line, a 10.1" variant. We mentioned speculation yesterday that the Note 10.1 could have a high-density display and next-generation SoC. Turns out the speculations were most likely wrong on both counts. The Galaxy Note 10.1 brings a 1.4 GHz dual-core SoC, probably Exynos 4210, to a OG Tab 10.1 sized tablet along with the stylus and S Pen interface introduced in the Note. Though the tablet is listed as featuring an HSPA+ radio, telephony is likely not on the cards, so the 'phablet' designation doesn't come into play, thankfully.
The display is the same 10.1" WXGA (1280x800) PLS panel we've seen on all of Samsung's 10.1" tablets, and runs Android 4.0 (Ice Cream Sandwich) with the requisite TouchWiz layer in tow. If this is Exynos, this will be the first time we'll have seen that particular SoC in a 10.1" tablet. The hardware, then, is not the big advance, rather Samsung is playing up the improved productivity opportunities that result from applying the original Note's S Pen interface, along with the new S Note software on a larger screen. We haven't spent a lot of time with either Note, so it's hard for us to judge how successful this effort is likely to be. If marketing is to be believed, though, the S Note software should bring the kind of multitasking previously only seen in a 'windowed' interface to the tablet space.
The announcements keep rolling in, and we'll hopefully have a hands-on with all of the new devices soon. Until then, follow the source for the full press release and peep the gallery and full specs below. As a treat for all our readers, we're going to be working on a series of Pipeline posts that will lay out the full specs (as we know them) for as many products and manufacturers as we can muster. It'll be your one stop to compare a particular manufacturers line-up.
Tablet Specification Comparison
Samsung Galaxy Note 10.1
Samsung Galaxy Tab 10.1
Samsung Galaxy Tab 2 (10.1)
ASUS Eee Pad Transformer Prime
Dimensions
256.7 x 175.3 x 8.7mm
256.6 x 172.9 x 8.6mm
256.6 x 175.3 x 9.7mm
263 x 180.8 x 8.3mm
Display
10.1-inch 1280 x 800 PLS
10.1-inch 1280 x 800 PLS
10.1-inch 1280 x 800 PLS
10.1-inch 1280 x 800 Super IPS+
Weight
583g
565g
588g
586g
Processor
1.4GHz Dual-core SoC
1GHz NVIDIA Tegra 2 (2 x Cortex A9)
1GHz Dual-core SoC
1.3GHz NVIDIA Tegra 3 (4 x Cortex A9)
Memory
1GB
1GB
1GB
1GB
Storage
16GB/32GB/64GB + microSD slot
16GB
16GB/32GB + microSD slot
32GB/64GB + microSD slot
Pricing
$???
$499
$???
$499/$599
Source: Samsung Mobile