CPU Performance
The big news with Tegra 3 is that you get four ARM Cortex A9 cores with NEON support instead of just two (sans NEON) in the case of the Tegra 2 or most other smartphone class SoCs. In the short period of time I had to test the tablet I couldn't draw many definitive conclusions but I did come away with some observations.
Linpack showed us healthy gains over Tegra 2 thanks to full NEON support in Tegra 3: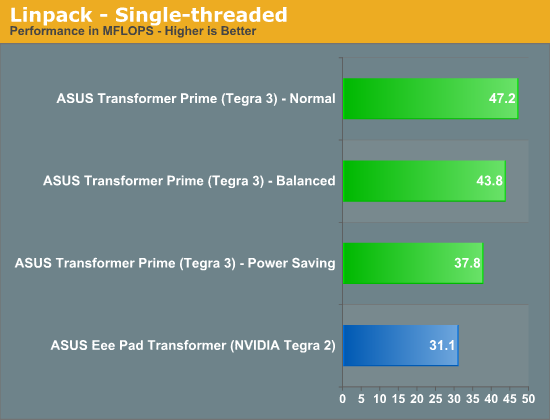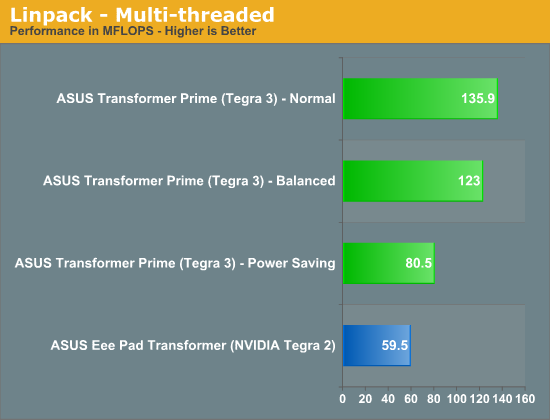 As expected, finding applications and usage models to task all four cores is pretty difficult. That being said, it's not hard to use the tablet in such a way that you do stress more than two cores. You won't see 100% CPU utilization across all four cores, but there will be a tangible benefit to having more than two. Whether or not the benefit is worth the cost in die area is irrelevant, it only means that NVIDIA (and/or its partners) have to pay more as the price of the end product to you is already pretty much capped.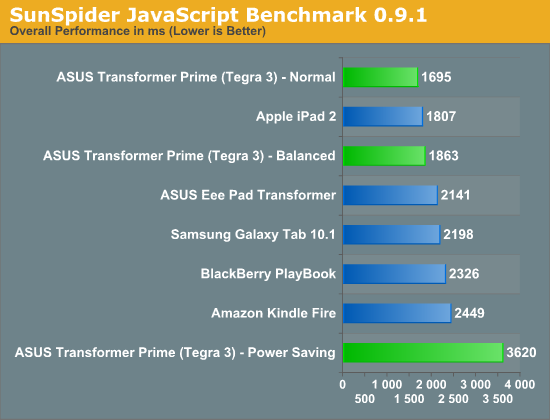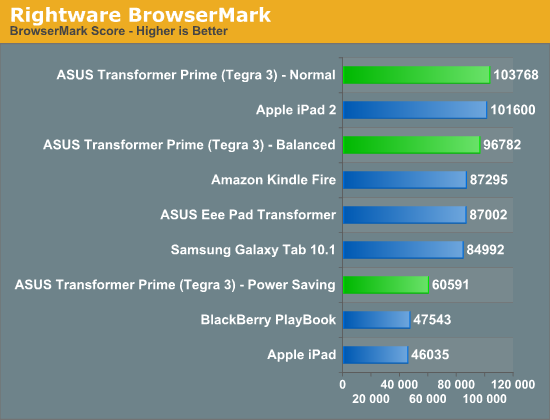 The bigger benefit I saw to having four cores vs. two is that you're pretty much never CPU limited in anything you do when multitasking. Per core performance can always go up but I found myself bound either by the broken WiFi or NAND speed. In fact, the only thing that would bring the Prime to a halt was if I happened to be doing a lot of writing to NAND over USB. Keyboard and touch interrupts were a low priority at that point, something I hope to see addressed as we are finally entering the era of performance good enough to bring on some I/O crushing multitasking workloads.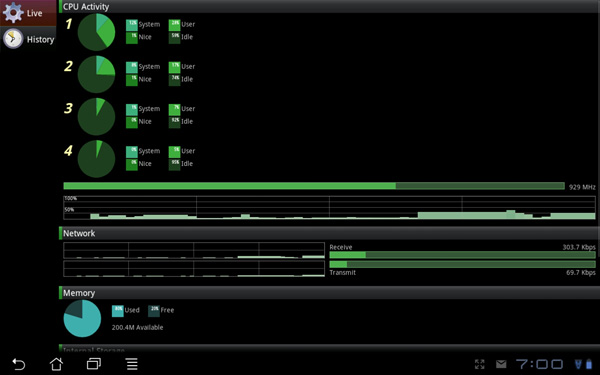 Despite having many cores at its disposal, NVIDIA appears to have erred on the side of caution when it comes to power consumption. While I often saw the third and fourth cores fire up when browsing the web or just using the tablet, NVIDIA did a good job of powering them down when their help wasn't needed. Furthermore, NVIDIA also seems to prefer running more cores at lower voltage/frequency settings than fewer cores at a higher point in the v/f curve. This makes sense given the non-linear relationship between voltage and power.
From a die area perspective I'm not entirely sure having four (technically, five) A9 cores is the best way to deliver high performance, but without a new microprocessor architecture it's surely more efficient than just ratcheting up clock speed. I plan on providing a more thorough look at Tegra 3 SoC performance as I spend more time with a fixed Prime, but my initial impressions are that the CPU performance isn't really holding the platform back.