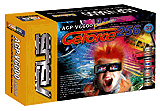 As few as two years ago, if you had asked any of us at AnandTech which company was dominating the market for video card products, not a single one of us would have answered ASUS. Sure, for motherboards ASUS has always been a leader of the pack, creating great products with unsurpassed quality, but as far as video cards were concerned, ASUS was a non-factor It was not until ASUS's break into the video card market with the TNT based V3400 did the company begin to capture a strong hold on the graphics market.
The idea does not seem novel to us now, but ASUS decision to expand from being a motherboard producer to a video card powerhouse was considered quite revolutionary. On the other hand, ASUS saw it as a David versus Goliath situation: it could use its motherboard foundation to produce some of the greatest video cards on the market. ASUS seized the opportunity to extend their market to video cards as well as to continue their almost renowned quality. ASUS's dream of domination originally became a reality with the V3400. This dream, however, has continued throughout the years, a fact which may be seen with their most recent GeForce addition: the V6600 Deluxe, a card quite worthy of the V series name.
Specifications, courtesy of ASUS:

Key Benefits
Powered by the World's First Graphics Processing Unit (GPU) - NVIDIA GeForce 256
Built-in 32MB Frame Buffer (SGRAM)- Provides more resolutions and color depths
Smart Doctor Technologies- Smart cooling, dynamic overclocking, overheat protection, fan speed monitoring, AGP power level monitoring
VR 3D Glasses- D3D games and stereo picture viewing
ASUS LIVE Capture Driver- 704x480 real time 30 fps video capture
Large Screen TV-Out (800x600)- S-Video and Composite connectors
Video-In Support- Video capture, video editing, video conference...
ASUS DVD/SW Player Bundled- DVD, VCD, MP3, SVCD... playback
Unlead VideoStudio 3.0 + MPEG-II Color Encoder Bundled- Video editing, MPEG/II encoding and real time capture
3D Games Bundled- DRAKAN (full version), ROLLCAGE (full version), and 12 other game titles
Other Key Benefits of AGP-V6600 Series- QuadPipe Rendering, Transforming & Lighting, and AGP 4X with Fast Writes, ect...
Quad Engine Architecture
Four independent pipelined engines
15M triangles/second
Sustained DMA, transform/clip/light, setup, and render rate
>70% of the chip active at all times
Up to 6 triangles "in flight" at a time (typically 1-3)
Very low latency between engines
ASUS Smart Doctor Technologies
Provides the best system safety
SmartCooling Technology
Dynamic overclocking
Over-heat protection
Fan RPM monitoring
AGP power level Monitoring
AGP-V6600 Takes Interactive PC Graphics to More Realistic and Detailed Levels
Full frame rate DVD to 1080 resolution
Full precision subpixel accuracy to 1/16 pixel
5 horizontal, 3 vertical taps
8:1 up/down scaling
Independent hue, saturation and brightness controls in hardware
Optimized for the latest DirectX 7 and OpenGL features
Transform and lighting (T&L)
Cube environment mapping
Vertex blending
Protective textures
Texture compression

Superior 2D Performance
256-bit 2D rendering pipeline
4 pixels per clock on all scaled and indexed image operations
1 GB/s CPU-to-GPU memory via AGP 4X with Fast Writes
AGP 4X with Fast Write
Enables CPU to send data directly to GPU
System memory bus free to perform other functions
Balanced design increases overall system performance
High Quality Video Playback: DVD Acceleration
Full frame rate DVD to 1080i resolution
Full precision subpixel accuracy to 1/16 pixel
High Quality Video Playback: Video Overlay
5 horizontal, 3 vertical taps
8:1 up/down scaling
Independent hue, saturation, and brightness controls in hardware
3D Stereoscopic Features
Turns D3D games into virtual reality gaming world
VR Viewer software bundled for 3D pictures viewing
Video Features for Video-in
Complete S-VHS and Composite video-input ports support
ASUS Live driver supports 704x480 real time video capture (for Windows 95/98 only)
Video Features for TV-out
Digital video output by integrated NTSC/PAL encoders
Complete S-VHS and Composite video-input ports support
High quality TV-out supports 800x600 resolutions
| | | |
| --- | --- | --- |
| | Max Refresh Table | |
| Resolution | Color Depth (BITS) | Max Refresh Rate (Hz) |
| 640 x 480 | 8/16/32 | 240/240/240 |
| 800 x 600 | 8/16/32 | 240/240/240 |
| 1024 x 768 | 8/16/32 | 240/240/200 |
| 1152 x 864 | 8/16/32 | 200/200/170 |
| 1280 x 960 | 8/16/32 | 170/170/150 |
| 1280 x 1024 | 8/16/32 | 170/170/170 |
| 1600 x 900 | 8/16/32 | 150/150/120 |
| 1600 x 1200 | 8/16/32 | 120/120/100 |
| 1920 x 1080 | 8/16/32 | 100/100/85 |
| 1920 x 1200 | 8/16/32 | 100/100/85 |
| 1920 x 1440 | 8/16/32 | 85/85/75 |
| 2048 x 1536 | 8/16/32 | 75/75/60 |