Gaming Performance
It's not going to surprise anyone to see the Puget Serenity take last place in all of these tests; the second-slowest gaming system we've reviewed sports a Radeon with more than twice the number of stream processors, more than twice the memory bandwidth, and higher clocks to boot. That said, many of the really high scores we've seen are largely academic: can anyone really tell the difference between 100 frames per second and 150? Without getting into the ridiculous argument of whether or not the human eye can see more than 30 frames per second (if it's not supposed to be able to, I'm pretty sure most of the video geeks in the readership—myself included—are superhumans), that framerate should still be your baseline for acceptable performance.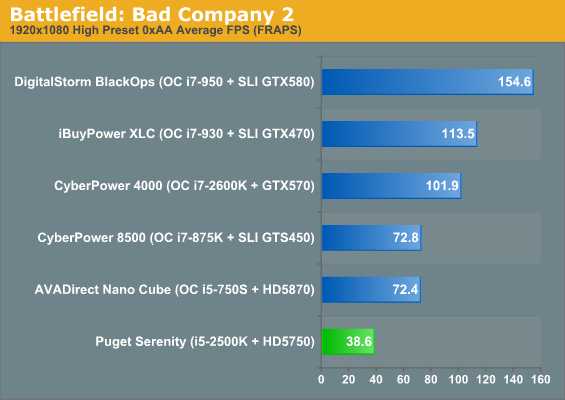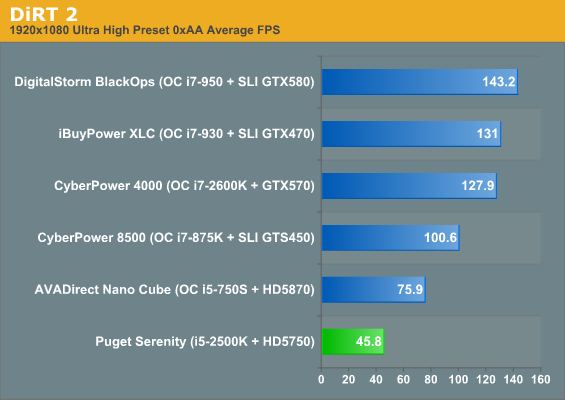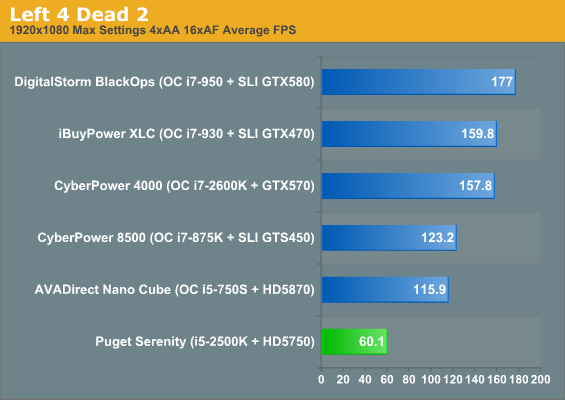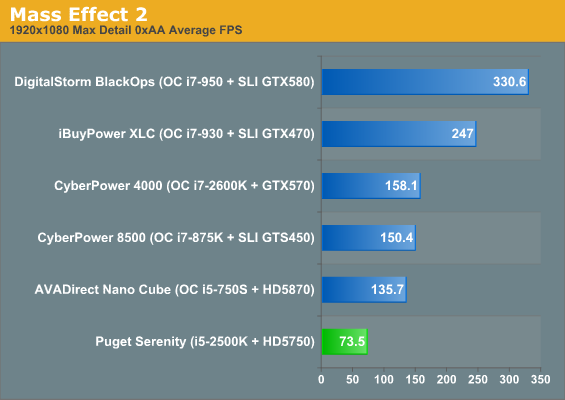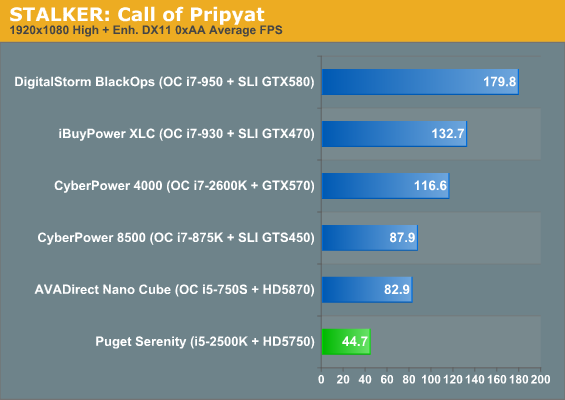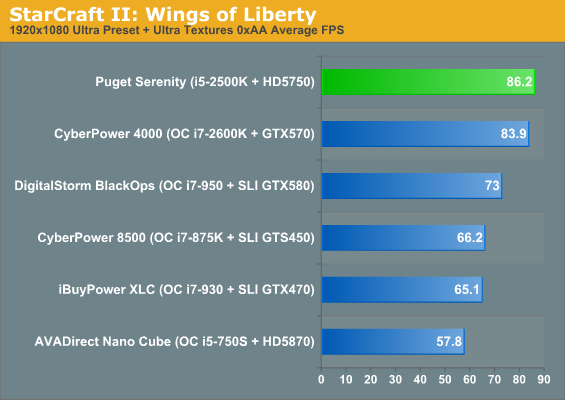 Outside of the stunningly CPU-limited StarCraft II, Puget Systems's Serenity is able to at least beat the 30fps mark by a fairly healthy margin. I like to see framerates in at least the forties to ensure smooth gameplay, but any of these games are perfectly playable at our "High" preset, which is basically running them at maximum or near-maximum (as in the case of Call of Pripyat) settings, 1080p, and no anti-aliasing (excepting Left 4 Dead 2). Knowing that we're a little bit close to our ceiling, let's see what happens when we do kick anti-aliasing in with our "Ultra" preset.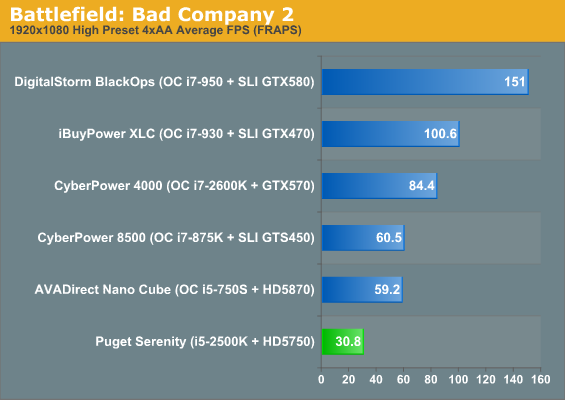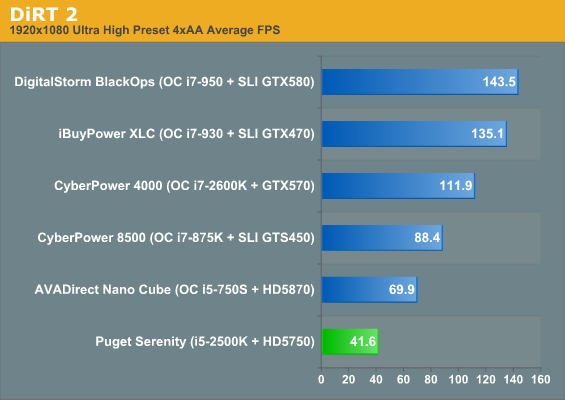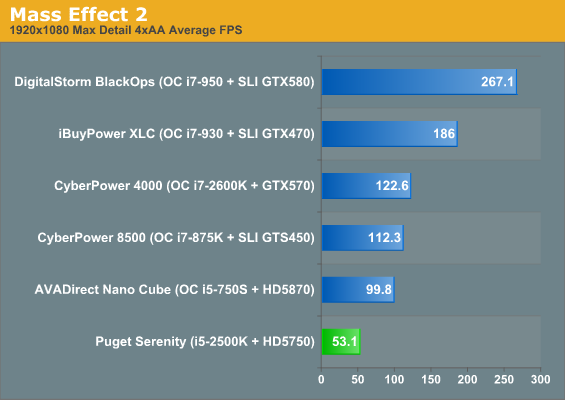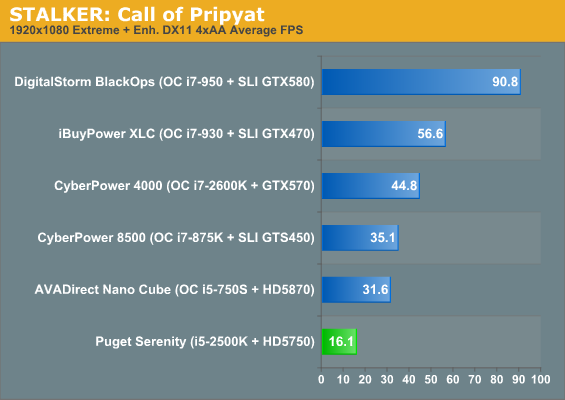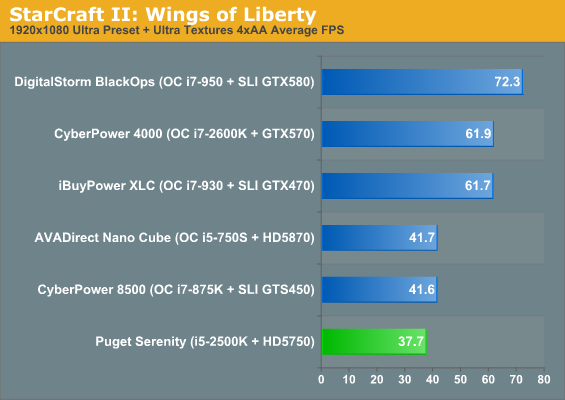 Battlefield: Bad Company 2 is pushing its luck and Call of Pripyat is fairly punishing even on our other systems, but for the most part these games (outside of Call of Pripyat) remain playable and fluid. Shifting the bottleneck back to the video card in StarCraft II sends the Serenity tumbling back to the bottom of the heap, but even then it's still very playable. Gamers looking for extra frames may want to disable anti-aliasing in that title anyhow, as the image quality difference is negligible when the performance impact is taken into account. Suffice it to say these settings are basically the threshold for the Radeon HD 5750, and while performance is good, the 6850 is going to be a welcome upgrade.