High and Ultra Gaming Settings
We'll start taxing the Envy 17 at our "High" preset. The AMD Mobility Radeon HD 5850 shouldn't have too much of a problem with our gaming suite at these settings, even at the notebook's 1080p native resolution.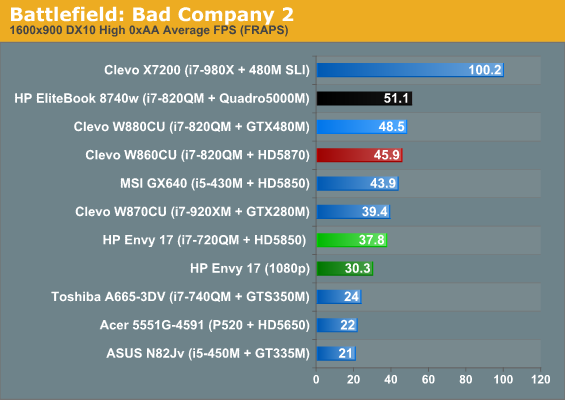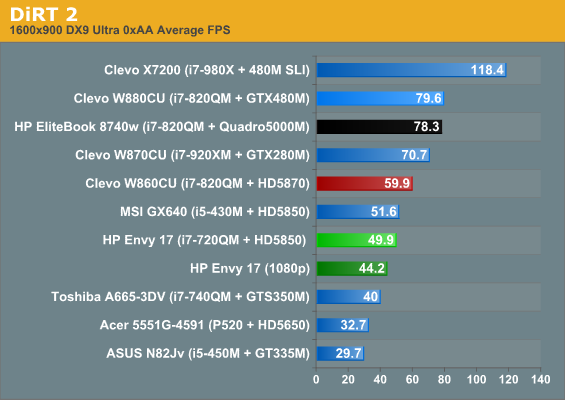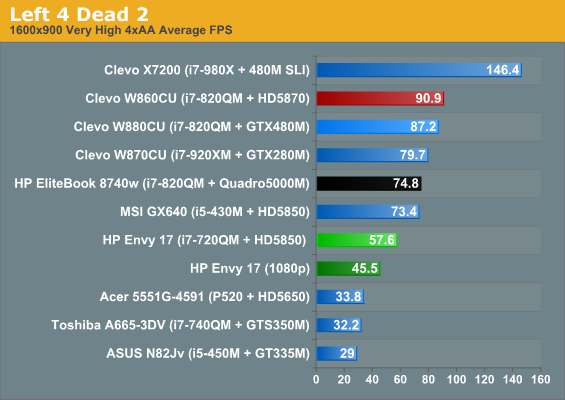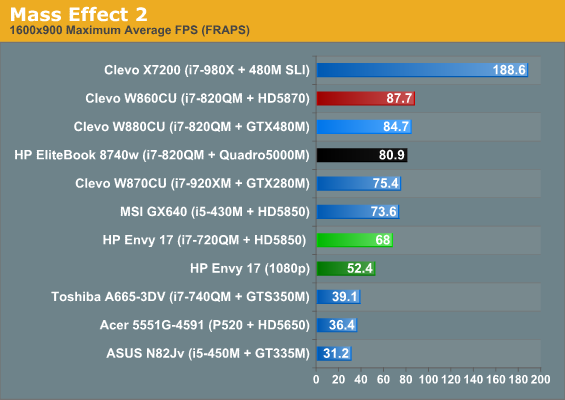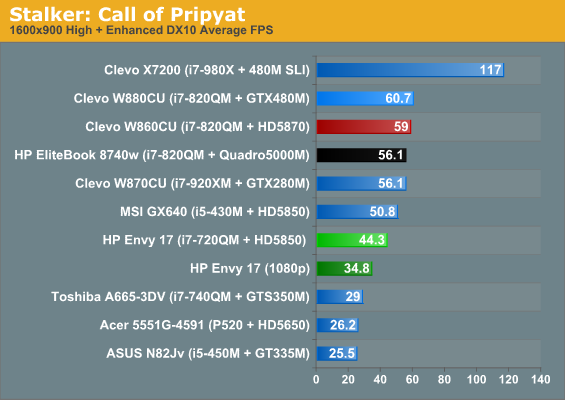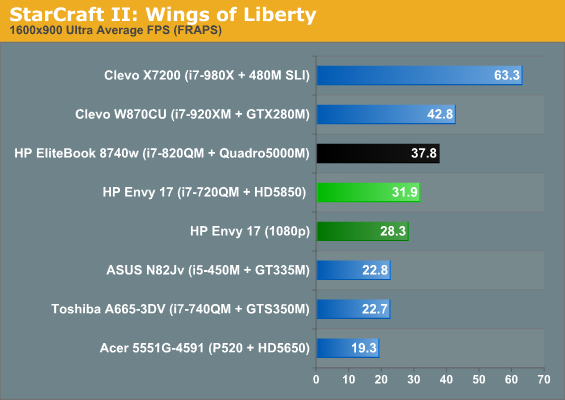 In every case but StarCraft II, the Mobility Radeon HD 5850 is able to produce smooth performance at the Envy 17's native resolution, and even in that case it's still fairly playable. As we're often keen to point out, though, again you can see the major difference in performance going from mainstream-class to enthusiast-class graphics in a notebook: there's no middle ground here. Unfortunately it seems like our "High" preset is near the peak of what the 5850 can do.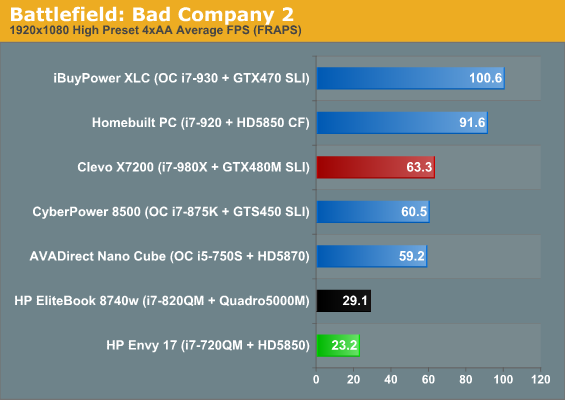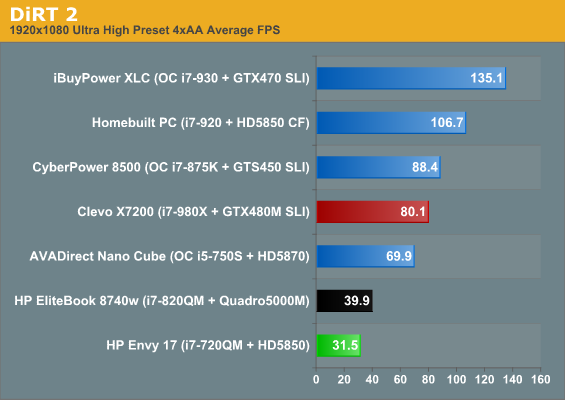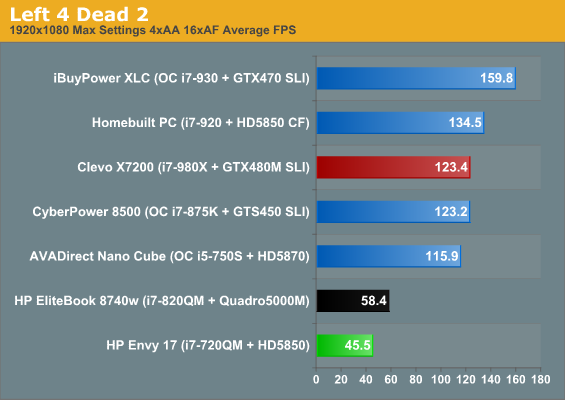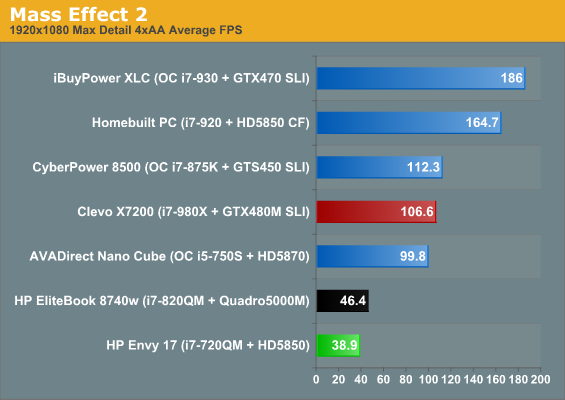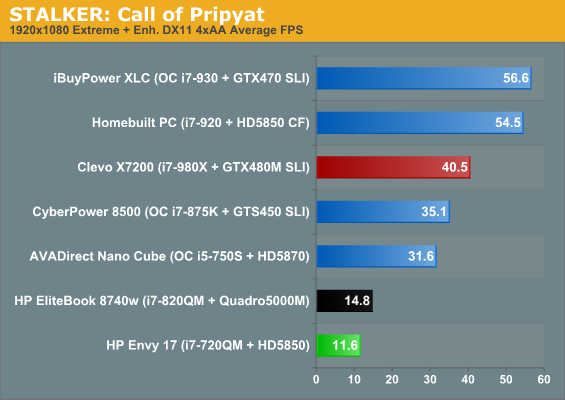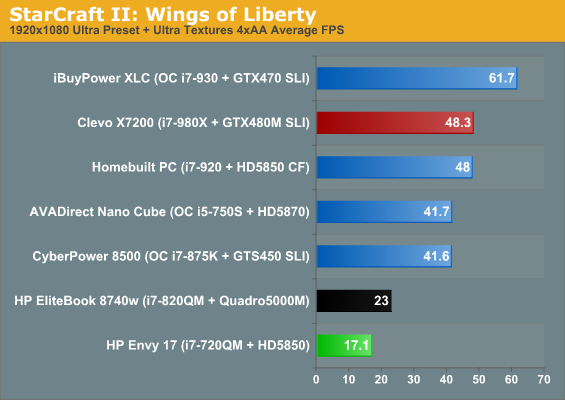 Once we start pushing the GPU at our "Ultra" settings, the weaknesses of AMD's mobile line-up are finally revealed. Lest NVIDIA get cocky, it should be noted that the Quadro 5000M doesn't fare that much better. We're near the top of the line in mobile graphics here, but the gulf in performance going from mobile to desktop graphics is absolutely tremendous. Only the Clevo X7200 is able to pull playable framerates across the board, but it also costs three times what the Envy 17 does.
Now's as good a time as any to reiterate what we said back when we initially reviewed the AMD Mobility Radeon HD 5870: AMD needs to get their act together. The state of modern high-end mobile graphics is pitiful, and "good enough" just isn't going to cut it anymore. AMD seems willing to barely compete at most, leaving NVIDIA to produce equally lazy parts like the GeForce GTX 480M. "Consolitis" has kept modern game requirements fairly reasonable, to the point where a desktop Radeon HD 5770 can for the most part get the job done at 1080p, but we're still having issues with mobile parts.
Without good competition and envelope pushing from either side, mobile graphics stagnate horribly and leave us with a mediocre top-end. The 5850 in the Envy 17 is adequate and should play most games at native, but we've been sitting at "adequate" for entirely too long. Here's hoping that the mobile variants of AMD's 6800/6900 series can leverage features such as PowerTune to give mobile gaming a shot in the arm.