When it debuted at CES 2009, the 0.65" Dell Adamo 13 gave the notebook world a Windows equivalent to the MacBook Air. With the ultrathin body, the brushed aluminum unibody, and Apple-like attention to detail, the Adamo was truly stunning to behold. Unfortunately, at $1999, it was extremely pricey given the lackluster specifications – with a 1.2GHz Core 2 Duo ULV processor, 2GB of non-upgradable memory, and Intel's GMA 4500MHD, it was slower than the 1.6GHz MacBook Air, which also had an Nvidia 9400M graphics chip while being cheaper and lighter. The only things the Adamo had going for it compared to the Air were the standard 128GB solid state drive and the slightly thinner chassis. Critics were unimpressed, calling it underpowered and overpriced, and the Adamo never sold well.
Fast forward to now: the Adamo has been on shelves for a year, and the price has now dropped to $999 on Dell's website for the base Adamo "Admire". The base processor is now the 1.4GHz Core 2 Duo SU9400, the second fastest processor in the CULV platform. The higher end "Desire" model switches to the low-voltage 2.13GHz SL9600, 4GB of memory, and a 256GB SSD, but the price jumps to $1699. The real question is, at $999, can the Adamo 13's supermodel styling and aluminum unibody make a compelling sales pitch over the vast number of CULV competitors?
Dell Adamo 13 Specifications
Processor
Intel Core 2 Duo SU9400
(1.40GHz, 45nm, 3MB L2, 800FSB, 10W)
Chipset
Intel GS40
Memory
1x4096MB DDR2-667 @ 4-4-4-12 Timings
Graphics
Integrated Intel GMA 4500MHD
Display
13.4" LED Glossy 16:9 WXGA (1366x768)
Hard Drive
1.8" 80GB SSD (Intel X18-M G1)
Networking
Atheros AR8131 PCI-E Gigabit Ethernet
Intel WiFi Link 5100 802.11a/g/n WiFi
Audio
Realtek AL269 2-Channel HD Audio
(2.0 Speakers with headphone/microphone jacks)
Battery
4-Cell Li-Polymer, 10.8V, 4400mAh, 40Wh
Front Side
None
Left Side
None
Right Side
SIM Card Slot
Microphone/Headphone Jacks
Back Side
2 x USB 2.0
DisplayPort eSATA Ethernet AC Power Connection
Operating System
Windows 7 Ultimate
Dimensions
13.03" x 9.5" x 0.65" (WxDxH)
Weight
4.0 lbs
Extras
1.3MP Webcam
Available in Pearl and Onyx
Warranty
1-year standard Dell warranty (USA)
Price
Onyx Adamo Admire starting from $999
Our Adamo review unit has a mix of specs – everything from the Admire, plus 4GB of memory and upgraded with an 80GB Intel X18-M solid state drive and Windows 7 Ultimate. Overall, performance should be pretty similar to the Admire, since the main difference in the Desire is the faster (and more power-hungry) SL9600 processor.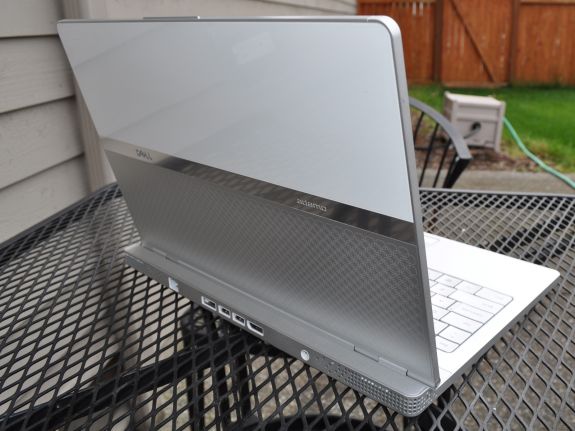 Interestingly, this will be our first experience with the faster SU9x00 series of ultra low voltage processors (previously we've only looked at the dual core SU7300/SU4100s and the Core 2 Solo SU3500), and also the first time testing the combination of CULV and a solid state drive. Given the lowering cost of SSDs in the current market, it's becoming tempting to pair the low-power CULV platform with a flash-based drive to get as much battery life as possible from any given system. Now, given the small 40Wh Li-poly battery (not user replaceable, a la Apple), we're not expecting the Adamo to break any battery life records, but it will be interesting to see how big a difference the SSD makes in battery usage rate.