HP ProBook 5310m: Thin is In
HP is one of the biggest players in the computer industry, and as such they cater to every type of user from your typical home consumer through business executives and data centers. With such a large range of offerings, quality and features can vary quite a bit. The ProBook line is part of HP's business laptop segment, which means build quality is at the higher end of the spectrum compared to consumer laptops. Like Lenovo's famed ThinkPad line, the ProBook 5310m starts with a magnesium alloy chassis for improved durability. And like most other business laptops, users get an anti-glare (i.e. matte) display. The competition consists of Lenovo ThinkPad, Dell Latitude, and Sony VAIO, to name just a few alternatives.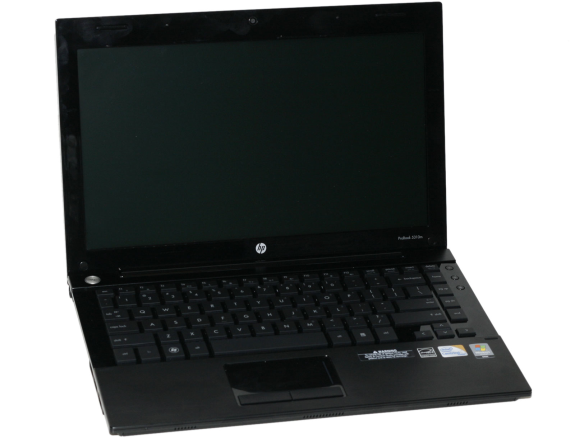 At its core, the HP 5310m is similar to many CULV laptops that we've looked at. The catch is that you either get the lowest of the low Celeron SU2300 (1.2GHz, 1MB cache, 800FSB) or you take a big step up from CULV territory and get an SP9300 (2.26GHz, 6MB cache, 1066FSB). While Core i3/i5 are getting headlines these days—and rightfully so—Core 2 products will continue to sell for a while, particularly in the thin and light form factors. The HP 5310m has been out for a few months now, and in some ways it was already a little long in the tooth at launch, but IT departments are rarely looking for the latest and greatest hardware. Instead, they want a stable platform that they'll be able to purchase for a year or more without worrying about upgrades and changes, and the 5310m provides exactly that. Here are the specs and configuration options for the 5310m, with bold items indicating the components in our test unit.
HP ProBook 5310m Specifications
Processor
Intel Celeron SU2300 (45nm, 2x1.20GHz, 1MB, 800FSB, 10W) Intel Core 2 Duo SP9300 (45nm, 2x2.26GHz, 6MB, 1066FSB, 25W)
Intel Core 2 Duo SP9400 (45nm, 2x2.40GHz, 6MB, 1066FSB, 25W)
Chipset
Intel GS45 + ICH9M
Memory
1x2GB DDR3-1066
1x4GB DDR3-1066
Graphics
Intel GMA 4500MHD
Display
13.3" LED Backlit Anti-Glare WXGA (1366x768)
13.3" LED Backlit BrightView WXGA (1366x768)
Hard Drive(s)
160GB 7200RPM
250GB 7200RPM
320GB 7200RPM
128GB SSD
Optical Drive
N/A
Networking
Realtek Gigabit Ethernet
Broadcom 4312BG 802.11bg Broadcom 4322AGN 802.11agn
Intel Wireless WiFi Link 5100 802.11agn
Bluetooth 2.1 (Optional)
Mobile Broadband (Optional)
Gobi with GPS (Optional)
Audio
HD Audio (2 speakers with combo headphone/mic jack)
Battery
4-cell 37Wh
6-cell 62Wh
Front Side
Speaker grilles
Left Side
Gigabit Ethernet
DisplayPort
1 x USB 2.0
Cooling Exhaust
AC Power Connection
Right Side
Flash reader (SD/MMC)
Headphone/Microphone Combo jack
2 x USB 2.0
Kensington Lock
Back Side
None
Operating System
Windows 7 Professional 32-bit
Windows 7 Home Premium 32-bit Windows XP Professional Downgrade
Dimensions
12.9" x 8.7" x 0.93" (WxDxH)
Weight
3.79 lbs (with 4-cell battery)
Extras
2MP Webcam
86-Key Keyboard
Multitouch Touchpad
SD/MMC Flash reader
Warranty
1-year standard warranty
Extended warranties available
Pricing
SU2300 starting at $618
SP9300 Test System: $758
Outside of the SP9300/SP9400 CPU options and the matte LCD, the specs of the 5310m are standard fare. However, we can also see that HP made some compromises in service of the very thin chassis. At less than 1" thick and with a flat design (i.e. unlike laptops where the front is .8" thick while the back can bulge to 1.5"), the 5310m is definitely thin, but it lacks an optical drive and only comes equipped with one SO-DIMM slot. Our concern with the RAM limitation isn't so much of a performance problem, but rather available memory and cost. All of the standard models come with a single 2GB SO-DIMM; custom builds with 4GB are available through HP, but they cost more and the upgrade to a 4GB SO-DIMM comes at an exorbitant $300. Newegg's prices for the same 4GB SO-DIMM range from $165 to $220, depending on brand and speed, so if you want 4GB you'll find it cheaper to upgrade on your own.
Coupled to the single SO-DIMM option is a lack of pre-configured 64-bit OS support. The laptop is fully capable of running Windows 7 64-bit, but HP chooses not to offer such a build from their factory. Given the business target audience, it's not a huge surprise: most IT departments are still running XP and will probably just ghost the corporate image onto the 5310m, but for consumers looking to buy a higher quality business laptop it's regrettable.
While we're on the subject of omissions, note that the single audio jack functions as either a headphone or a microphone port. If you want to use a traditional headset, you'll need a USB adapter. The audio output from the speakers, as you might expect, isn't very loud. On the bright side, the speakers don't distort horrendously, which is more than we can say for some of the Acer laptops we've tested.
On the positive end of the spectrum, even with the puny 4-cell battery, battery life is respectable. HP claims up to 6.5 hours (7 hours for the SU2300 CULV model), though we measured just shy of six hours in our idle battery life test. (HP uses MobileMark 2007, which tends to put a close-to-idle load on laptops; at a lower LCD brightness you can almost certainly get 6.5 hours, but we calibrated for 100nits.) All of the 5310m models come with higher performance 7200RPM drives, or you can even opt for a 128GB SSD if you're so inclined.
The most likely competition for the 5310m would be something like the ThinkPad Edge, except with an SP9300 CPU the 5310m will clearly hold the performance advantage over a CULV laptop. If you're okay with "consumer" laptops, ASUS' new U30Jc with Optimus G310M graphics and an i3-350m CPU only costs a bit more; it also has aluminum covers, though without handling it yet we can't comment on build quality. We'll have a review of that in the coming weeks, but it obviously has the performance advantage. The question is whether it has a stylistic advantage… and of course most businesses are likely to go with HP, Dell, or Lenovo over ASUS. Plus, the magnesium alloy frame and well-designed keyboard are very good features.
How does this business-oriented laptop stack up to the competition? As you might expect, the CPU ends up beating CULV configurations quite handily, at least in application performance. The lack of a discrete GPU means gaming and graphics tasks aren't something you'll want to do on the 5310m. Battery life is decent, particularly when you consider the small 4-cell battery, making the 5310m a reasonable system for those who travel a lot. The size and weight are also good for portability enthusiasts, and build quality as mentioned is top notch, so let's delve a little deeper.