We've looked at quite a few CULV laptops of late, including our CULV roundup. HP's ProBook 5310m is CULV with a twist: it doesn't have to be a CULV laptop, as regular CPUs are also available with significantly more performance on tap. Worth particular note is that the ProBook 5310m is a business laptop rather than a consumer model, which means there's a matte LCD option for a change. (And there was much rejoicing….) HP launched the 5310m late last year, so it's lost some of its shiny newness, but the ProBook still gets a lot of areas right.
The ProBook 5310m comes with an aluminum cover and palm rest, though the LCD bezel remains glossy. This is a very thin and light laptop—less than an inch thick and weighing in at 3.8 pounds. We really like the spacing on the keys, and the keyboard has been comfortable for use in limited testing. The default battery is a bit thinner than a AAA battery and the standard configuration ships with a 4-cell 41Wh battery good for up to ~6.5 hours of mobility (testing still pending). An optional $20 upgrade gets you a 6-cell battery, which should boost battery life quite a bit. Most of the other features are the same as other CULV laptops, but the 5310m does ship with a DisplayPort output instead of the common VGA/HDMI output.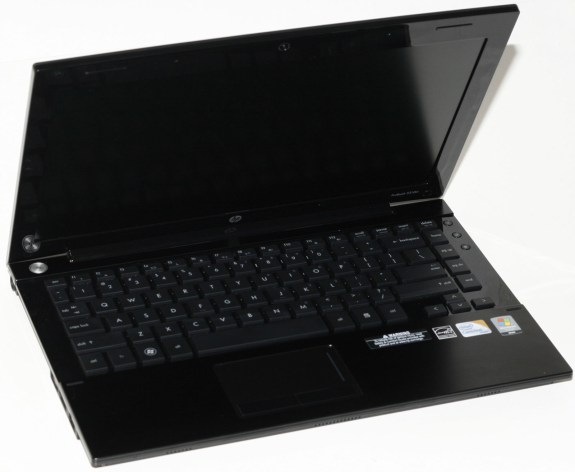 There are a few potential gotchas you should be aware of before taking the plunge, perhaps the biggest being that there's only a single SO-DIMM slot, so getting 4GB will incur a price premium. We'd like to see 4GB options with 64-bit Windows as well; at present, you're going to have to install a 64-bit OS separately if that's what you want. Like many other CULV laptops, the 5310m uses Intel's GMA 4500MHD IGP—good for working in standard Windows applications, watching most movies, and not much else. But then, it's doubtful anyone buying this type of business notebook is going to have gaming as a high priority. Finally, we expect to start seeing CULV versions of Core i5/i7 start showing up (at last!), and while prices are likely to be higher they should also provide better performance. Hopefully we'll get one for review sooner rather than later.
We've got a bunch of other laptops to look at in the near future, including some new AMD-based models, but if you're looking for a thin and light 13.3" laptop the ProBook might have what you're after. The preconfigured models are the way to go, as pricing is much better. If you want a CULV Celeron SU2300 (1.2GHz 1MB L2), you can find the 5310m for just $607 online. That will get you 2GB DDR3 memory and a 160GB 7200RPM hard drive—there's no optical drive on the 5310m. An upgraded model with a Core 2 Duo SP9300 (2.26GHz 6MB L2) will run $759; it also bumps the HDD up to 320GB 7200RPM. The preconfigured models ship with Windows 7 Professional 32-bit (with an XP downgrade if you want it). We'll have the full review in the coming weeks, but if you're interested in seeing more check at our HP 5310m gallery.