Quick Look

ActionTec ActionLink
Home Networking Kit

The Good


http://www.actiontec.com
$99.95 MSRP

+ Uses existing phone line
+ Very easy to setup
+ Excellent manual
+ Quality internet sharing software
+ Full NT 4.0 support

The Bad

- Only 1Mbps bandwidth
- No status lights
- 3 user DynaNAT license
With computer prices dipping well below $1000, the number of PC's in the home is rising rapidly. Sometimes it's a matter of having a second computer for the kids. Or maybe you just have an old computer that is still enough to browse the web and send e-mail. In either of these situations, it would be extremely convenient to be able to share files, printers, or an internet connection. Or maybe none of that matters, but you just want to be able to get together with friends for some multiplayer deathmatch ;) Obviously, what we need here is a network.
Up until recently, a network in the home was simply not very feasible. Ethernet cards cost too much, hubs cost even more, and then there was the problem of running all the wiring. Times have changed greatly - ethernet cards are cheap and hubs are cheap, but the wiring issue still remains. Nobody wants to run new cables through their house. Fortunately, a variety of new technologies are emerging that allow in home networks without any new wiring. The two most popular options are wireless technologies and those that run "on top" of existing wires.
ActionTec's new ActionLink networking kit uses the latter method and runs over standard copper phone wire that should already be in place in every home. The technology used is based on the HomePNA (Home Phoneline Networking Alliance) standard that allows for interoperability between different manufacturers devices.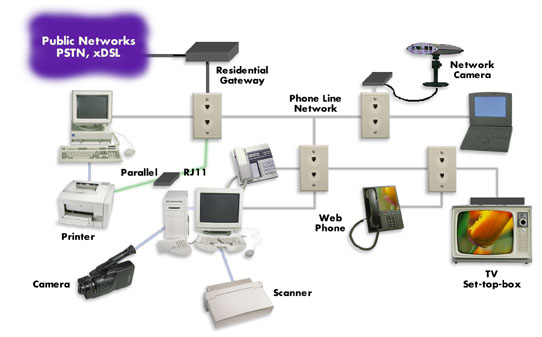 Copyright 1999 AMD
HomePNA runs on top of existing lines, without interfering with their normal operation, by sending its signals at a much higher frequency that is normally not used. This is similar to xDSL technology, but rest assured that HomePNA uses a different frequency than xDSL and will thus not interfere with its operation. Up to 25 computers can be used in such a network without the use of splitters, hubs, terminators, or any other devices.
Specifications
AMD PCnet-Home controller
32-bit PCI bus master interface
Data Transmission Speed: 1Mbps
RJ-11 network interface
500 feet maximum transmission distance between all nodes
Drivers for Windows 9x and NT 4.0
5 year warranty
Software bundle - DynaNAT Internet Sharing, Star Control 3 Full Version, miscellaneous Accolade game demos