Processor
The processor choice determines our motherboard and GPU selection. Personally, I like both Intel and AMD for processors so I have an open mind on this subject. I use a mix of Intel and AMD processors at home and work. Both companies make excellent products so choosing either one is a win/win situation. If I were building a gaming rig or dedicated audio/video workstation, I would lean strongly towards an Intel Q9450 or E8500 as my processor choice, although a Phenom X4 9850 is a solid option for those in the AMD camp. Those recommendations are based on having a different budget so when looking at the lower end of the price spectrum, it becomes obvious that AMD has a stronger selection of products.
Our systems will see a variety of usage that includes web creation, audio/video encoding, gaming, HD playback, and of course heavy communications work. As such, a dual-core processor is a basic requirement and for the audio/video encoding and multimedia work, quad-core would be nice. Clock speeds are somewhat important so our two Intel choices come down to the Q6600 at around $219 (over budget) or the new E7200 at a relative bargain price of $131 for the latest 45nm technology. I seriously considered the E7200 matched with an Intel branded G35 board and would not hesitate to recommend that combination for others. Nevertheless, something else caught my eye - or more like I already knew what I wanted but was afraid to admit it.
On the AMD side of the fence, we have the new 45W processors that include the 4850E, which is a match for the E7200 in most of our applications while offering very good power dissipation numbers. However, looking at our usage patterns, one processor stood out to me. Maybe I like being quirky or notice the ugly ducklings with potential, but the new Phenom X3 series seemed like a perfect match for future needs even though the budget would suffer. Also, they have proven to be relatively overclockable, which will come in handy if additional CPU power is required.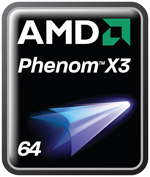 The Phenom 8750 is overpriced in my opinion at $195 and the 8450/8650 at $145/$165 dollars is right on the verge of being annoying to accept looking at the price/performance ratios. However, I found an autographed Bee Gees album in the closet of lost dreams. That should get me the extra $20 I am going to spend on the Phenom 8650 with its 2.3GHz clock speed. Honestly, that is the absolute minimum speed you want to have with Phenom.
This CPU choice gets us the latest AMD technology (Intel fans can insert a variety of sarcastic remarks here) but more importantly an extra core. That extra core actually comes in handy during heavy multitasking, especially if you stick with an IGP solution like the AMD 780G or NVIDIA GeForce 8200 as you can watch an HD movie with full post processing and still perform tasks in the background - something that brought our E7200/G35 system to a standstill. However, this will not be as important to us since we are using discreet graphics cards with HD playback capabilities. As a side note, after working with both configurations, the X3 definitely is better at multitasking under heavy loads, the type of loads these systems generally see on a daily basis.