Expanded Information: SpeedFan & CoreTemp
On modern computers, between the CPU, northbridge, southbridge, and customized hardware monitoring chips there's a litany of information available, far more than what CPU-Z and CrystalCPUID provide. This includes voltages, fan speeds, temperatures, and SMART hard drive data. For years the traditional and most popular monitoring tool for this was Motherboard Monitor, but as it has been out of development for some number of years now, new tools have risen to replace it. SpeedFan is the most popular and one of the best developed of these.
It goes without saying that when it comes to overclocking the value of SpeedFan is immense. With the incredible TDP and heat density of today's CPUs, the temperature readings alone are invaluable since there are a wide range of temperatures that are "safe" by the standards of thermal protection systems, they would actually result in a very short lifespan for a CPU. And while temperature readings can be found in the CMOS of most motherboards, because booting in to an operating system is required to put a load on a processor, a tool like SpeedFan is essential to that end. SpeedFan is also still one of the few utilities to properly support core readings from Intel's MCM quad core CPUs.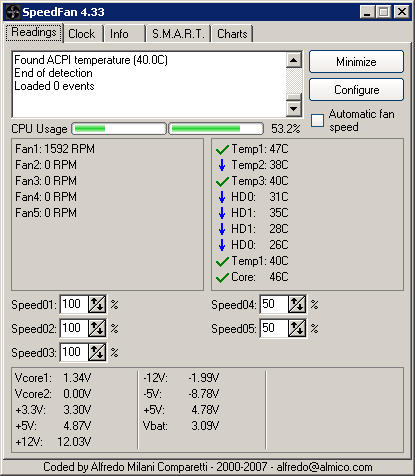 But what we particularly like about SpeedFan are its advanced features that go beyond parroting the data from the southbridge. It is hands down the best Windows tool we've seen for reading hard drive SMART data, thanks to its integration with the HDDStatus website, which keeps a record of submitted hard drive SMART data to compare like-model hard drives and explain in detail the SMART data. Also a favorite of ours with SpeedFan is its ability to fire off warnings via e-mail if it detects any problems that surpass pre-determined thresholds. This isn't very useful for anyone in possession of a single computer, but in the case of anyone owning multiple computers (a home server in particular) this can be a particular lifesaver when it fires off a warning that your file server is on fire or starting to accumulate a lot of SMART errors.
With that said SpeedFan may be the best, but it's not without its flaws. On the more mundane and not of its fault, voltage readings are in our experience quite crazy. The fault with this lies with the motherboard being very bad at reporting some voltages, but this isn't something you can immediately tell from SpeedFan. For that matter we don't trust most motherboards in their voltage readings, if you absolutely need proper voltage readings a multimeter is a better choice.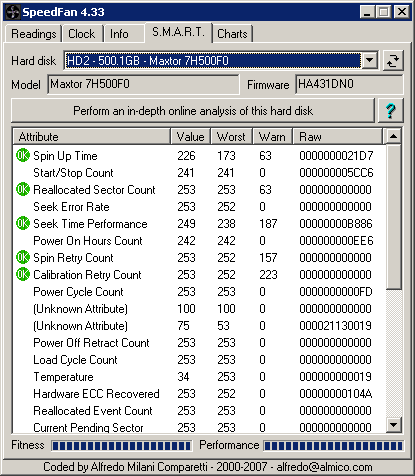 SpeedFan's other notable flaw is its core temperature readings for Intel's latest CPUs, which is why we include CoreTemp in this section for now. Since moving away from the simple thermal diode and towards on-core digital thermal sensors, Intel reports core temperatures not as the actual temperature but as the delta from the processor's tJunctionMax, the maximum temperature a CPU core can take before thermal protection kicks in. This requires knowing what the tJunctionMax of a processor is, which isn't something that can be queried from the processor directly but is available from external sources. The latest supported version of SpeedFan can't recognize some of Intel's newest processors and associates the wrong tJunctionMax with them, resulting in it reporting the wrong temperature (usually by 15c). Notably, this is fixed in the latest beta, but beta access is on a limited basis.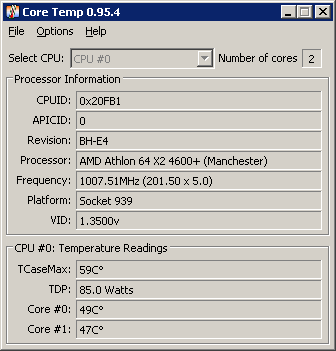 CoreTemp on the other hand knows the proper tJunctionMax of the processors that SpeedFan doesn't know about, but while it's a very competent temperature program in its own right, in this case we want to use it for calibrating SpeedFan. SpeedFan can apply offsets to its temperature readings, so with CoreTemp to provide the correct temperature readings, it's possible to calculate any needed offsets and to apply them to SpeedFan. As we stated earlier this eventually will not be a problem, but until SpeedFan is updated calibration will be required.
A few of SpeedFan's lesser-used features also bear mentioning. When initially conceived (and what SpeedFan derives its name from) it was a utility to control fan speeds on motherboards with the hardware to support that feature, to quiet otherwise unnecessarily loud fans. It does a fine job of this on hardware that can support this feature, but these days many motherboards also support such a feature directly in their hardware, offering a level of OS-independence and usurping some control from SpeedFan anyhow. On a small number of older motherboards SpeedFan can also control the FSB speed of the motherboard, but even the program's author likes to brush this off as a bonus feature. As both of these are motherboard tweaking features, we will stick to our recommendation of leaving control of such features to the CMOS when possible.