BIOS
ASRock Rack is using an American Megatrends Aptio based firmware for the B550D4-4L. The design of the firmware is basic, with a royal blue framing, and grey background. It's an archaic aesthetic, but it is geared more towards commercial users than providing flashy GUI's from that of consumer desktop models.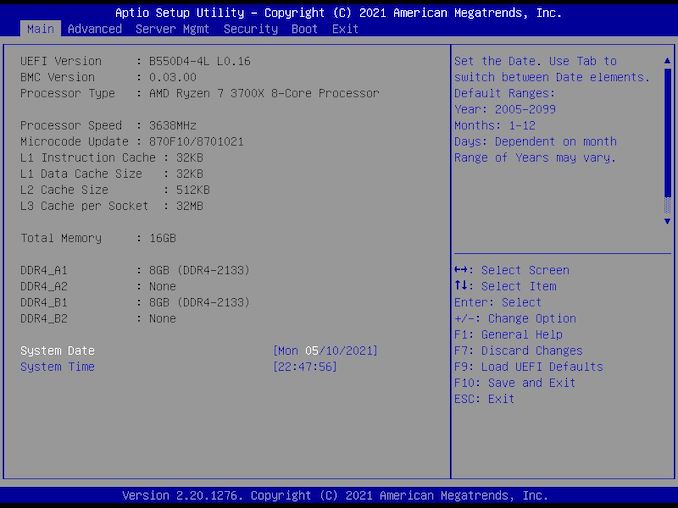 Pressing the Del key allows users to enter the BIOS, and the first screen users will see is the Main section. This section displays information about the installed processor, cache sizes and specification, as well as system memory installed and the relevant speeds. At the right-hand side, there's a hotkey list that includes basic information on what each hotkey does, eg, F1 for the help menu, F7 to discard any changes made in the firmware, F9 to load the board's UEFI default settings, and F10 to save and exit the BIOS.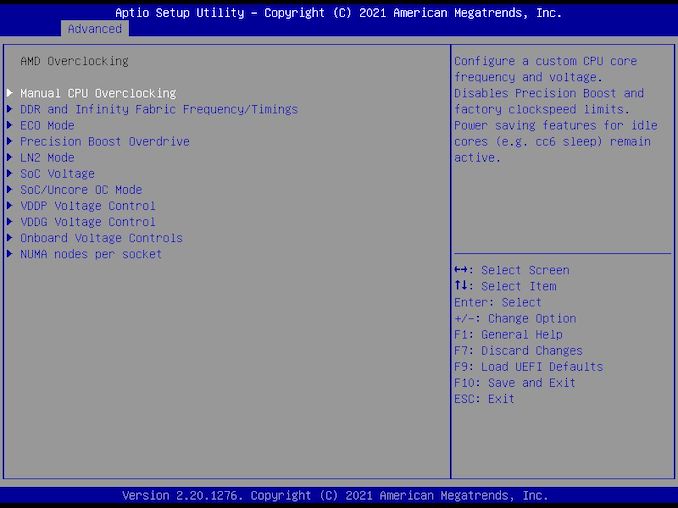 Despite its professional-level functionality with support for both non-ECC and ECC memory which is consistent with server and workstation usage, as the B550D4-4L is based on the AMD B550 chipset, it does officially support overclocking. The board's overclocking settings primarily come from the platform, with very antiquated levels of settings available for users. Generally speaking, while the B550D4-4L supports overclocking, both manually and with AMD's Precision Boost Overdrive, it's not recommended to push the processors too much for a couple of reasons. The first is the 4+2 power delivery isn't considered very premium, and they are typically built to specification for these types of boards without any overcompensation of componentry. The second is the power delivery heatsinks aren't capable of holding a consistent level of heat, due to their size, overall mass, and positioning on the board. Users are more than welcome to overclock on this model to their heart's content, but we simply wouldn't recommend it for the reasons stated above.
A lot of the firmware functionality revolves around professional elements, such as security, power management, and BMC control. Configuration of the BMC can be done within the Server Management section and allows users to create custom IP addresses so the system can be accessed over a network. Overall the firmware on the ASRock Rack B550D4-4L is functional but without the glitz and glamour of desktop models. It is responsive to USB keyboards and mice and provides everything users need to get server-focused systems up and running.
Software
The ASRock Rack B5504D-4L doesn't come supplied with any software as such, but it does include an ASPEED AST2500 BMC controller, which can be accessed remotely via a single Realtek RTL8221E Gigabit Ethernet port on the rear panel. Setting up the BMC IP address within the firmware is easy enough for an experienced user, but for amateur users, there are plenty of guides available online.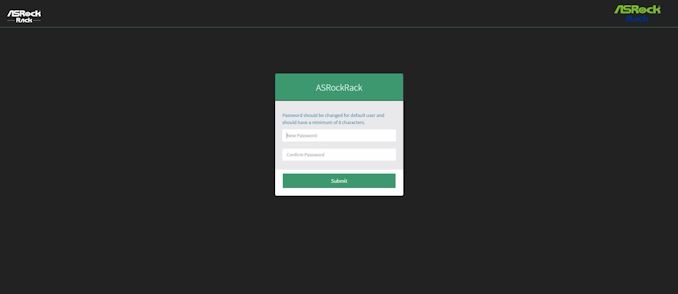 The ASRock Rack IPMI can be accessed by inputting the IP address and settings set within the BMC section of the firmware. The usual method of logging into the IPMI is with a predefined set of credentials, in this case with the username and password, admin/admin.
New legislation via Senate Bill No. 327, under California Law which was passed in 2018, states that each device comes supplied with unique credentials for each individual device. Technically, ASRock Rack is in breach of this law which means that the B550D4-4L wouldn't be permitted to be sold within California.
Upon logging in for the first time, the IPMI does request that users create a new password that could be considered a circumvention of the law, but we aren't legal experts by any stretch and as such, don't want to speculate on this.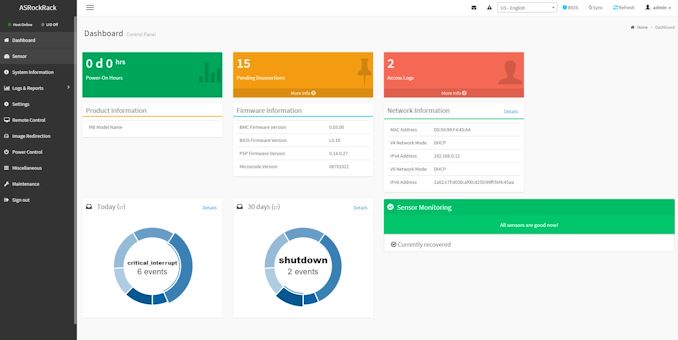 The ASRock Rack IPMI is very functional, informative, and uses a clean-cut GUI. One of the highlights of the GUI is in the dashboard, which provides critical information on power uptime, critical interrupt errors, and any shutdown errors encountered on the system. It also provides information on overall sensor health through sensor monitoring. Any errors or anomalies, or any sensors operating with temperatures or voltages outside of common parameters, will be displayed on the dashboard. The ASRock Rack IPMI also provides many different functions, including a comprehensive sensor monitoring page, a KVM viewer with HTML5 and Java variants for users to utilize, as well as control of power settings, such as powering up or down the system remotely. This also stretched to typical maintenance elements such as updating the firmware of the board remotely and backing up system data.
Overall ASRock Rack's IPMI interface is one of the better ones we've used in recent years and provides more than enough functionality when combines with the ASPEED AST2500 BMC controller and Realtek RTL8211E Gigabit Ethernet remote access point.