System Performance
Although there's not been a big architectural change in Intel's laptop computing platform since Skylake launched in 2015, the big jump lately was when Intel doubled the core count of its U series processors to four cores and eight threads with Kaby Lake Refresh. But, Intel's Y series of processors, which are their low-power offerings, stick with the dual-core design with Amber Lake. HP offers two processor options on the Spectre Folio, with the base model starting with the Intel Core i5-8200Y, and the top-tier offering being the Core i7-8500Y.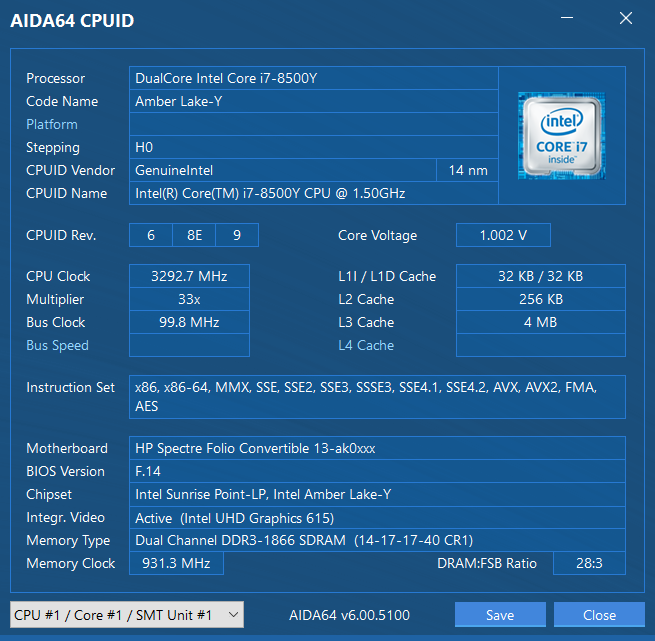 The Y series offers a nominal 5-Watt TDP, which is 1/3 of the power envelope offered in a U-Series processor, so it's no surprise that it can't offer more cores yet. The Core i5-8200Y features a 1.3 GHz base frequency, and 3.9 GHz maximum turbo frequency. The Core i7-8500Y bumps the frequency to 1.5 GHz base, and 4.2 GHz Turbo. Although the processors are only 5-Watt TDPs, they compare favorably to the U series in terms of maximum frequency. For example, a Core i5-8265U has the same 3.9 GHz maximum turbo as the i5 Y series, and the i7-8500Y even exceeds that. The major difference though will be on how long each processor can maintain that frequency, but on short workloads that are not highly multithreaded, the Y series should perform fairly well, while still offering the advantage of a fanless design.
On the low-TDP processors, the manufacturer has even more of an impact on overall system performance, since the laptop materials, cooling, and design play a bit part in how the processor dissipates heat. We analyzed this in-depth back when Intel first launched Core M back in 2015, so it'll be curious to see how the latest Y series compares in a leather-bound laptop.
To see how the HP Spectre Folio performs, we've run it through our laptop workflow and will be comparing it to other recent notebooks in this category.
PCMark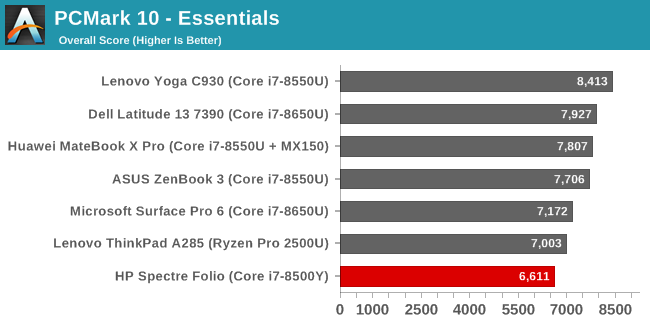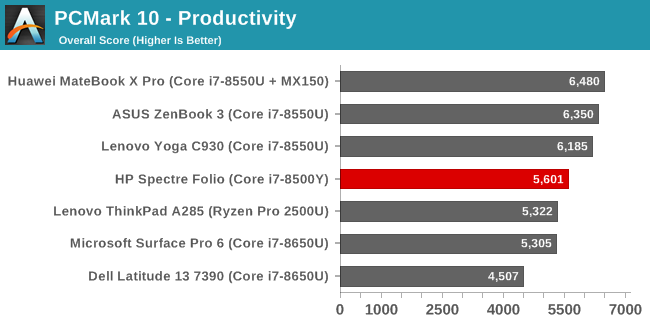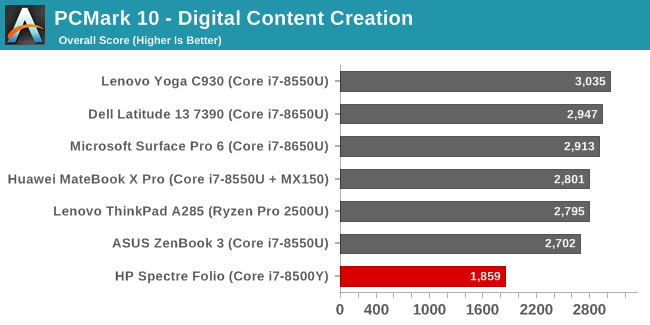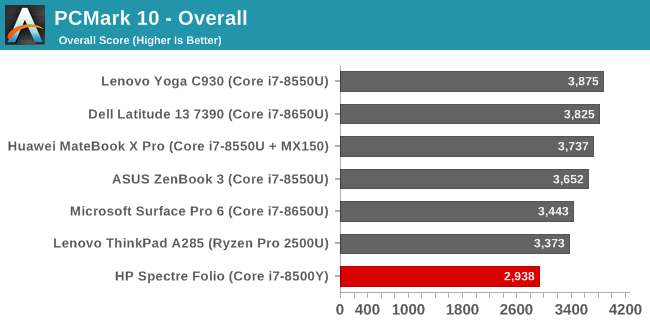 UL's PCMark 10 is an overall system test, with different workloads that stress the CPU, GPU, and storage, using real workloads for office tasks, rendering, browsing, and app start-up time. Essentials, which includes web browsing and video conferencing sees the Amber Lake powered Spectre Folio at the bottom, but Productivity, which features office tasks shows that the high boost frequency of the Core i7-8500Y helps to keep the Folio competitive. Digital Content Creation which does photo editing, rendering, and other media work is unsurprisingly a challenge for this notebook.
Cinebench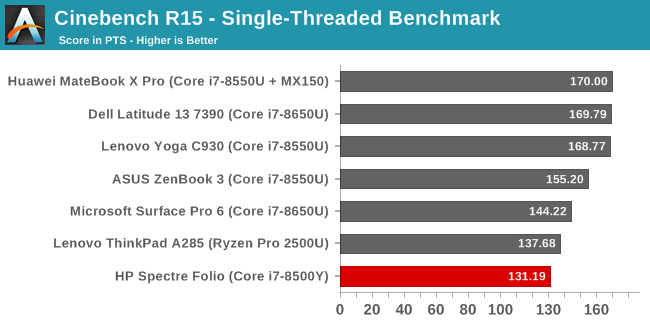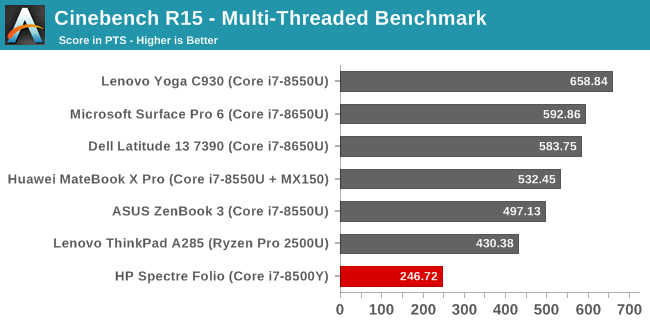 As we are filling out our Cinebench R20 results, we'll still focus on R15 for the time being. Cinebench offers both single-threaded and multi-threaded tests, and the rendering benchmark is purely a CPU task, so it's a nice way to easily look at the pure CPU performance. This is a long test, so the 5-Watt TDP certainly comes into play heavily here for the Folio, although it's still competitive with just one thread active. On multi-threaded though, all of the other laptops offer twice as many cores and threads and really show the difference between Y and U series performance.
x264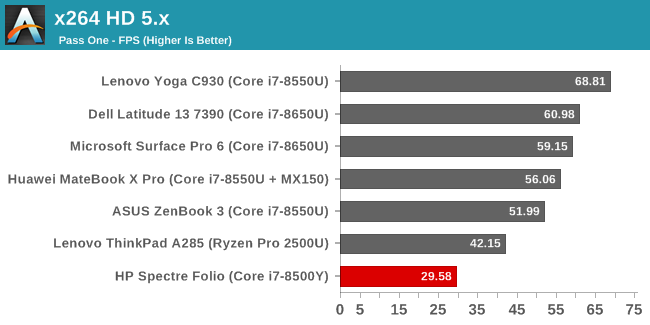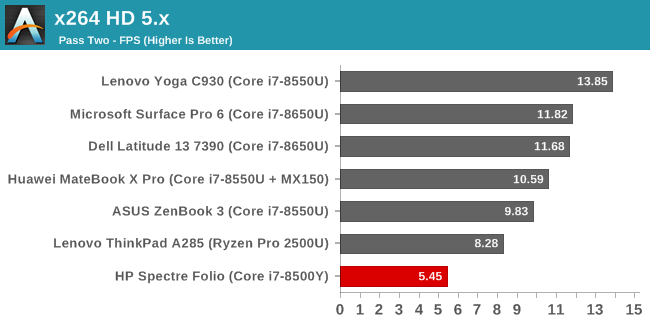 The x264 benchmark is also a CPU test, but it's over a much longer time period so it helps differentiate devices that may struggle with cooling. The Spectre Folio doesn't struggle with cooling, but the 5-Watt TDP and low thread count doesn't do it any favors here.
Web
Web is an important metric because it's one of the primary functions for any computer, but it's also one of the least accurate tests due to how much the scripting engine in the browser influences performance, and performance will change over time as the browser gets updated. Sometimes performance goes up, but not always. But, it is an almost ideal scenario for the Y series processors, since the web workloads tend to be short bursts of work followed by periods of inactivity, so the high boost frequency of the Core i7-8500Y should be utilized more in these tests.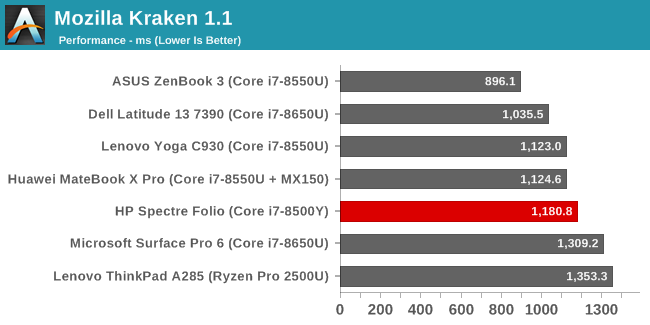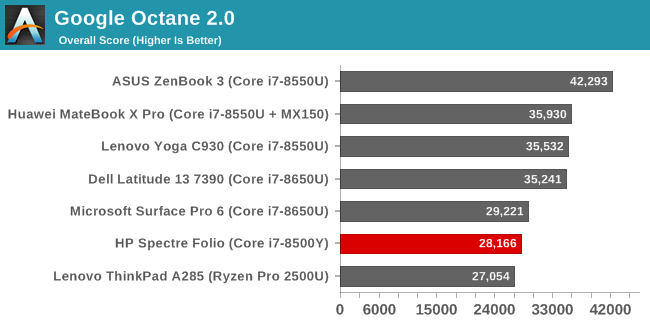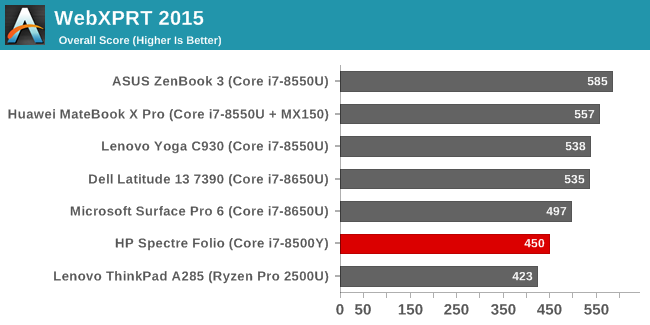 As you can see, the Y series isn't as big of a hindrance here, offering good performance in all of the web tests. These results were obtained with Microsoft Edge, and we'll be moving to the Chromium based Edge for these results soon. Once we move, we'll add in some new, more up-to-date scripting tests.
Comparisons to Core M
Intel launched Core M in 2015, which was their first attempt at the 5-Watt range in the Core lineup. Previous to Core M, the Y series had a much higher TDP and still required a fan, so it was rarely used, but by shrinking the TDP even further, there was now a solid reason to implement these Y series CPUs: fanless computing.
Core M has had its detractors, and Intel ditched the branding a couple of years ago, moving back to the more familiar Core i5 and i7 branding except for the Core m3 at the low-end of the Y lineup. But it did deliver on its promise of fanless computing, and by providing a wide range of frequencies and very high Turbo frequencies, it still kept the snappy feel of Core. Overall performance was lower, of course, but the difference wasn't as dramatic as you'd think in everyday tasks.
Unfortunately for the latest Y series, code-named Amber Lake, it still only offers two cores when the U series jumped to four, and it's now at a disadvantage in overall compute even if the turbo for single-threaded is still quite high.
But I thought it would be nice to take a look at how the processor compares against the original Core M from 2015. The top-tier Core M was the Core M-5Y71, based on Broadwell and offering a peak Turbo frequency of just 2.9 GHz. Four years later, with a newer architecture and several years (some would say too many years) to tweak the 14 nm process, and we have Amber Lake which peaks at 4.2 GHz in the same power envelope. Not bad, right? To see how it compares I pulled some of the Cinebench scores out of our database for several Core M laptops we tested, as well as the latest Gemini Lake based Atom which is also a fanless design.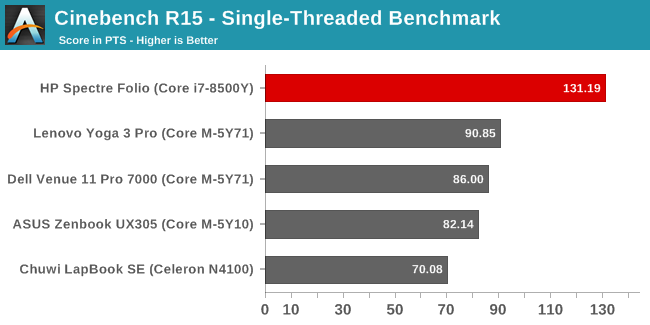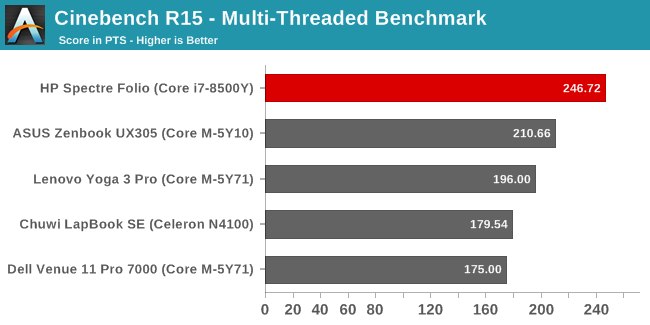 The latest Amber Lake Y series is a massive jump, and easily outperforms the other devices. The single-threaded results are of course bolstered by the extra Turbo frequency provided by the more advanced process, and even in the multi-threaded test which is certainly running into the TDP limits, it's still well ahead. Amber Lake can't hold its own against the most recent mobile quad-cores, but it's still a big leap over the original generation of 5-Watt Core.