Accessibility and Typing Updates
As has been the norm, Microsoft has also added some new accessibility features with the latest update. In Settings, there's an Ease of Access menu which lets you adjust all of the accessibility features.
In the display settings, you can adjust text size with a slider, and apply without having to log out. This changes the text size of all of the system text, such as the Start Menu, Edge tabs, and settings. It doesn't affect applications though, since they render their own text, but apps like Edge will allow you to zoom in which helps as well. The advantage here over doing the entire display with DPI scaling is that it doesn't impact the visual layout, or amount of desktop space you have available. For some, setting the DPI to a larger scaling factor is going to be the preferred method, but this is a great option as well if you do want to keep your desktop space available. You can set it from 100% to 225% in 1% increments. At maximum size, it does impact usability though, since text won't fit in its windows very well.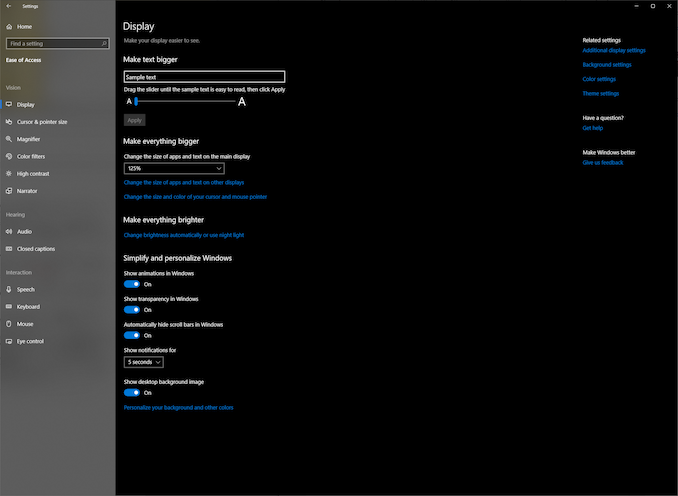 This can also be used with the new Magnifier features which also allow you to set the zoom level increments to smaller levels of 5 and 10% for better control of the magnification, and you can set it to keep the mouse centered so you don't lose it as easily when using magnifier.
Microsoft has also updated the Narrator functionality, starting with a new QuickStart tutorial when Narrator first launches, and they've updated the Narrator keyboard as well to improve ergonomics and usability. There's also a new Narrator Find feature to search for specific text, and the ability to automatically read dialog boxes, and a new Scan Mode which will stop the Narrator on interactive elements so you can interact with them before it moves on. Check out the updated Narrator Guide for more information.
Typing Updates
There's also new functionality for typing, both with the on-screen touch keyboard, or with a hardware keyboard. First, Microsoft's SwiftKey predictive keyboard can be used as the touch keyboard in certain languages, and as we've all gotten used to on our mobile devices, predictive typing can be very helpful when using a touch keyboard. You can access insights into your predictive typing to see how often you use the predictive typing.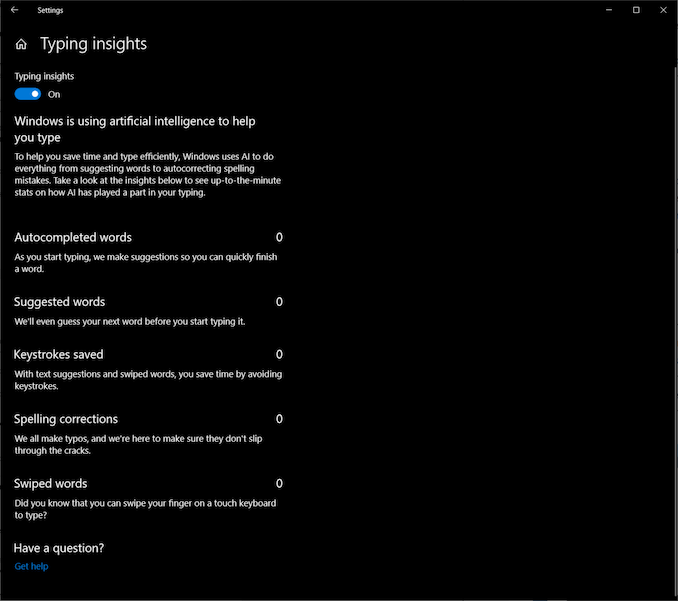 In addition, people using hardware keyboards can also enable the predictive typing so that the system will generate suggestions as you type.
If you love the Emoji picker added in a couple of updates ago, you'll be happy to see that it now supports Unicode 11, and offers 157 new emojis.