AnandTech Storage Bench - Heavy
Our Heavy storage benchmark is proportionally more write-heavy than The Destroyer, but much shorter overall. The total writes in the Heavy test aren't enough to fill the drive, so performance never drops down to steady state. This test is far more representative of a power user's day to day usage, and is heavily influenced by the drive's peak performance. The Heavy workload test details can be found here. This test is run twice, once on a freshly erased drive and once after filling the drive with sequential writes.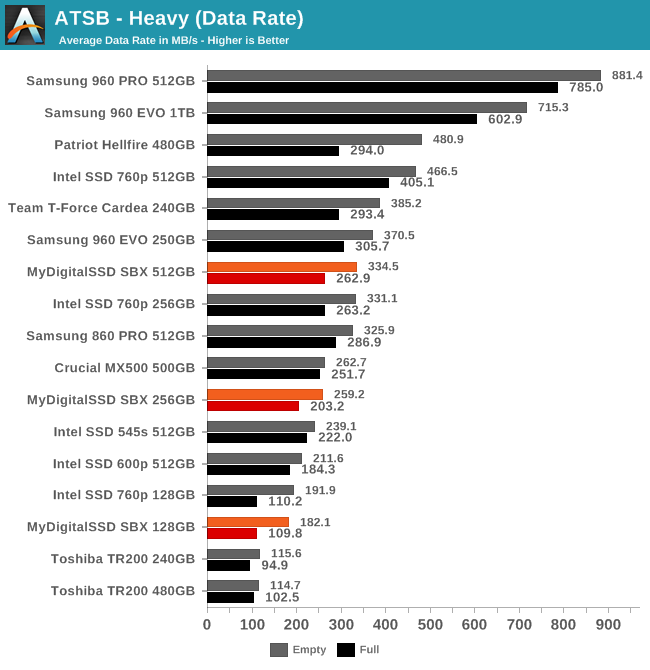 The average data rates of the MyDigitalSSD SBX on the Heavy test make it clear that while it is not the slowest NVMe SSD we've tested, it is the slowest we've encountered so far from the current generation. The Intel SSD 760p is tied with the SBX at 128GB but has a clear performance advantage at higher capacities. Compared to the SATA SSDs, the SBX doesn't have much advantage over the 860 PRO but is clearly faster than more mainstream drives like the Crucial MX500.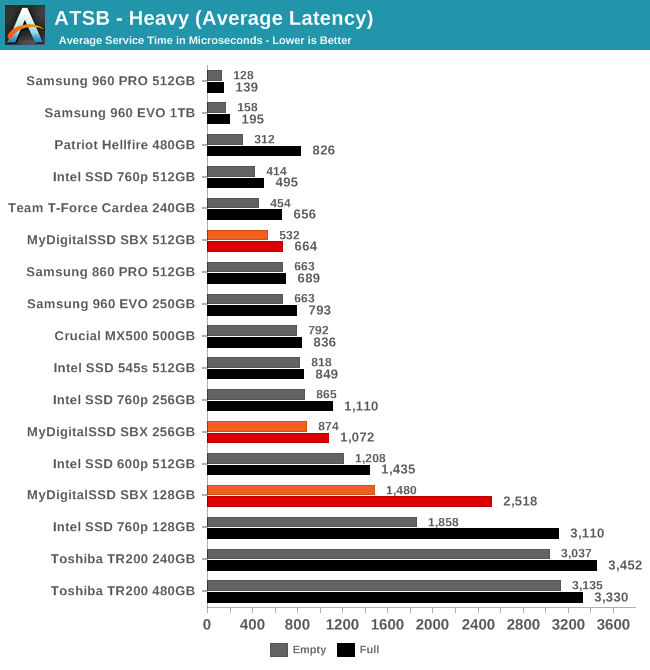 The average and 99th percentile latency results show that the 128GB SBX suffers significantly more than its larger siblings when the test is run on a full drive. The 128GB Intel 760p shows an even larger impact that puts its average latency up in the range of the DRAMless SATA drives.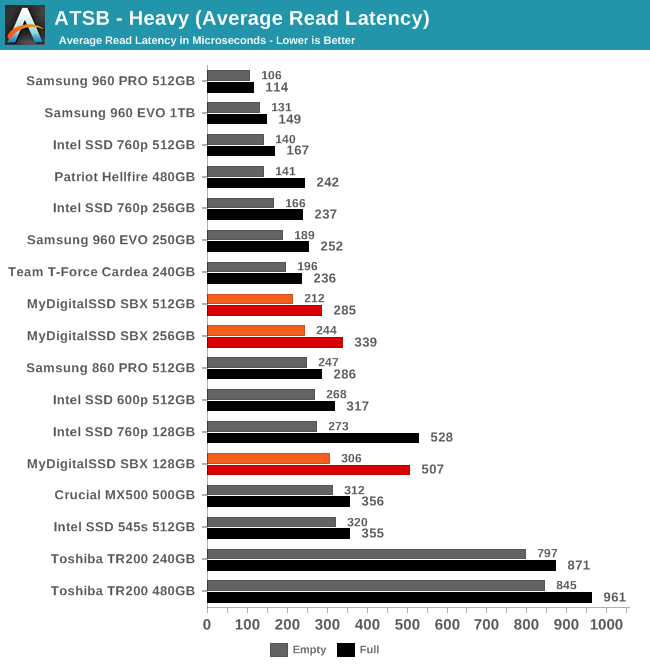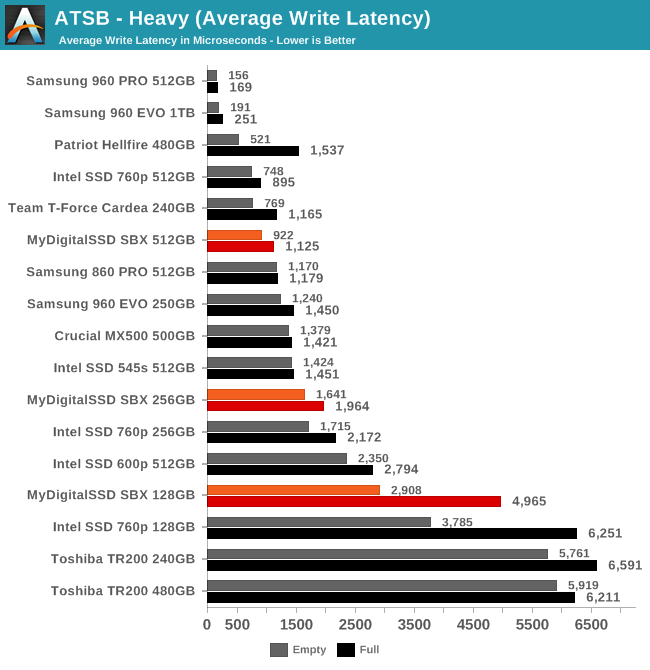 The average write latency scores show much greater variation between drives than the average read latency scores. For both scores, the SBX ranks about where expected: worse than most other NVMe drives but usually better than SATA drives.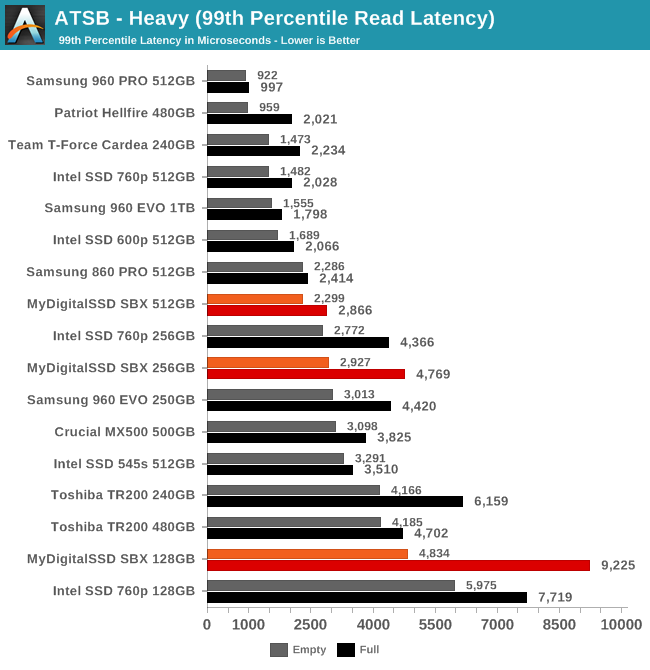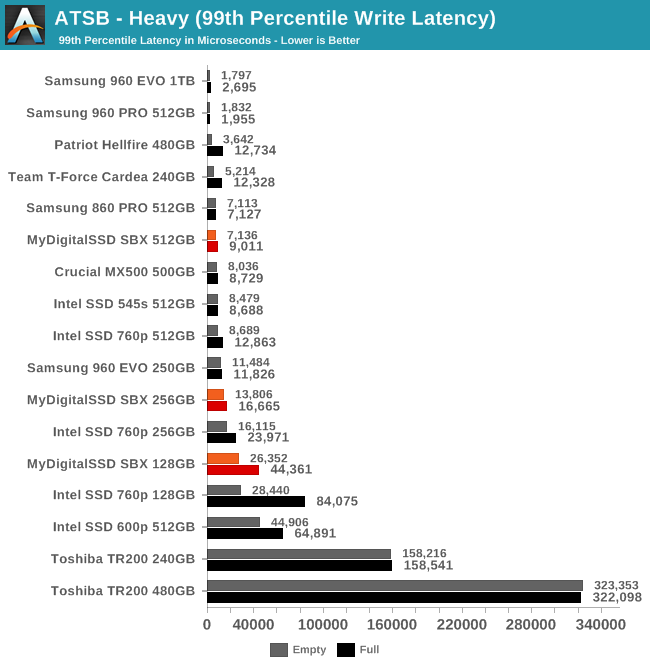 The 99th percentile read latency scores highlight how the 128GB SBX is particularly challenged by its low capacity. All capacities of the SBX have reasonable QoS on the write side of things, where the SBX consistently scores better than the Intel 760p.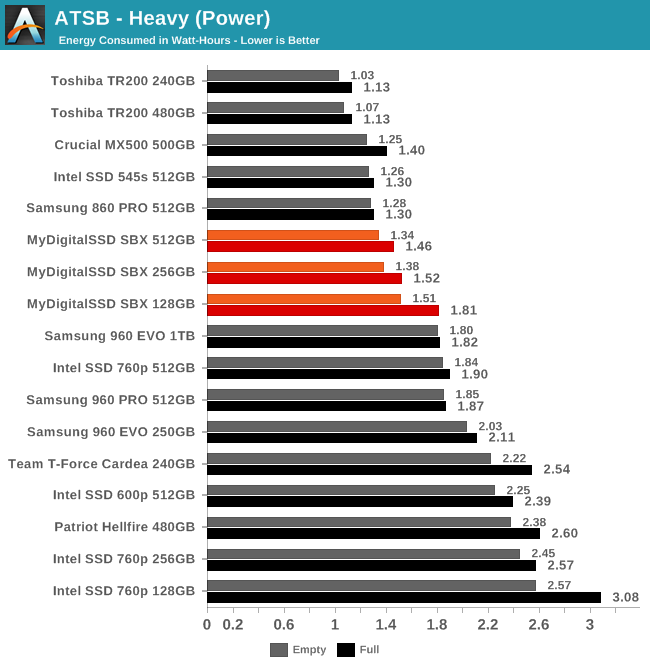 The MyDigitalSSD SBX completes the Heavy test while using less energy overall than almost all NVMe SSDs. Its energy usage is slightly higher than typical for mainstream SATA SSDs, but this is no surprise: even a two-lane PCIe link requires more power than a SATA link.