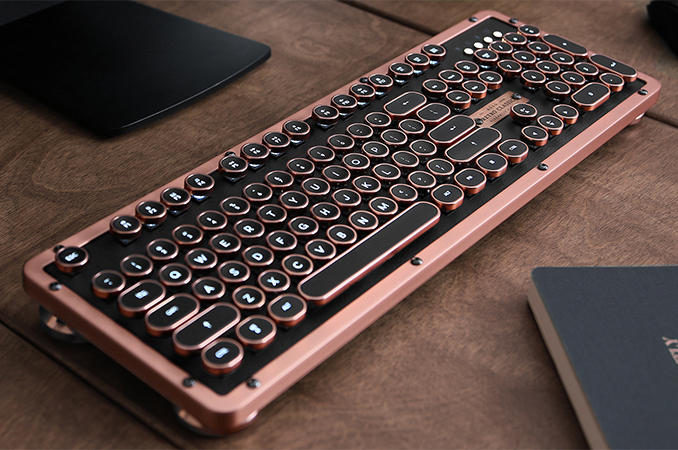 Azio has started to sell wireless versions of its old-fashioned typewriter-like Retro Classic mechanical keyboard. The devices look the same as their wired brethren and are available in four variants. The new units cost $30 more than their wired counterparts and, in addition to Bluetooth, they also offer "official" Mac compatibility with appropriate interchangeable keycaps.
The Azio Retro Classic mechanical keyboard we recently reviewed is a mixed bag. The keyboard looks extremely eye-catching and its exotic design after vintage typewriters (or after a steampunk keyboard from the Warehouse 13 if you are younger and have never seen classic mechanical typewriters) educes nostalgia. Based on the Kailh Typelit switches, the keyboard uses real leather or wood as well as a Zinc alloy frame in its construction and is particularly well built. However, a combination of its round keycaps, flat profile and very short key travel distances made it uncomfortable for extensive use. Now, Azio is offering Bluetooth versions of the keyboard that offer the same pros and cons, but add a certain degree of freedom due to lack of any wires.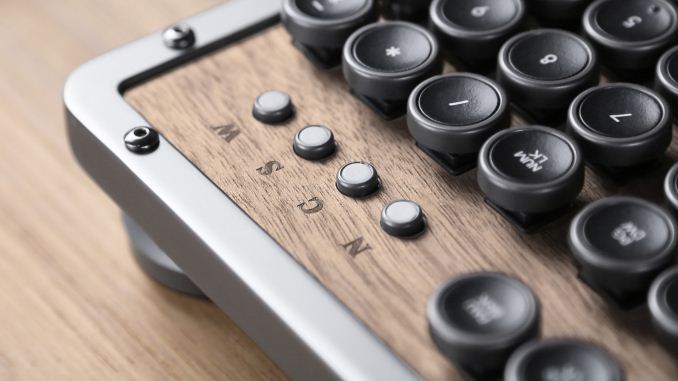 Just like the wired Azio Retro Classic, the Retro Classic Bluetooth are available in four styles: Onyx, Posh, Artisan and Elwood. The keyboard comes with a 6000-mAh rechargeable battery that can last for up to two months depending on the backlight intensity and usage. The battery can be charged using a special USB-C cable.
Azio Retro Classic Bluetooth General Specifcations
Onyx
Posh
Artisan
Elwood
Official Design Description
Black leather with black chromed frame
White leather with copper matte frame
Black leather with copper matte frame
Walnut wood with gunmetal matte frame
Number of Keys
104
Switch
Azio/Kailh Typelit
N-key Rollover Support
6
Interface
Bluetooth or USB 1.1
Removable Keys
Yes
Compatibility
Apple MacOS, Microsoft Windows
Battery
6,000 mAh
Dimensions
455 × 147 × 40 mm | 17.9" × 1.6" × 5.8"
Weight
1587 grams | 3.5 lbs
MSRP
$219.99
The new keyboards officially support both Microsoft Windows as well as Apple macOS and come with interchangeable Mac key caps. Pairing a retro keyboard with an ultramodern Mac looks like a questionable idea, but there are outlets that build custom computers, so building a retro Mac is theoretically possible.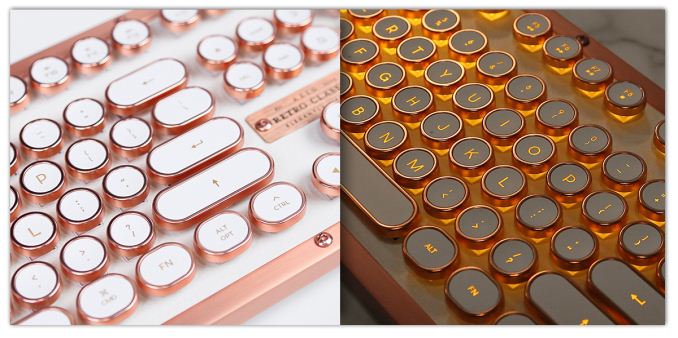 Azio's Retro Classic BT keyboards are available directly from the company as well as from retailers like Amazon for $219.99, that is $30 extra for Mac compatibility and lack of wires.
Related Reading:
Source: Azio