LAS VEGAS, NV — Cypress Semiconductor today announces a new WiFi combo chipset targeted at automotive applications. Car connectivity gets increasingly common-place and users enjoy the same media experience they experience at home, and there's the need for vehicle manufacturers to keep up with the ever-evolving technology landscape such as new WiFi standards.
Vehicle components naturally need to adhere to strict safety standards as well as be qualified to work in harsh operating conditions such as extremely cold or extremely hot temperatures. Consumer-oriented semiconductor products naturally aren't up to task.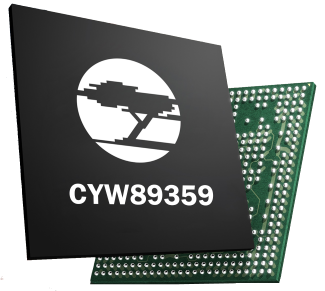 The Cypress CW89359 WiFi combo solution fills such requirements and is qualified with AECQ-100 grade-3 validation. The chipset is a 2x2 MIMO 802.11ac solution with Bluetooth Low Energy capability. Cypress also claims to be the first vendor to be able to offer such a solution in a Real Simultaneous Dual Band (RSDB) implementation, essentially meaning the combo chip has two full WiFi circuits simultaneously serving the 2.4GHz and 5GHz bands, achieving better quality-of-service and latency compared to existing non-RSDB solutions.
The chipset is Cypress' highest-performance WiFi device in the IoT portfolio and the company hopes to be able to differentiate itself through meeting automotive customer's rigorous reliability and safety requirements. The combo solution is already in full production and the company states there's to major undisclosed vendors already implementing the solution in their upcoming vehicle models.