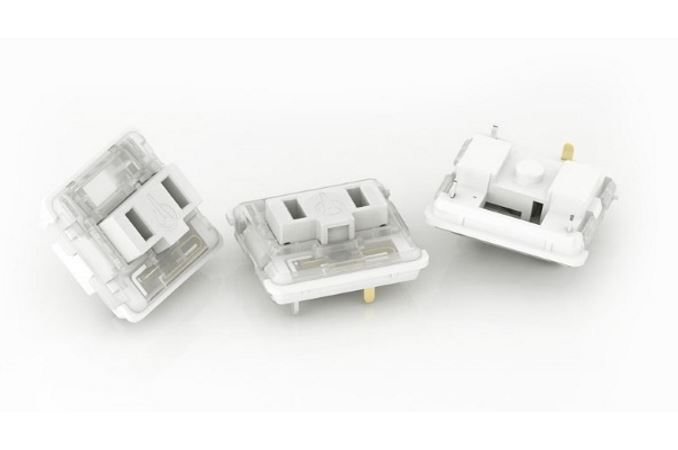 Mechanical keyboards have been a part of PC computing long before many of us were born and still have a place in the market today. With laptops becoming hugely popular in that time, many of the technologies found in full-sized PCs are making its way to the laptop space, including the mechanical keys many prefer to use due to the tactile and aural feedback. As time went on, technologies have improved and so have the number of choices consumers have in the mechanical keyboard space.
In the past, it was either Cherry MX or membrane-based keyboards. Today, however, the market has many switches offering a wide range of characteristics from multiple sources. One of the biggest challenges is trying to fit mechanical keys into smaller devices. In comes Kailh with its PG1232 Mini Chocolate mechanical keyswitch.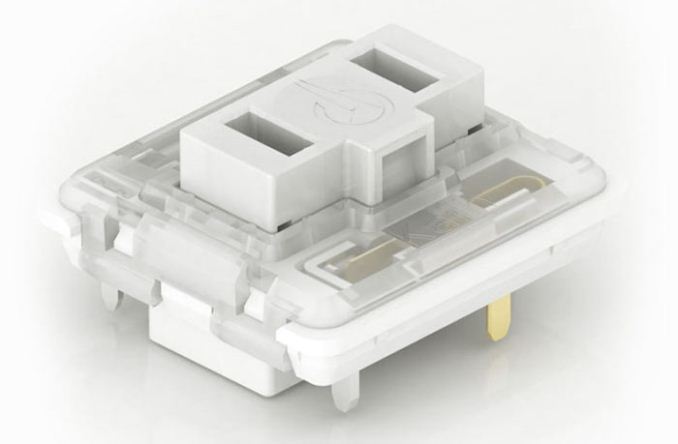 The PG1232 has a lower height than its regular mechanical switches and offers a pretravel of 1.2mm (±0.5mm) with an actuator/total travel of 2.4mm (±0.5mm). Compared to the original Chocolate key switches, which are set up with a total travel of 3mm and an actuation point at 1.5mm using 50g actuation force, this reduces the total travel height by 0.6mm (~ 20%). Meanwhile the PG1232 is also a bit smaller overall, measuring 14.5mm(W) x 13.5mm(D) x 8.2mm(H) versus the 15mm x 15mm x 11mm on the original chocolate key switches. This downsizing aims to make the switches more practical for use in laptop keyboards while still maintaining that tactile feel and aural feedback user want from a mechanical switch.
The White PG1232 switches are the 'clicky' type. There wasn't a mention of different types for the Mini, however, Kailh already has a presence in this space with its low-profile PG1350 Chocolate keyswitch range which comes in three flavors; Red (linear), Brown (tactile) and White (clicky), all with 50g operating force. We expect to see the same options in this lineup.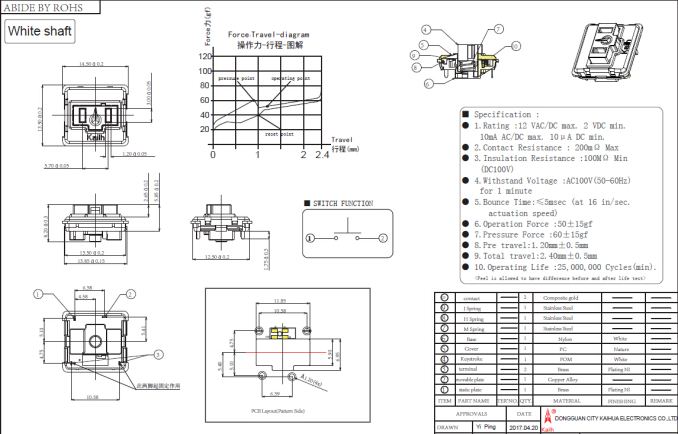 Current mini mechanical keys can be a mixed blessing in the laptop space, as the few laptops which have them really border on actually being portable. For example, MSI's GT80 2QE Titan SLI and Acer's Predator 21 X feature mechanical keys and are both ultra-high-end gaming machines, with double-digit weights to match. This makes it easy to see how lower-profile mechanical keys can help, as while they don't eliminate the space needs of a mechanical keyboard, they can help bring the size of such a keyboard down to something a bit more suitable for a truly portable laptop.
No release date has been announced but we expect to see these on the market on keyboards in coming months.
Related Articles:
Source: Hexus.net