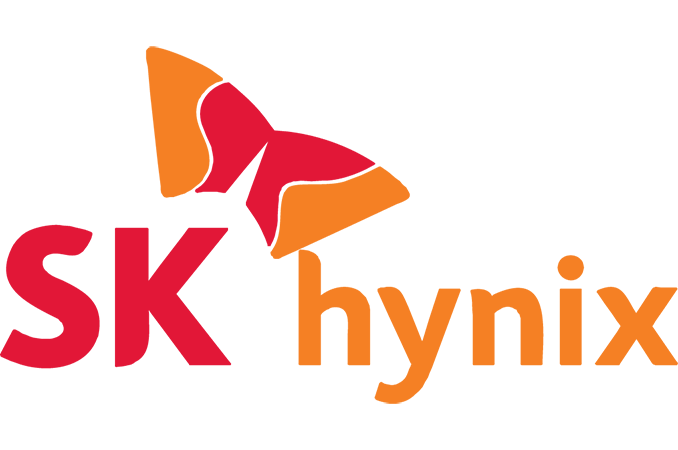 SK Hynix has quietly added its new 8 GB LPDDR4 package to the family of mobile DRAM offerings. The new package paves the way for single-package smartphones and tablets with 8 GB of memory and is based on the company's yet unannounced 16 Gb LPDDR4 ICs (integrated circuits).
The 8 GB (64 Gb) LPDDR4 package stacks four 16 Gb DRAM parts that feature a 3733 MT/s transfer rate and provide up to 29.8 GB/s of bandwidth when connected to an application processor using a 64-bit memory bus. The 8 GB DRAM package from SK Hynix comes in a standard 15 mm × 15 mm 366-ball or 376-ball form-factor which is compatible with mainstream mobile devices. The 366-ball FBGA package can be PoP stacked with a mobile SoC or a UFS NAND storage device and is available to customers of the company now. The 376-ball FBGA will be available in Q1 2017.
SK Hynix uses its 21 nm manufacturing technology to produce the 16 Gb LPDDR4 memory devices. By contrast, Samsung, which also recently added an 8 GB LPDDR4 package to its own product lineup, uses its '10 nm-class' fabrication process to make 16 Gb ICs. Thinner process technology has allowed Samsung to increase interface data rate of its 8 GB LPDDR4 package to 4266 MT/s (14% higher compared to data-rate of SK Hynix's offering).
SK Hynix 8 GB LPDDR4 DRAM Packages
H9HKNNNFBUMUBR-NMH
H9HKNNNFBMMUDR-NMH
DRAM IC Capacity
16 Gb
Number of DRAM ICs
4
Data Rate
3733 MT/s
Bus Width
x64
Bandwidth
29.8 GB/s
Package
FBGA-366 15 mm × 15 mm
FBGA-376 15 mm × 15 mm
Voltages
1.8V / 1.1V / 1.1V
1.8V / 1.1V / 0.6V
Process Technology
21 nm
Availability
Q4 2016
Q1 2017
The 8 GB LPDDR4-3733 package from SK Hynix features industry-standard LPDDR4 voltages, but neither the company's website nor the product catalog reveals the expected power consumption. Since the company keeps using its 21 nm fabrication process for its 16 Gb LPDDR4 ICs, the DRAM devices will likely consume more power than their 12 Gb predecessors. Of course, SK Hynix may have refined the design of its LPDDR4 circuits to optimize their power consumption, which will be particularly important in mobile categories.
SK Hynix did not make any formal announcements covering the new 8 GB LPDDR4-3733 packages, which may be an indicator that it has not delivered any commercial batches of the product yet. Nonetheless, the addition of the 8 GB LPDDR4 stacks to the company's product catalog means that they are production ready and it is reasonable to expect at least select devices to use them in 2017.
Related Reading:
Source: SK Hynix