Performance Metrics - I
The Zotac ZBOX MAGNUS EN980 was evaluated using our standard test suite for gaming mini-PCs. Not all benchmarks were processed on all the machines due to updates in our testing procedures. Therefore, the list of PCs in each graph might not be the same. In the first section, we will be looking at SYSmark 2014, as well as some of the Futuremark benchmarks.
BAPCo SYSmark 2014
BAPCo's SYSmark 2014 is an application-based benchmark that uses real-world applications to replay usage patterns of business users in the areas of office productivity, media creation and data/financial analysis. Scores are meant to be compared against a reference desktop (HP ProDesk 600 G1 with a Core i3-4130, 4GB RAM and a 500GB hard drive) that scores 1000 in each of the scenarios. A score of, say, 2000, would imply that the system under test is twice as fast as the reference system.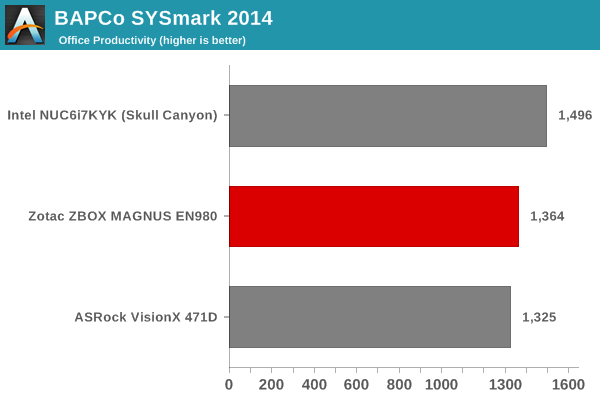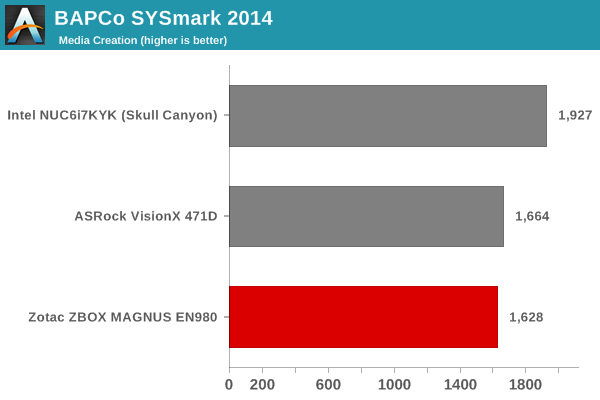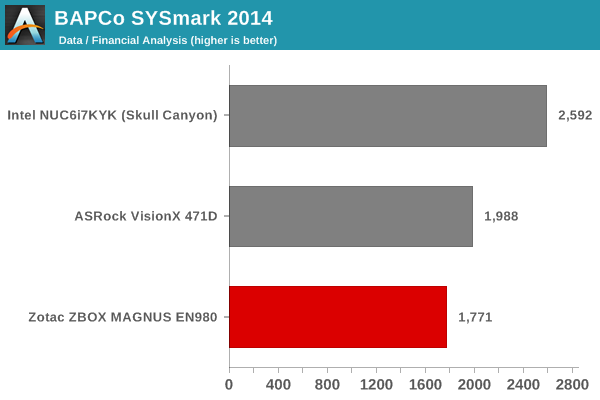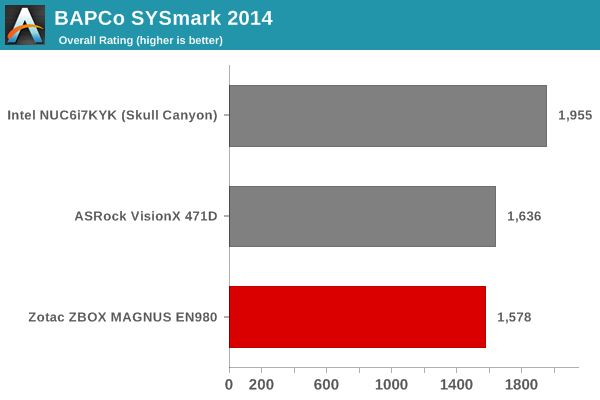 The SYSmark numbers are a bit of a problem for the MAGNUS EN980 due to the 4C/4T configuration of the Core i5-6400 CPU in it. Since this is a CPU-intensive benchmark, it loses out to better-clocked / higher-thread-count systems such as the Skull Canyon NUC and the mobile Haswell Core i7 in the ASRock VisionX 471D. That said, performance in office and creative applications is probably not of great concern to the target market for the MAGNUS EN980 - hardcore gamers.
Futuremark PCMark 8
PCMark 8 provides various usage scenarios (home, creative and work) and offers ways to benchmark both baseline (CPU-only) as well as OpenCL accelerated (CPU + GPU) performance. We benchmarked select PCs for the OpenCL accelerated performance in all three usage scenarios. These scores are heavily influenced by the CPU in the system. The presence of a discrete GPU and better power budget enables the ZBOX MAGNUS EN980 to make a clean sweep of all the Futuremark benchmark numbers.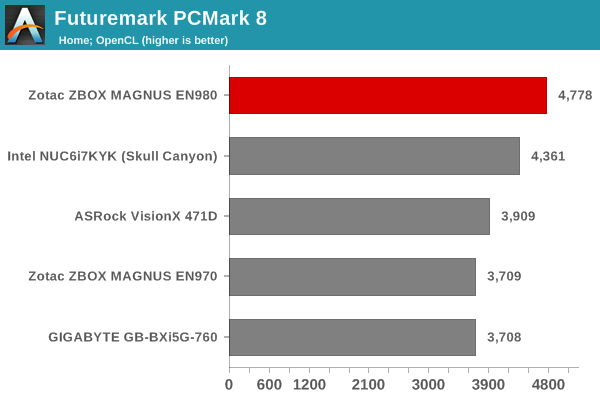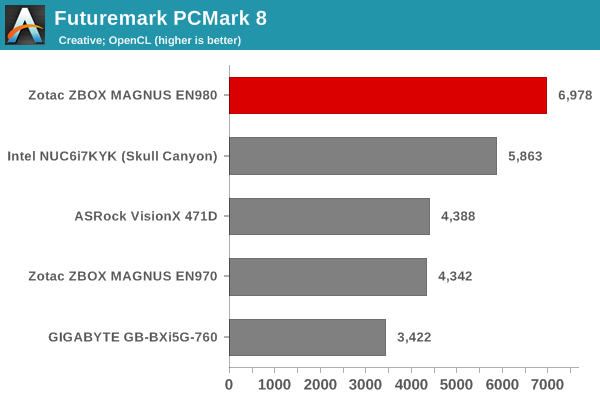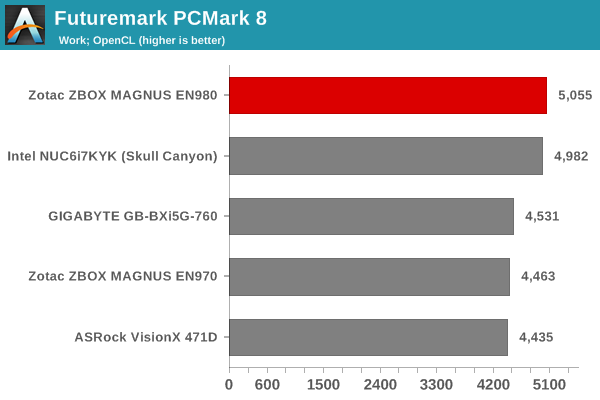 Miscellaneous Futuremark Benchmarks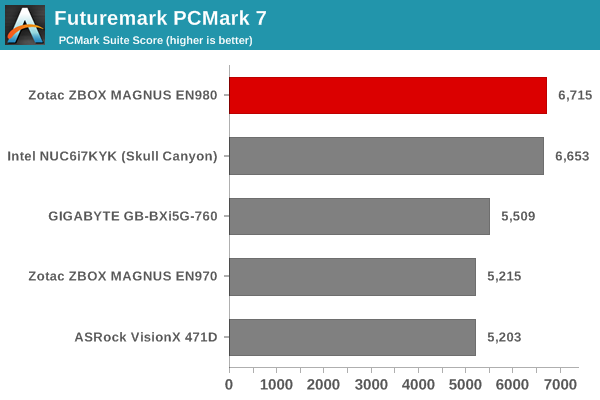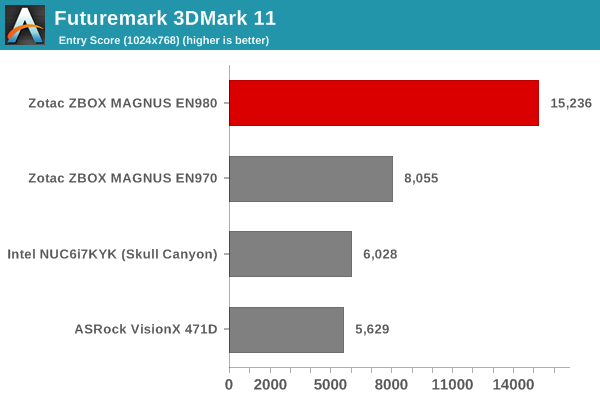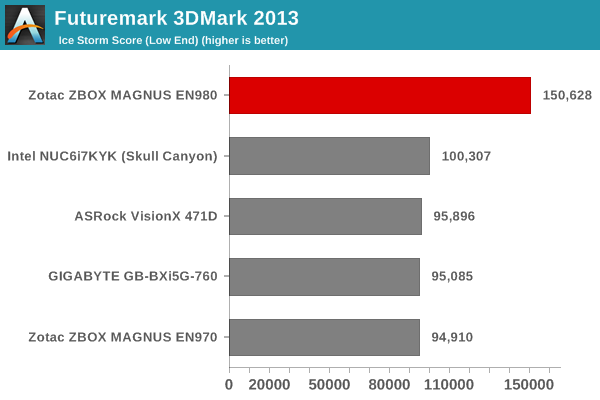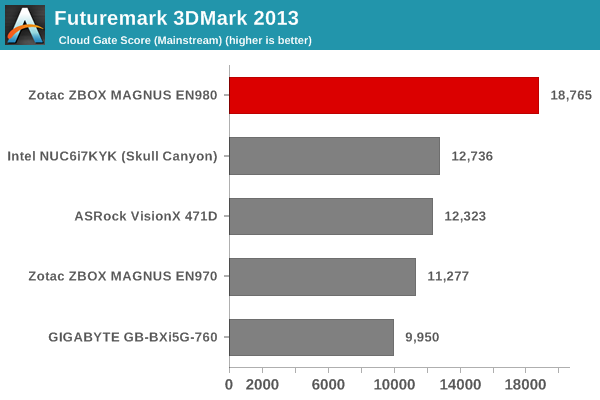 3D Rendering - CINEBENCH R15
We have moved on from R11.5 to R15 for 3D rendering evaluation. CINEBENCH R15 provides three benchmark modes - OpenGL, single threaded and multi-threaded. Evaluation of select PCs in all three modes provided us the following results. The OpenGL performance with the GTX 980 at the helm is a cakewalk for the EN980, but the unit comes in the middle of the pack when it comes to CPU rendering performance for the same reasons that we analyzed in the SYSmark scores section.