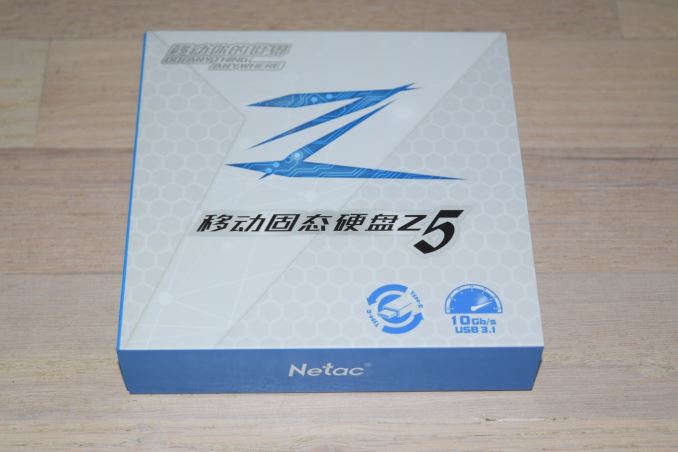 The last few years have seen rapid advancements in flash technology including planar 1x nm NAND, TLC, and 3D V-NAND. External high-speed interfaces such as USB 3.x have also become ubiquitous. The advent of Type-C has also enabled device vendors to agree upon a standardized connector for their equipment (be it mobile devices or desktop PCs). These advances have led to the appearance of compact bus-powered direct attached storage units with very high performance for day-to-day data transfer applications. We have already looked at portable external SSDs such as the Samsung T1 and T3, as well as the USB 3.1 Gen 2 SanDisk Extreme 900. Today, we will be looking at Netac's Z5, a portable SSD with a USB 3.1 Gen 2 10 Gbps Type-C interface.
Introduction
Prior to going into the specifics of the Netac Z5, a few words about Netac are in order, as none of their products have been reviewed by us before. Netac, a Shenzhen-based company, has a relatively long history of being a manufacturer of flash-based products (including USB flash drives, SD cards etc.). Their main distribution channel is in China, but, they also act as OEMs for distributors in other markets. The Netac Z5 is currently available for retail purchase in the Chinese market, and distributors / consumers elsewhere interested in placing high-volume orders can contact Netac directly via the Z5's product page.
Product Packaging and Internal Hardware
The Netac Z5 comes in a cardboard box along with a Type-C to Type-A, as well as a Type-C to Type-C USB 3.1 Gen 2 cable. The main unit is sized similar to a standard 2.5" SSD (the exact measurements being 109.2mm x 78.1mm, with a 10mm thickness). The chassis itself is made of aluminum and has a premium look and feel to it. The unit also has a blue LED to indicate power status right next to the Type-C female port. The gallery below shows the packaging and external design.
Getting into the internals of the unit is quite simple, as the four screws to remove are evident on the back side of the unit. The Z5 is made up of two mSATA SSDs organized in RAID-0 behind an ASMedia ASM1352R USB 3.1 Gen 2 to dual SATA bridge. An ASMedia ASM1542 10 Gbps signal switch chip enables the Type-C interface.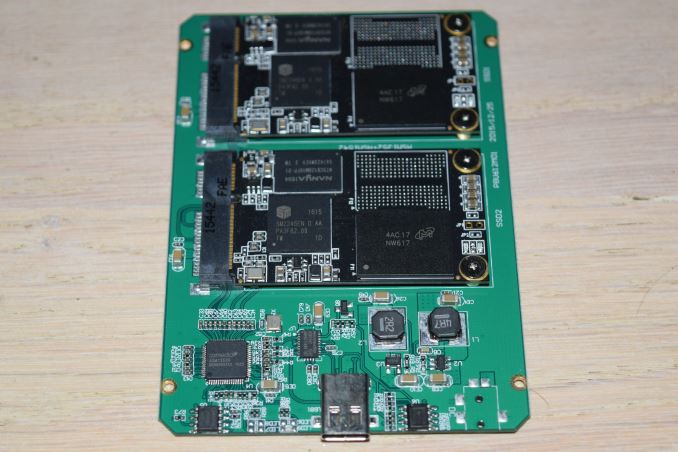 The two mSATA SSDs are identical. They use the Silicon Motion SM2246EN controller with Nanya DRAM and Micron NAND flash. Based on the package markings, it appears that the mSATA SSDs are using Micron MLC flash.
CrystalDiskInfo is able to see one of the mSATA SSDs over the ASM1352R bridge chip. S.M.A.R.T info can be viewed, but, the temperature read-out is inconsistent.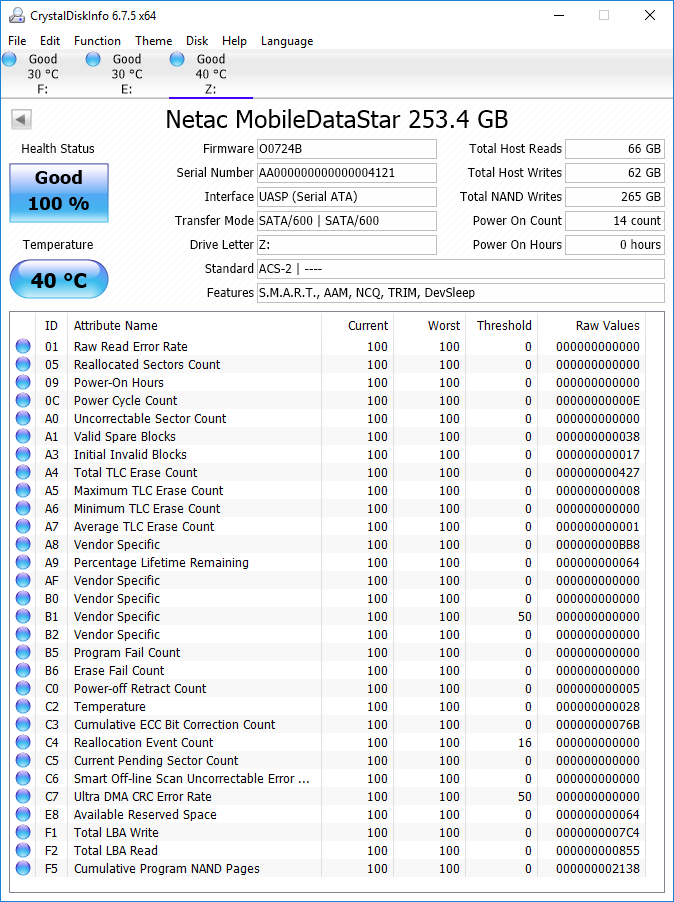 TRIM support is shown in the information view, but, it is not possible to activate it behind the bridge chip.
Testbed Setup and Testing Methodology
Evaluation of DAS units on Windows is done with the testbed outlined in the table below. For devices with a USB 3.1 Gen 2 (via a Type-C interface) connections (such as the Netac Z5 512GB that we are considering today), we utilize the USB 3.1 Type-C port enabled by the Intel Alpine Ridge controller. It connects to the Z170 PCH via a PCIe 3.0 x4 link..
AnandTech DAS Testbed Configuration
Motherboard
GIGABYTE Z170X-UD5 TH ATX
CPU
Intel Core i5-6600K
Memory
G.Skill Ripjaws 4 F4-2133C15-8GRR
32 GB ( 4x 8GB)
DDR4-2133 @ 15-15-15-35
OS Drive
Samsung SM951 MZVPV256 NVMe 256 GB
SATA Devices
Corsair Neutron XT SSD 480 GB
Intel SSD 730 Series 480 GB
Add-on Card
None
Chassis
Cooler Master HAF XB EVO
PSU
Cooler Master V750 750 W
OS
Windows 10 Pro x64
Thanks to Cooler Master, GIGABYTE, G.Skill and Intel for the build components
The full details of the reasoning behind choosing the above build components can be found here.
The list of DAS units used for comparison purposes in the rest of the review is provided below.
Netac Z5 512GB
Corsair Voyager GS 512GB
LaCie Rugged Thunderbolt 500GB
Samsung Portable SSD T1 1TB
Samsung Portable SSD T3 2TB
SanDisk Extreme 510 480GB
SanDisk Extreme 900 1.92TB