Western Digital Remains World's No. 1 HDD Supplier
Due to severe declines in demand for hard drives, it does not look like HDD makers want to fight for market share. Western Digital controlled about 43% of the HDD market in Q1 2016, just like a quarter before. Seagate was the second largest supplier with 39.38% market share. If the HDD shipments numbers for Toshiba are correct, then the company controlled around 17% of the hard drive market, moving ever so slightly higher.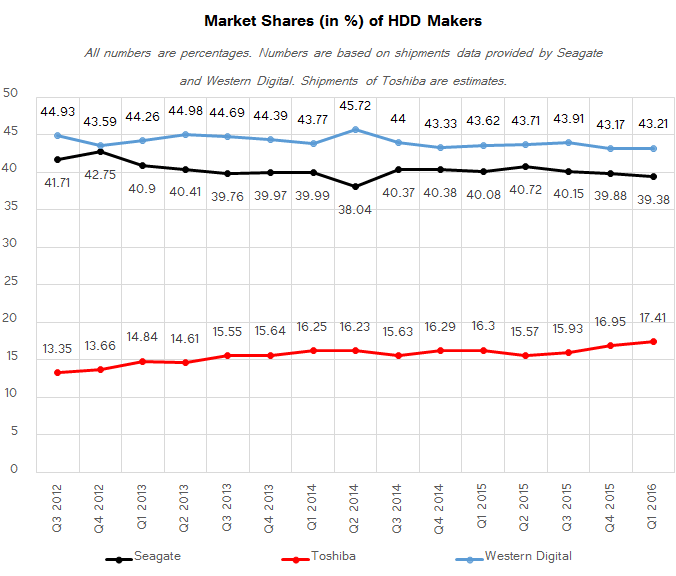 Seagate's HDD Sales Drop Below 40 Million Units, Company Plans Capacity Adjustments, Product Cuts
Seagate sold 39.3 million hard drives in the first quarter of 2016, a 21.5% decline from the same period a year ago. Sales of Seagate's HDDs dropped across the board - with the exception of nearline drives. During the conference call with investors and financial analysts, the company particularly noted weak sales of client HDDs as well as declines in shipments of traditional mission-critical drives. Moreover, in a bid to maintain margins, the firm decided to "not aggressively participate in certain areas of the low capacity notebook market," which further drove its unit sales down.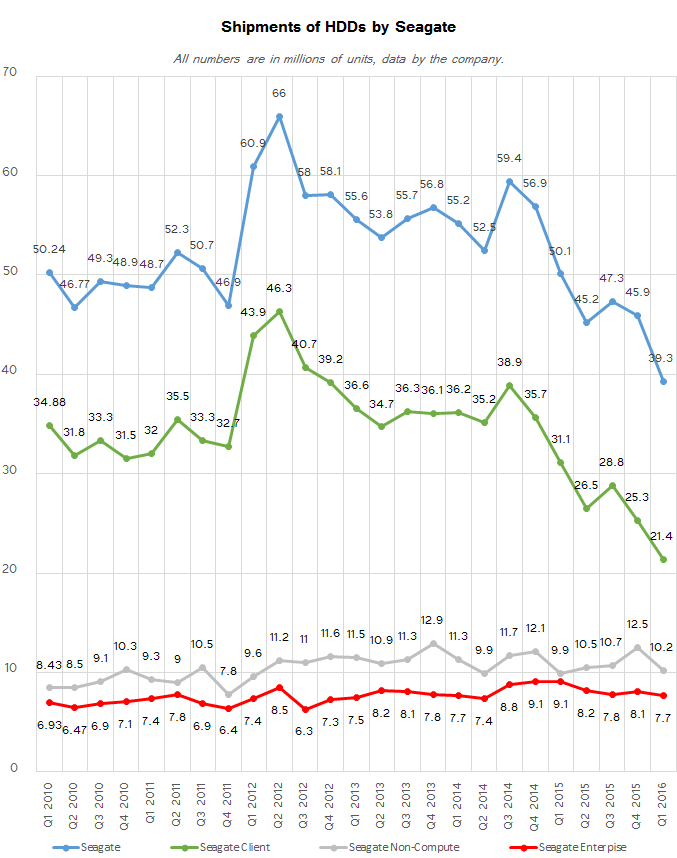 As it appears, Seagate does not seem to be confident that the hard drive market will rebound in the foreseeable future. The HDD maker intends to cut-down its manufacturing capacities from 55 – 60 million units per quarter to approximately 35 – 40 million units per quarter, which will help it to reduce operating costs and maintain prices despite competition from traditional and emerging rivals.
"In the March quarter we began the process of reducing our HDD manufacturing capacity from approximately 55 million to 60 million drives per quarter to approximately 35 million to 40 million drives per quarter," said Steve Luczo, chief executive officer of Seagate, in a conference call with investors and financial analysts. "The actions required will be completed within the next 6 to 9 months. At the same time, we will continue to accelerate the utilization of our own drive factories internally and media facilities."
While Seagate does not detail its capacity-cutting plans, it indicates that it intends to shift build volumes to its higher capacity models, which will simplify wafer requirements, optimize the lineup and will eventually reduce costs. In particular, the company will discontinue some of its low-capacity client HDDs (250 GB, 320 GB and 500 GB), which will help to increase its ASPs (average selling prices) and margins.
"In [Q1 2016] we began end-of-life activity on some of the older 500 GB and below products that have very low margins," said Dave Mosley, president of operations and technology at Seagate. "Most of the margin cost benefits of these products will be realized over the next few quarters."
In fact, Seagate began targeted pricing increases across its product portfolio already in the third quarter of its fiscal year (i.e., Q1 2016), which could help to improve its financial results. The manufacturer believes that higher HDD prices are justified because HDDs are getting harder to make. Since the company decided not to participate in some areas of the low capacity laptop market, it is evident that it may leave it to makers of entry-level SSDs in the future.
"In the March quarter we initiated targeted pricing increases across our product line, we were successful in some areas and unsuccessful in other," said Mr. Luczo. "We continue to believe the industry needs a stable pricing environment to deliver the higher level of requirements being placed on our products and to realize the value we are providing to the market. As a result, we will continue to pursue a pricing strategy that reduces and properly reflects the investment in technology the market requires."
Shipments of Western Digital's HDDs Fall to 43.1 Million Units
Western Digital shipped 43.123 million of HDDs in the first three months of this year, or 21% less compared to Q1 2015. Sales of the company dropped across the board due to the weak PC market and seasonality. Just like Seagate, Western Digital increased prices of certain products during the quarter. In particular, the company hiked prices of some of its 2.5" drives for notebooks and gaming PCs (which is probably the WD Black2 Dual Drive). Right now, the company is making selective price increases in the enterprise segment in a bid to maintain its ASPs and margins and sustain its ability to invest in the development of products.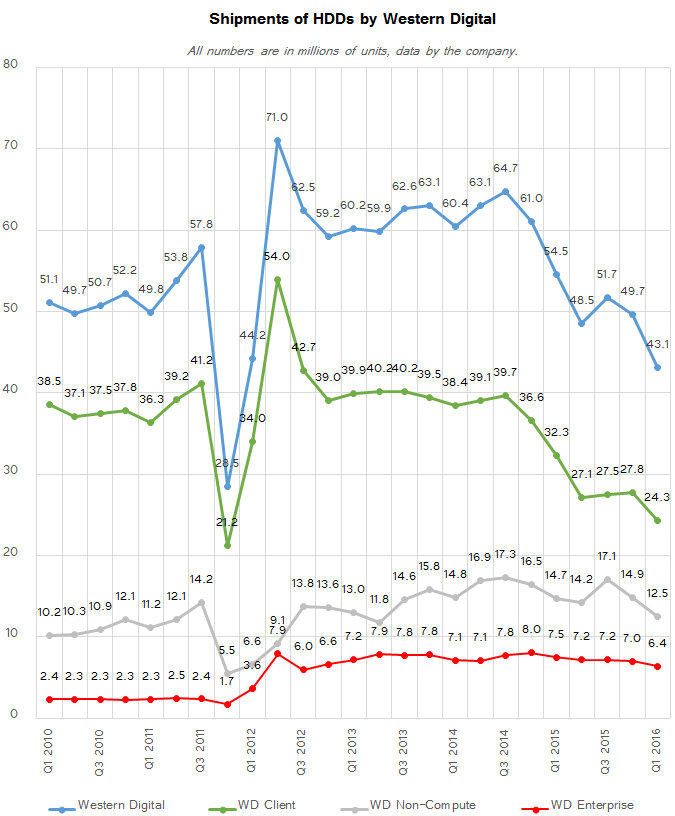 "Because we want to make sure that we have got sufficient dollars to reinvest back into our business to continue to innovate and provide compelling products for our customers, we are making selective price increases in certain enterprise markets," said Stephen Milligan, chief executive officer of Western Digital, in a conference call with investors and financial analysts. "At this point, we are not sure if they're going to stick, but we are certainly hoping that they do."
Earlier this year Western Digital announced plans to optimize its roadmap and close-down its head wafer manufacturing facility in Otawara, Japan, in a bid to reduce costs and maintain its profitability. So far, the company has not announced plans to reduce its HDD manufacturing capacities significantly but said it would eliminate redundant facilities. The company also did not make any comments regarding the future of its low-end HDDs.
Toshiba's HDD Shipments Drop Too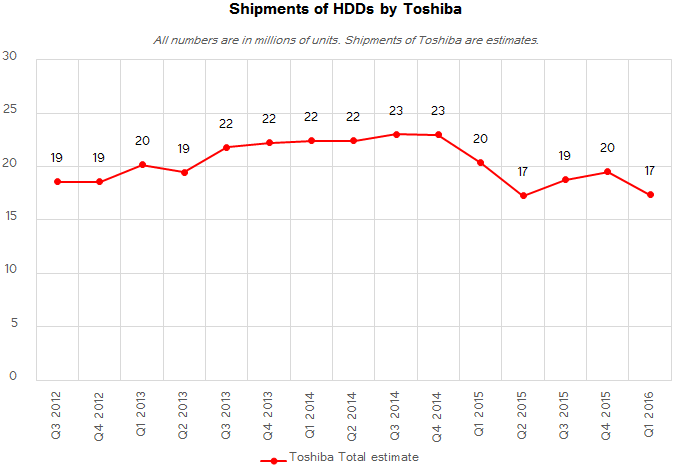 Since Toshiba does not disclose anything related to its hard drive business, it is hard to analyze this supplier. If estimations of HDD makers and Nidec are correct, then Toshiba's HDD shipments in Q1 2016 should be around 17 million units, or 15% below its shipments in the same period last year.