6 TB Face-Off: The Contenders
Prior to getting into the performance evaluation, we will take a look at the special aspects and compare the specifications of the three drives being considered today.
Western Digital Red 6 TB
The 6 TB Red's claim to fame is undoubtedly its areal density. While Seagate went in for a six-platter design for its 6 TB drives, Western Digital has managed to cram in 1.2 TB/platter and deliver a 6 TB drive with the traditional five platter design. The costs are also kept reasonable because of the use of traditional PMR (perpendicular magnetic recording) in these drives.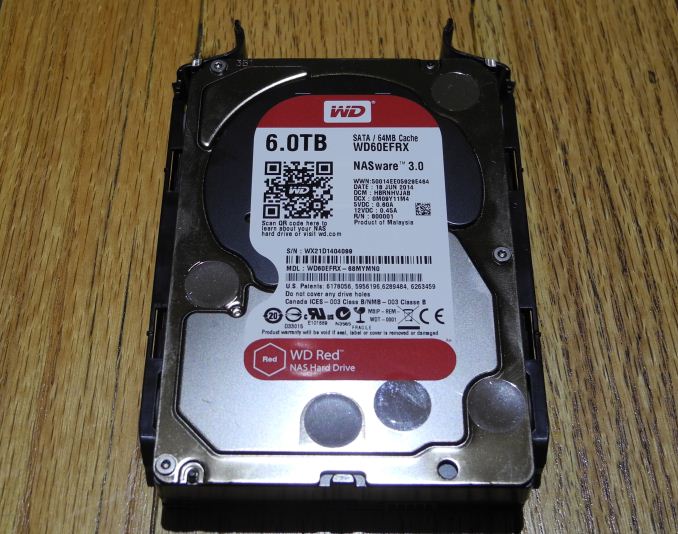 The 6 TB drive has a suggested retail price of $299, making it the cheapest of all the three drives that we are considering today.
Seagate Enterprise Capacity 3.5 HDD v4 6 TB
Seagate was the first to utilize PMR to deliver a 6 TB enterprise drive earlier this year. They achieved this through the use of a six platters (compared to the traditional five that most hard drives use at the maximum). A downside of using six platters was that the center screw locations on either side got shifted, rendering some drive caddies unable to hold them properly. However, we had no such issues when trying to use the QNAP rackmount's drive caddy with the Seagate drive.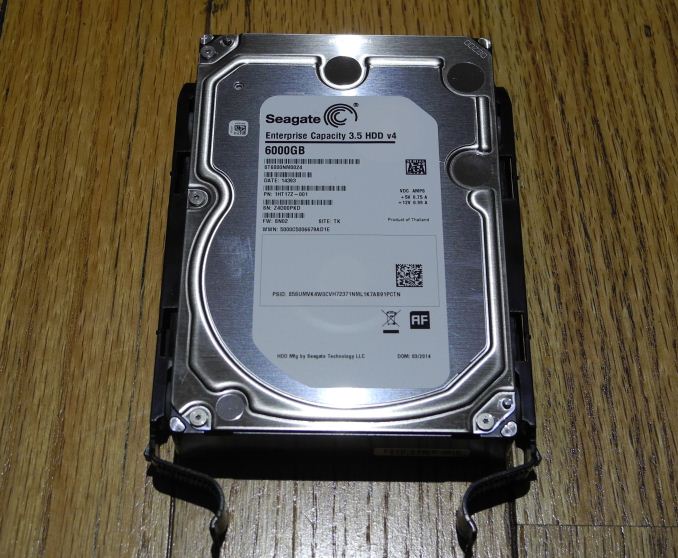 Seagate claims best in class performance, and we will be verifying those claims in the course of this review. Pricing ranges from around $450 on Amazon (third party seller) to $560 on Newegg.
HGST Ultrastar He6 6 TB
The HGST Ultrastar He6 is undoubtedly the most technologically advanced drive that we are evaluating today. There are two main patented innovations behind the Ultrastar He6, HelioSeal and 7Stac. The former refers to placement of the platters in a hermetically sealed enclosure filled with helium instead of air. The latter refers to packaging of seven platters in the same 1" high form factor of traditional 3.5" drives.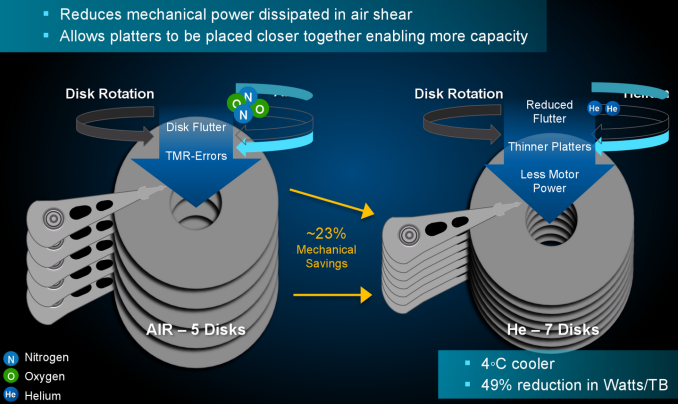 With traditional designs, we have seen a maximum of six platters in a standard 3.5" drive. The additional platter is made possible in helium filled drives because the absence of air shear reduces flutter and allows for thinner platters. The motor power needed to achieve the same rotation speeds is also reduced, thereby lowering total power dissipation. The hermetically sealed nature of the drives also allows for immersive cooling solutions (placement of the drives in a non-conducting liquid). This is something not possible in traditional hard drives due to the presence of a breather port.
The TCO (total cost of ownership) is bound to be much lower for the Ultrastar He6 compared to other 6 TB drives when large scale datacenter applications are considered (due to lower power consumption, cooling costs etc.). The main issue, from the perspective of the SOHOs / home consumers, is the absence of a tier-one e-tailer carrying these drives. We do see third party sellers on Amazon supplying these drives for around $470.
Specifications
The various characteristics / paper specifications of the drives under consideration are available in the table below.
6 TB NAS Hard Drive Face-Off Contenders
WD Red
Seagate Enterprice Capacity 3.5" HDD v4
HGST Ultrastar He6
Model Number
WD60EFRX
ST6000NM0024
HUS726060ALA640
Interface
SATA 6 Gbps
SATA 6 Gbps
SATA 6 Gbps
Advanced Format (AF)
Yes
Yes
No (512n)
Rotational Speed
IntelliPower (5400 rpm)
7200 rpm
7200 rpm
Cache
64 MB
128 MB
64 MB
Rated Load / Unload Cycles
300K
600K
600K
Non-Recoverable Read Errors / Bits Read
1 per 10E14
1 per 10E15
1 per 10E15
MTBF
1M
1.4 M
2M
Rated Workload
~120 - 150 TB/yr
< 550 TB/yr
< 550 TB/yr
Operating Temperature Range
0 - 70 C
5 - 60 C
5 - 60 C
Physical Dimensions
101.85 mm x 147 mm x 26.1 mm. / 680 grams
101.85 mm x 147 mm x 26.1 mm / 780 grams
101.6 mm x 147 mm x 26.1 mm / 640 grams
Warranty
3 years
5 years
5 years
The interesting aspects are highlighted above. Most of these are related to the non-enterprise nature of the WD Red. However, two aspects that stand out are the multi-segmented 128 MB cache in the Seagate drive and the HGST He6 drive's lower weight despite having more platters than the other two drives.