There are a lot of things about this phone that remind me of the legendary Nokia brick phones of old. Battery life is absolutely not one of them. This is the first time I'm getting the chance to fully test battery life on a Windows Phone 8 device. Until now, I haven't seen the option to set display timeout to "never" on one of the Nokia devices—the maximum was 5 minutes on the 920, 820, and 810. The 521 has a 1430 mAh 3.7V battery, putting it at 5.29 Wh—a far cry from the 9+ Wh batteries we see in a lot of higher end phones these days. This results in battery life being...not great—easily one of the poorest results we've seen in the 2013 Smartphone Bench after the original Galaxy Note and the notoriously short-lived Galaxy Nexus.
It's worth noting, too, that the 521 is using single-carrier HSPA+ as the air interface during our mobile broadband test. That's technically 4G, but obviously offers less bandwidth than the DC-HSPA+ we're used to seeing on T-Mobile.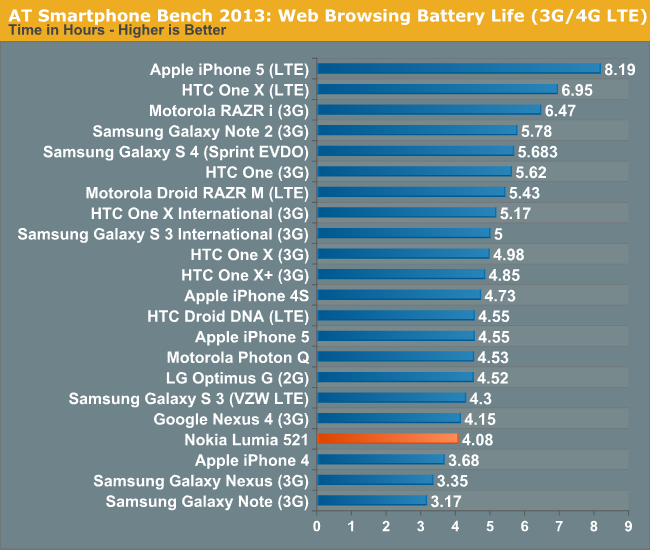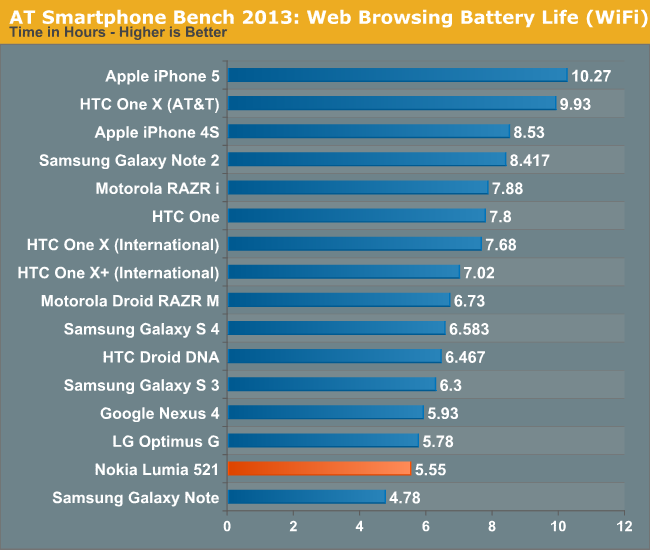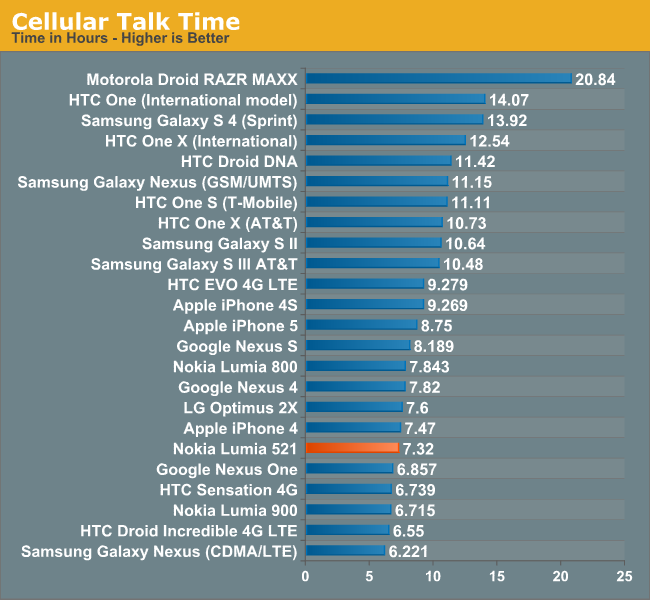 I did the battery life testing at the medium brightness setting (191 nits), since that was the closest to the 200 nits we use as the baseline and well within the margin of error. Talk time is a bit more respectable, indicating that the display and backlight are perhaps a bit less efficient than in other devices.
When you think about these results in the context of the battery capacity, the 521 is actually pretty efficient from a power standpoint. Obviously, with a dual-core CPU clocked so low combined with a relatively small display, this makes sense; I just wish that Nokia had specced at least a slightly larger battery to get more competitive runtimes.