User Experience, Heat, and Noise
If absolutely nothing else, the user experience of the CompuLab Intense PC is a sound one. Since internally we're looking at a pretty basic Ivy Bridge-based system, there's no reason for anything to lack polish, and CompuLab wisely eschews Windows 8 entirely in favor of either Linux or Windows 7. The only place things really trip up are when you have to access the mechanical hard drive, but that's to be expected.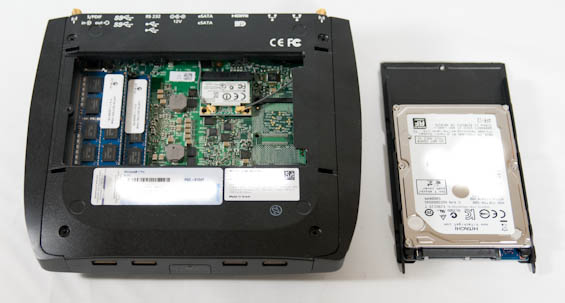 It should go without saying that the Intense PC is dead silent. The dense metal chassis prevents any of the sound of the hard drive from even escaping. The port layout is smart, and the system is surprisingly simple to service: a single screw holds a sliding panel on the bottom into place, and that panel holds the 2.5" drive. From there you can access the RAM and mini-PCIe slots.
Where things begin to get a little hairy is the heat. Since the Intense PC is, as I mentioned before, basically a big heatsink around a computer, that means that thermals can be come an issue. Internal thermals aren't really the problem, as you'll see below.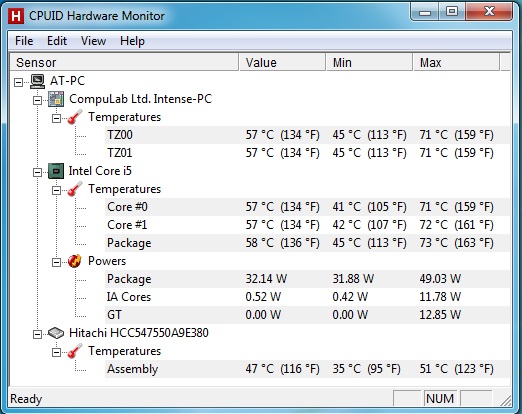 Getting heat off these components isn't a really big deal. The hard drive runs hot, but still well below spec, and the CPU runs comparatively frosty. Yet while the CPU's temperature isn't an issue, the temperature of the surface of the Intense PC is. At idle or under a modest load the Intense PC is safe to touch, but under stress I found the surface painfully hot. You're not cooking any eggs on it, and it's not going to produce third degree burns, but it's definitely too hot to actually handle. This isn't unexpected but it's definitely worth bringing up.
Power Consumption
There are no surprises to be had where power consumption is concerned, since we're talking about a 17W CPU, a QM77 chipset, and a hard drive specced to draw no more than 3W.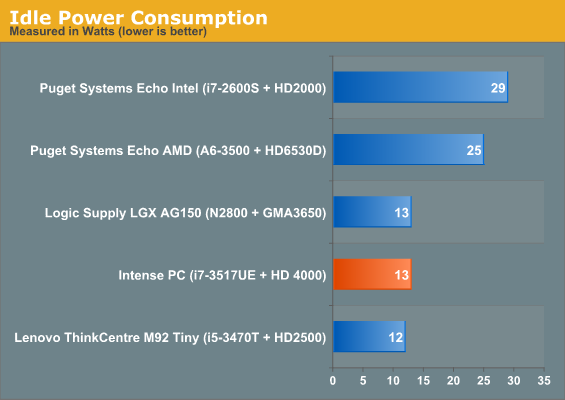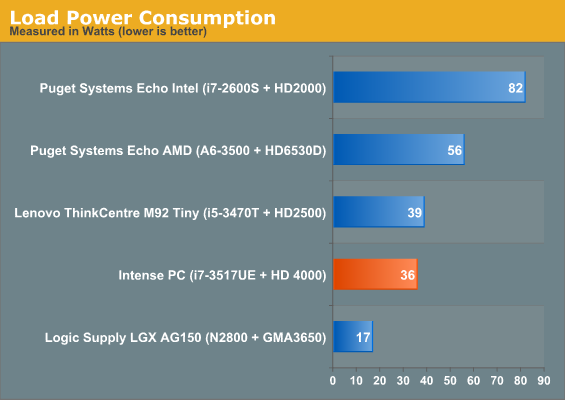 The Intense PC peaks at 36W, which is a little high but still totally reasonable. What I do find interesting is how competitive the higher wattage quad core ThinkCentre M92 is at both idle and load.