Setup Notes and Platform Analysis
The review sample of the NUC11BTMi9 came package in a fancy plywood casing, signifying its premium nature. Since the review configuration was ready for benchmarking, the package contents only included the main unit, power cord, Windows 10 Pro installation DVD, and a USB key containing the drivers for the system. The retail packaging is bound to be quite different, as these pre-production samples are packaged to make unboxing videos attractive.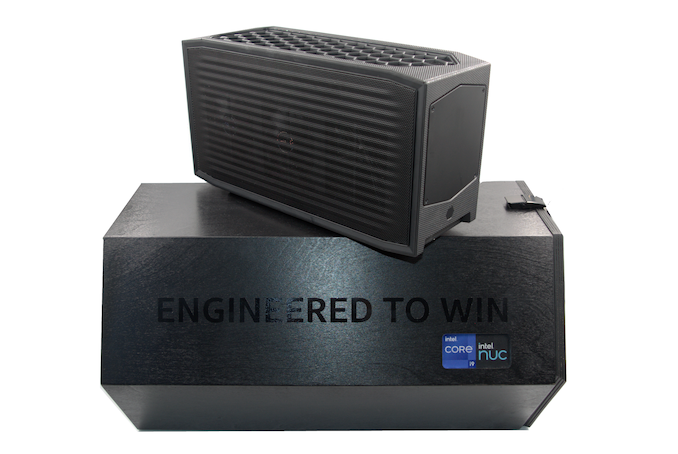 The NUC11BTMi9 sports the Intel VisualBIOS with a modern interface. It has plenty of enthusiast options to fine tune the performance. The video below presents the entire gamut of available options.
The specifications of our Intel NUC11BTMi9 review configuration are summarized in the table below.
Intel NUC11BTMi9 (Beast Canyon) Specifications
Processor
Intel Core i9-11900KB
Tiger Lake-H, 8C/16T, 3.3 (4.9) (5.3) GHz
24MB L2+L3, 10nm, 65W TDP
Memory
Kingston HyperX KHX3200C20S4/8G DDR4 SODIMM
20-22-22-42 @ 3200 MHz
2x8 GB
Graphics
ASUS Dual GeForce RTX 3060 12GB GDDR6
Intel UHD Graphics for 11th Gen.
Disk Drive(s)
Sabrent Rocket NVMe 4.0
(500GB; M.2 Type 2280 PCIe 4.0 x4 NVMe; Kioxia 96L 3D TLC; Phison E16 Controller)
Networking
Intel Wi-Fi 6E AX210
(2x2 802.11ax - 2400 Mbps)
1x Intel I225-LM 2.5G Ethernet Adapter
Audio
3.5mm Audio Jack (Front)
Capable of 5.1/7.1 digital output with HD audio bitstreaming (HDMI)
Miscellaneous I/O Ports
1x UHS-II SDXC Slot (Front)
2x USB 3.2 Gen 2 (10 Gbps) Type-A (Front)
6x USB 3.2 Gen 2 (10 Gbps) Type-A (Rear)
2x Thunderbolt 4 (40 Gbps) Type-C (Rear)
Operating System
Retail unit is barebones, but we installed Windows 10 Enterprise x64
Pricing (As configured)
$2006
Full Specifications
Intel NUC11BTMi9 Specifications
Our review sample came with Windows 10 Pro x64 pre-installed, but, we wiped the drive and installed Windows 10 Enterprise x64 21H1 prior to benchmarking. Our initial benchmarking and reports collection was done without opening up the system. The AIDA64 system report for the hardware configuration supplied by Intel provided the following information:
[ North Bridge: Intel Tiger Lake-H IMC ]:

PCIe 4.0 x16 port #2 In Use @ x8 (nVIDIA GA106 - GeForce RTX 3060 12GB Video Adapter, High Definition Audio Controller)

[ South Bridge: Intel Tiger Point WM590 ]:

PCIe 3.0 x1 port #19 In Use @ x1 (Intel Wi-Fi 6E AX210 160MHz Wireless Network Adapter)
PCIe 3.0 x1 port #20 In Use @ x1 (Intel I225-LM 2.5G Ethernet Network Connection)
The two Type-C ports in the Compute Element are enabled directly from the CPU. They can operate in Thunderbolt 4 (40Gbps), native USB 4 (10Gbps), and native DP1.4 modes. Each port can supply up to 15W. The rest of the I/Os are off the Tiger Point PCH. One of the key aspects here is that the DMI bottleneck has largely been alleviated with Tiger Lake. There are plenty of I/Os directly off the CPU package - including the Thunderbolt 4 ports and the CPU-attached Gen 4 NVMe storage slot. With Thunderbolt 4, it is in fact possible to completely bypass the PCH while transferring data between internal and external storage devices.
The NUC11BTMi9 is one of the few SFF systems that we have evaluated which happen to come with a discrete user-replaceable GPU. Systems with MXM GPUs are pretty much set in terms of graphics capabilities for the lifetime of the unit. In addition to the Ghost Canyon NUC from last year, we have the Zotac ZBOX MAGNUS EK71080 to compare against the Beast Canyon NUC. Zotac introduced the ZBOX MAGNUS ONE earlier this year with a Comet Lake CPU and an Ampere GPU that we still have in our review queue. So, the main focus in this piece will be on three systems - Beast Canyon, Ghost Canyon, and the ZBOX MAGNUS EK71080.
In the table below, we have an overview of the various systems that we are comparing the Intel NUC9i9QNX against. Note that they may not belong to the same market segment. The relevant configuration details of the machines are provided so that readers have an understanding of why some benchmark numbers are skewed for or against the Intel NUC11BTMi9 when we come to those sections.
Comparative PC Configurations
Aspect
Intel NUC11BTMi9 (Beast Canyon)
CPU
Intel Core i9-11900KB
Intel Core i9-11900KB
GPU
ASUS Dual GeForce RTX 3060 12GB GDDR6
Intel UHD Graphics for 11th Gen
ASUS Dual GeForce RTX 3060 12GB GDDR6
Intel UHD Graphics for 11th Gen
RAM
Kingston HyperX KHX3200C20S4/8G DDR4-3200 SODIMM
20-22-22-42 @ 3200 MHz
2x8 GB
Kingston HyperX KHX3200C20S4/8G DDR4-3200 SODIMM
20-22-22-42 @ 3200 MHz
2x8 GB
Storage
Sabrent Rocket NVMe 4.0
(500 GB; M.2 Type 2280 PCIe 4.0 x4 NVMe; Kioxia 96L 3D TLC)
(Phison E16 Controller)
Sabrent Rocket NVMe 4.0
(500 GB; M.2 Type 2280 PCIe 4.0 x4 NVMe; Kioxia 96L 3D TLC)
(Phison E16 Controller)
Wi-Fi
Intel Wi-Fi 6E AX210
Intel Wi-Fi 6E AX210
Price (in USD, when built)
$1350 (barebones)
$2006 (as configured / No OS)
$1350 (barebones)
$2006 (as configured / No OS)