Visual Inspection
Perhaps one of the most notable design traits of the ASRock Rack B550D4-4L is that it is using a transposed AM4 socket and memory slots. This type of design allows for optimized airflow when installed into a 1U chassis, due to the positioning of the fans from front to rear (or rear to front) when inserted into this type of system. Despite the transposed sockets, it can easily be installed into a regular ATX chassis, although it would be more favorable to direct the air upwards and exhausting it out of the top, to simulate the natural thermodynamics of airflow. In the top-right hand corner of the board is the 24-pin 12 V ATX motherboard power input, while the board's aesthetic is primarily composed of a standard green PCB and uses small silver heatsinks to cool the CPU section of the power delivery, the SoC section, and the chipset itself.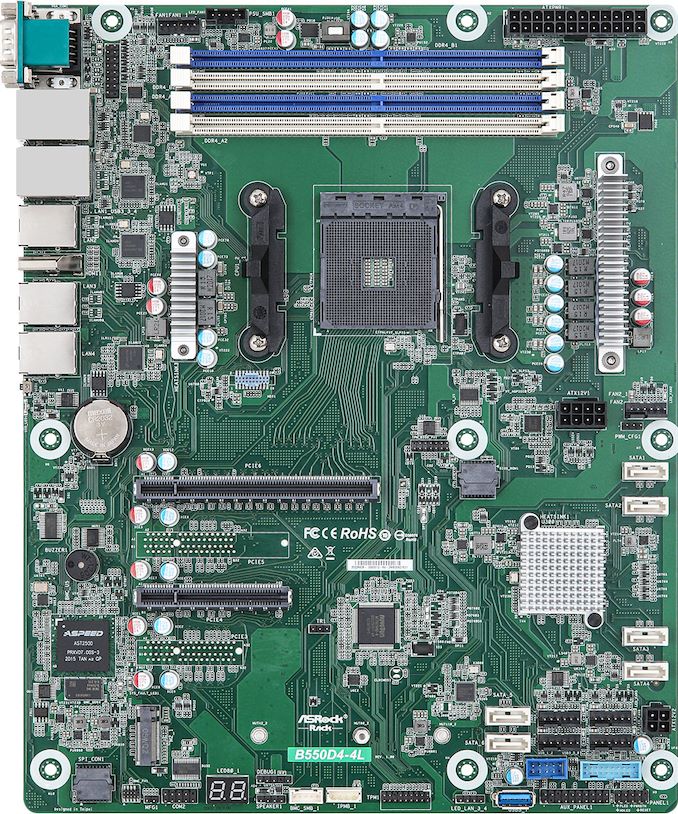 The ASRock B550D4-4L has plenty of connectivity and headers available for users of all levels. Starting from the bottom left-hand corner, ASRock Rack includes a removable SPI Connector chip with a COM port header, a BMC SMBus header, an external speaker header, and an Intelligent Platform Management Bus Header (IPMB). For users focused on security, ASRock Rack also includes a Trusted Management Platform (TPM) header, with one USB 3.2 G1 Type-A header (two ports), and one USB 2.0 header (two ports). For cooling, there's a total of six 6-pin fan headers, although there are notches in the connectors to allow for the use of 4-pin and 3-pin cooling fans.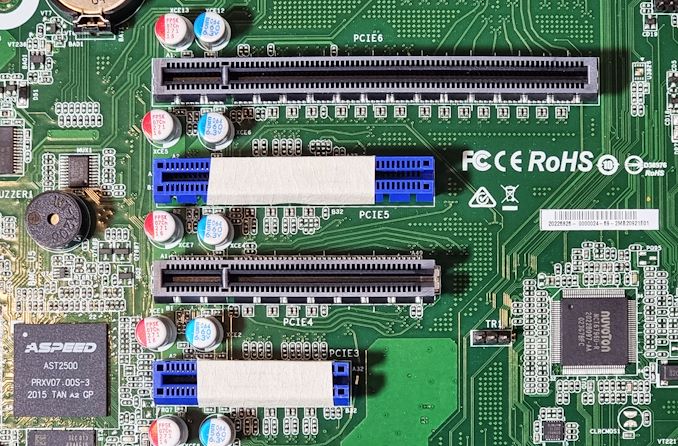 Focusing on the board's PCIe slot area, our sample from ASRock Rack has two taped-up slots, a half-length PCIe, and a smaller PCIe slot. These aren't present on retail models and this indicates that we have likely been shipped a pre-production sample. Looking at what should be there is a full-length PCIe 4.0 x16 slot, and a half-length PCIe 4.0 x4 slot, which both feature metal slot reinforcement.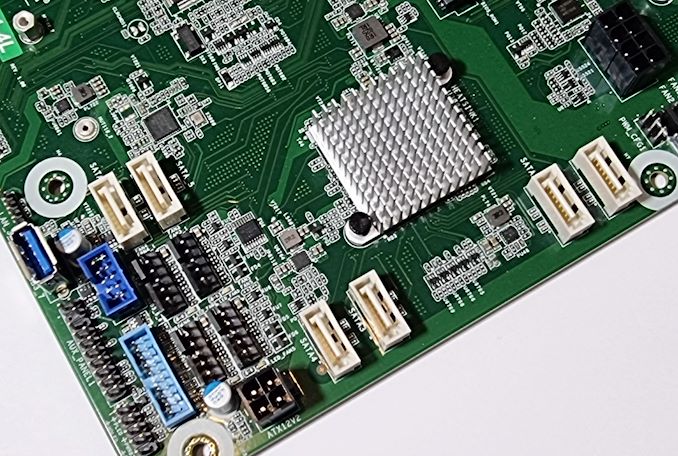 Looking at storage capability, the B550D4-4L has just one M.2 slot that operates at PCIe 3.0 x4, which also includes support for SATA drives. Other options for SATA devices include a total of six ports, with four of the SATA ports driven by the chipset and includes support for RAID 0, 1, and 10 arrays, while the other two are powered by an ASMedia ASM1061 SATA controller.

Along the top of the transposed socket, is four transposed memory slots. These slots can accommodate up to 128 GB of system memory, with officially supported speeds of up to DDR4-3200. Both non-ECC and ECC memory are supported by the board, but the support itself is reliant on the processor. Users with Ryzen desktop processors can only use non-ECC DDR4, while users with Ryzen Pro models with Radeon Graphics and PRO technologies can use ECC memory. Using memory outside of the validated specification, such as ECC on regular Ryzen, means your mileage may vary.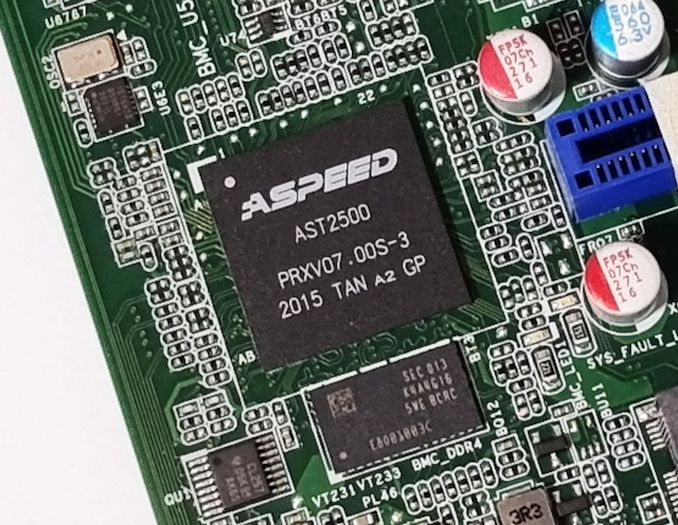 Providing remote access and integrated graphics via a D-Sub output on the rear panel is an ASPEED AST2500 BMC controller. Users looking to access the system remotely can do so via a dedicated Realtek RTL8211E Gigabit Ethernet port on the rear panel. The ASPEED AST2500 BMC controller is located on the left-hand side of the board by the PCIe slots.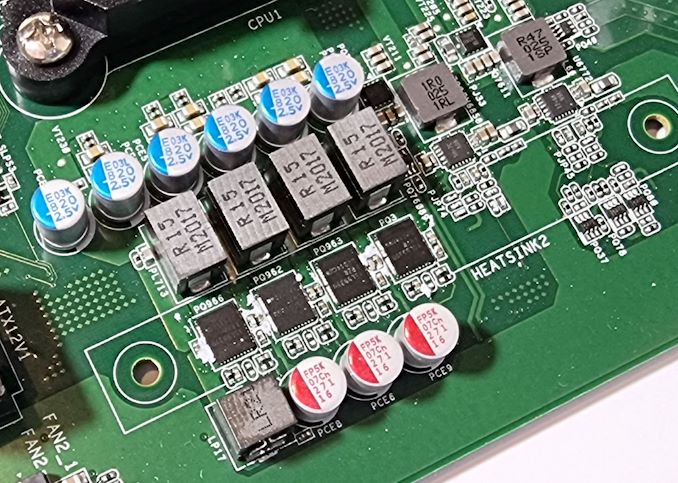 The power delivery on the B550D4-4L is using premium components but isn't adequately cooled for performance users. It features a 4+2 phase power delivery, which is driven by an Intersil ISL69247 PWM controller, which is capable of handling up to eight channels. The CPU section is located on the opposite side of the board from the SoC area, and ASRock Rack includes four Renesas ISL99390 90 A power stages designed to deliver a maximum of 360 A to the processor. The SoC section is using two Renesas ISL99390 90 A power stages.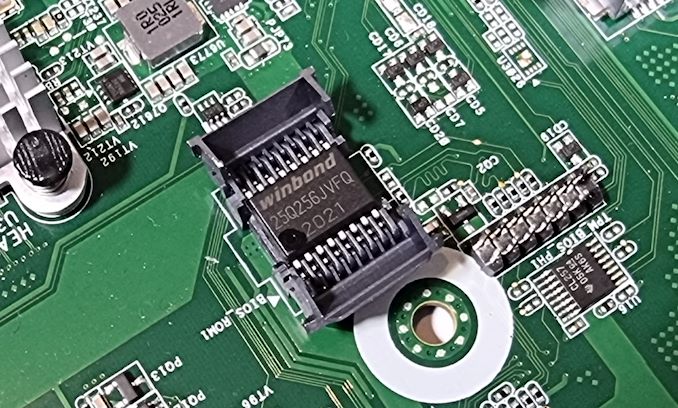 One of the interesting aspects of the design is the B550D4-4L has a removable 32 MB BIOS chip. This means users with corrupt BIOS chips can easily replace them with a fresh chip, which is suitable for fast-paced professional environments. The housing itself is comprised of two black plastic clips with hinges that keep the BIOS chip securely in place.

On the rear panel at the far left is a D-Sub (DB15) video output for the BMC controller, with a Serial Port (DB9) also present. In terms of USB, the rear panel includes two USB 3.2 G2 Type-A, and two USB 3.2 G1 Type-A ports. Networking is interesting as the board has five Ethernet ports in total. Four of these are individually controlled by four Intel i210 Gigabit Ethernet controllers, while the fifth is powered by a Realtek RTL8211E Gigabit controller which acts as an access point remotely for the BMC controller. Finishing off the rear panel is a single HDMI 1.4 video output that allows use with integrated Radeon graphics.
What's in The Box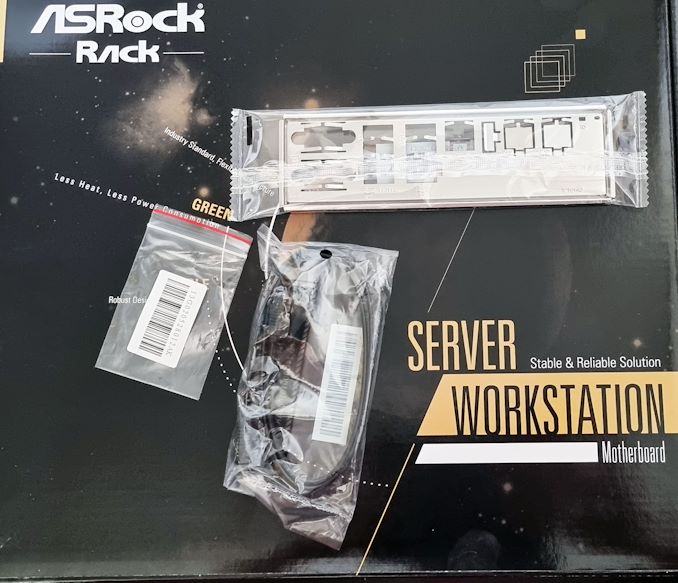 Included in the light, yet effective accessories bundle is a user manual, a single black SATA cable, a rear I/O shield, and an M.2 installation screw.
User manual
Rear panel I/O shield
1 x SATA cable
1 x M.2 installation screw