Immense AI, Camera and ISP Upgrades
New Hexagon 695 DSP: 4x Performance On New Tensor Cores - 15 TOPs Total on SoC
The Snapdragon 865 now ships with the new Hexagon 695 DSP block. The single biggest improvement of the new design is a massive quadrupling of the processing power of the dedicated tensor cores. This jump alone is able to double the SoC's aggregate AI processing ability up from 7 TOPs to 15 TOPs.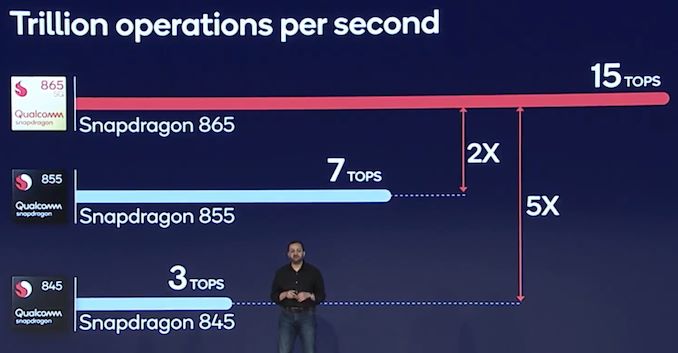 Qualcomm here still doesn't properly do a breakdown between the IP blocks which contribute to this number, but given that the GPU only saw a ~20% increase, and that the Hexagon's scalar and vector execution units this year have remained the same in terms of performance, we estimate that the tensor units now roughly come in at around 10TOPs by themselves.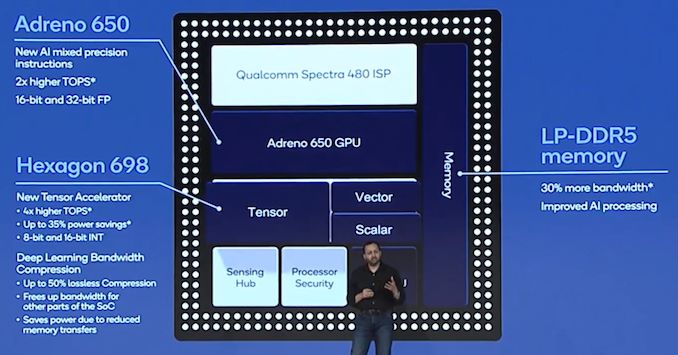 Qualcomm has also now included lossless weight and activation compression for the Tensor cores, being able to reduce bandwidth consumption up to 50%. This is a similar feature we've seen advertised by third-party NPU IP offerings, only that Qualcomm is going to be shipping this now in a product in just a few months.
Power efficiency of the block is also have said to have improved by 35%, making computations less costly in terms of battery life.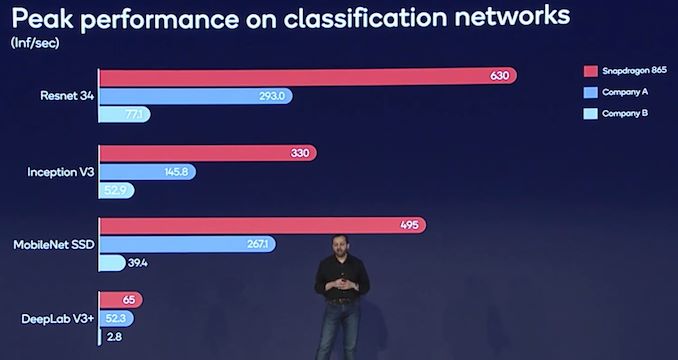 Qualcomm talks how about its inference performance and inference power efficiency is significantly higher than competing solutions. We don't know the comparison SoCs being showcased here, but a likely candidates here are the Apple A13 and the Kirin 990? It could also be an Exynos or other SoC.
New Spectra CV-480 ISP: 2 Gigapixels/s Enabling Massive Sensors
Aside from its 5G abilities, it's very much evident that camera is very much at the very centre of the Snapdragon 865's new features. The whole camera subsystem has seen some massive upgrades in the IP, and amongst the biggest improvements in capability lies in the new Spectra 480 computer-vision ISP.
The new IP has seen a major architectural change in that it's now able to process 4 pixels per clock instead of just only 1 PPC as in the previous generation. This has now massively upgraded the pixel processing throughput to 2 Gigapixels/second, allowing the SoC a wide variety of use-cases that in the past simply weren't possible due to lack of raw power.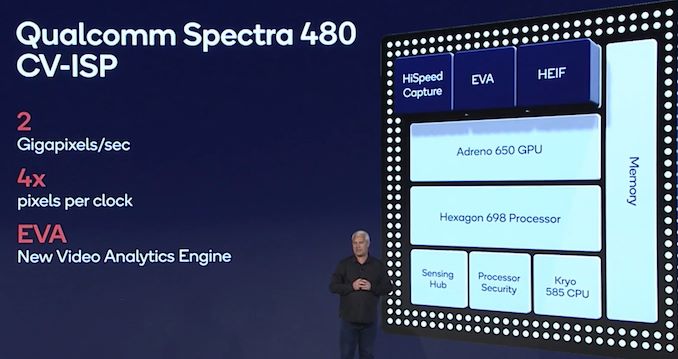 Starting off with video capture, the new SoC is able to now record in 4K HDR while simultaneously capturing up to 64MP still shots at the same time. But 4K video isn't the limit anymore – and you even can say that in terms of framerate as now 4K120 recording is supported, but the Snapdragon 865 now supports 8K30 video recording.
Video recording quality continues to support all the features we've seen in the previous generation, meaning 10-bit and various HDR standards such as HLG, HDR10, HDR10+, but now the new SoC expands this even further with the introduction of the ability to do live recording in the Dolby Vision HDR standard. Qualcomm explains that the Snapdragon 865 not only is the first smartphone SoC to be able to do this, but it's the first camera platform of any kind in the world, as usual Dolby Vision content right now is enabled post-capture in the editing room, rather being something that's being natively recorded by a camera.
The new improved capabilities of the ISP and video encoder also erase some current recording limitations, for example, slow-motion video recording at 960fps is sustained indefinitely instead of being limited to a couple of seconds of real-time footage.
Although normally I wouldn't have brought this up, MediaTek's recent release of the Dimensity 1000 did recently popularise the discussion topic: No, the Snapdragon 865 doesn't support the AV1 codec for video decoding. It looks like we'll have to wait for the next generation for that.
In terms of still capture photography, the new ISP performance will now allow for support for sensors of up to 200MP, which actually don't yet exist as Samsung's recent 108MP behemoth is currently the largest of its class right now.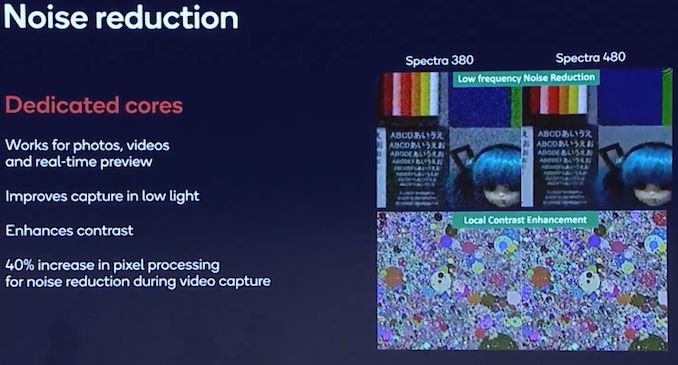 The new ISP now has various new functionalities in order to improve noise reduction and contrast enhancements. Particularly the new noise reduction features is said to be quite difficult to achieve.
Although Qualcomm advertises the 200MP figure predominantly, it's to be noted that actual capture with zero shutter lag (ZSL) is limited to 64MP – so there is a rather larger compromise in capturing at resolutions beyond 64MP.
High Refresh Rate Displays Normalised: Support For 144Hz
Already some vendors are leading the pack in 2019, but we're expecting 2020 to see wide-range adoption of high refresh-rate displays. Even more importantly, we'll be seeing implementations at high resolutions higher than 90 and 120Hz, supporting up to 144Hz displays. Qualcomm explains that the barrier that's been lifted here is the SoC's Display Processing Unit (DPU) that has had its throughput significantly increased.
I asked the company about the impact on battery life and which component of a phone accounts for the highest power increases. Surprisingly, it's not any one component, with most of them seeing pretty much just an evenly distributed linear increase in power requirements, with the actual display panel itself (excluding the DDIC), seeing actually the least increases in power draw.