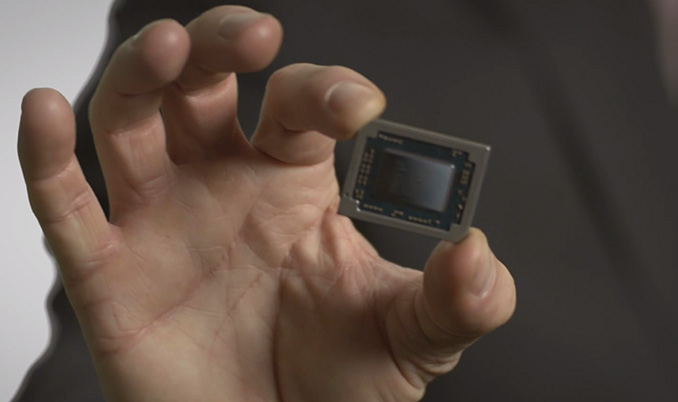 Reports of a new Carrizo APU have been floating around for the past couple of weeks as several ASRock FM2+ recently had BIOS updates stating 'now supporting new Carrizo APU'. Of course, this sounds preposterous: why would a new Carrizo APU, on an old platform, on an old 28nm process, be launched? When we spoke to our contacts at ASRock, even they did not know. It looks like AMD has let the cat out of the bag, albeit without an official announcement.
In AMD's own Master Product List, which lists every SKU that AMD makes / has stock of, several new listings have shown up which correspond to the naming conventions of a Carrizo APU.

In this listing, we see the AD767KXBJCWOF, which is the A8-7670K, a known product. Then we have several listings that start AD7680, for the new A8-7680 processor, followed by the A8-7690K, another known unit.
AD7680ACABBOX will be the code for the boxed processor, and AD7680ACABCBX is likely for the tray units sold to OEMs to put into their systems. Currently, out of all the FM2+ boards in the market, only a few A68 boards have it listed as compatible:
ASRock FM2A68M-HD+
ASRock FM2A68M-DG3+
ASUS A68HM-K
ASUS A68HM-Plus
GIGABYTE F2A68HM-DS2
GIGABYTE F2A65HM-H
GIGABYTE F2A68HM-S1
MSI A68HM-E33-v2
It would appear that all of these boards (and some by Biostar, which don't list the CPU), have processed an AGESA Carrizo PI-1.3.0.0 update for the chipset in order to accept the new processor. This means that most of these boards currently on the shelves will need to be flashed to the latest update.
Specifications for the processor are still a little unknown. Given the name, the A8-7680, it is expected to fall somewhere between the A8-7690K and the A8-7670K, which means it should be a dual module processor with four threads (remember AMD's 'one module, two threads' hardware? No, we don't want to either), a base clock of 3.5 or 3.6 GHz, a turbo clock of 3.8 GHz, a Radeon R7 integrated graphics with 757 MHz base frequency, two channels of DDR3-2133 support, and a TDP of 65W.
The processor seems to be listed at two shops in Europe already, however both are listed as out of stock: LambdaTek for £51.67 ($55) and CentralPoint in the Netherlands for 52 EUR + tax ($59)
Our only guess for this new processor is that AMD has a particular customer who needs a refresh processor custom to their needs. Normally this would fly under the radar and be an OEM only part (and probably be part of the 8000 series), but for whatever reason (they made too many?) it seems to perhaps be coming to retail.
At around the $55-$59 mark, AMD also offers the Athlon 200GE with Ryzen cores and Vega graphics, although that system requires DDR4. This new Carrizo part is DDR3, but I doubt that the price difference in the memory would really make up for the difference in performance. If we happen to pick up a sample, we'll let you know if the dead have truly risen, or if it's just for a single night/SKU only.
Related Reading