Design
This desktop replacement really puts the spotlight on performance, but the lack of premium materials in the case may dissuade some. Mythlogic and Clevo have still offered up a design that is pleasing to the eye, without being adorned with a lot of the excessive furnishings that are on many gaming laptops. The color scheme is simply black, with black vents on the back, a black top, and black chassis. The exception to this is the RGB backlit cross hatches on the top, which can be set to seven colors, or turned off, through the MYTH Control Center. The software also allows you to set pulsing lights, random colors, and more. The design isn't going to win awards, but for a device that doesn't need to be in your hand very often, it is certainly functional. The black plastic is fairly resilient to fingerprints, and the chassis itself is nice and rigid, although at almost two inches thick, I suppose it should be.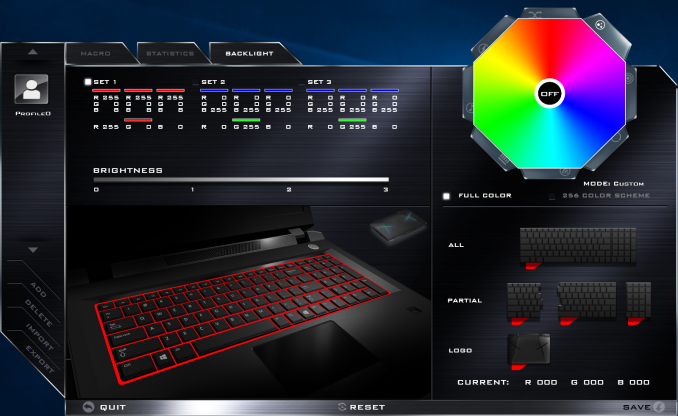 The same MYTH Control Center handles the keyboard duties. Here there a lot more options to customize the keyboard. There is full RGB backlighting on the keyboard, and with the help of a color wheel, or manual entry of the RGB values, you can select any color you like. There are no per-key choices here, but the keyboard is split into three zones, with left and right of the keyboard, plus the number pad, and all able to be set to different colors. The software shows a clean break between the zones, but there is quite a bit of light bleed between the zones, so in the middle the colors are a bit mixed. I don't mind this on the keyboard, but it would be nice if the number pad was able to be separated. Also, and this is a list of personal preferences, I would rather have one zone for the keyboard, one for the number pad, and then one for the WASD keys if they are going to do zones. There are also modes to have the keyboard flash and do other funky things, much like other companies have. These modes would be ok for a demo, but are not very suitable for day to day use.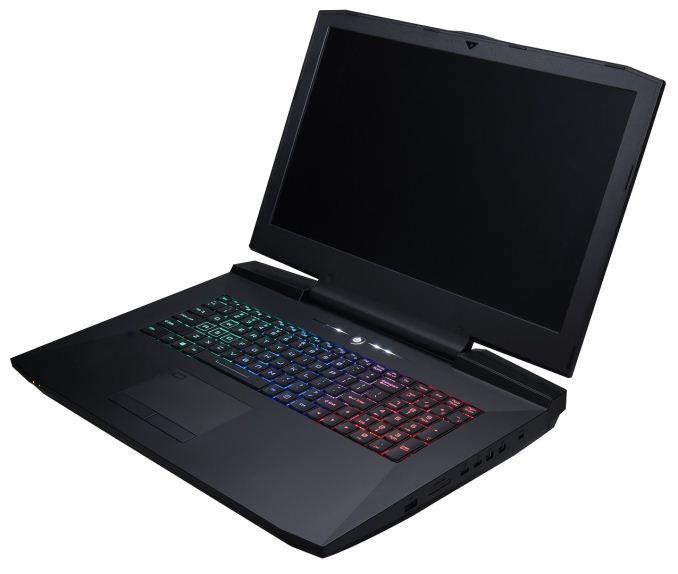 Let's talk about the keyboard itself. For those that recall our last Clevo DTR review, the P750ZM, the keyboard in this version is pretty much identical. The keyboard is much more old school than most of the island style we would see these days, and overall it's not a great experience. I tend to focus a lot on the keyboard, perhaps more than others, but this keyboard is really sub-par by today's standards. The key travel is very shallow, which is even more puzzling considering how thick this laptop is, and the key shape makes it difficult to determine the edges of keys when touch typing. I really think Clevo could do a better job here. Even though this is a DTR, plenty of people are likely to use this keyboard even if they don't use the trackpad, so some engineering here would go a long way.
The Synaptics track pad is by far less important on a device like this, since I would assume most buyers would be using it with a dedicated mouse most of the time. But the track pad is usable, with a decent surface that I had no issues tapping or doing multi-touch gestures on. The dedicated buttons make it a bit more serviceable for gaming as well, even if they do take up space that could otherwise be used for the touch surface. The most interesting feature on this trackpad though is the integrated Windows Hello capable fingerprint reader. It is a touch model, not a swipe, and although I would prefer it to be a bit larger, it works quiet well and makes for a quick login. I think this is a great way to get a fingerprint reader into a laptop, and I hope others take note.



As mentioned on the first page, there are an abundance of ports on this notebook, meaning you pretty much can use it ask a desktop if needed. The inclusion of not one but two USB 3.1 Type-C ports with Thunderbolt 3 means there is plenty of expandability if needed, but there are also five additional Type A ports for more common devices, along with plenty of video outputs and audio inputs. There are also two Ethernet ports, and a SD card slot which does hold the card completely inside the laptop, so it can be used permanently if needed.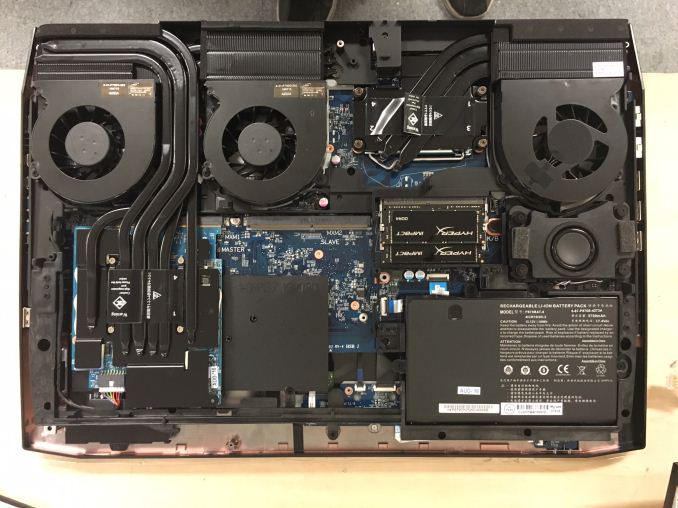 For some, the exterior is important, but for other buyers, it's going to be internal access which is a deal breaker, and happily Clevo offers a pretty nice layout for upgrades. The bottom can be removed for access to the MXM cards, and a couple of the RAM slots. The keyboard can be removed to access the other two RAM slots, as well as two M.2 SSD slots, and there is also room for two 2.5-inch SATA drives as well. This kind of expandability should help to extend the longevity of the device.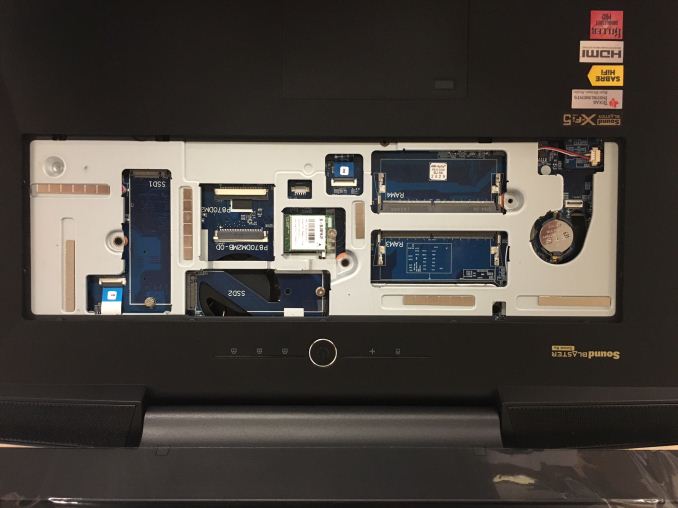 Overall the Mythlogic Phobos 8716 / Clevo P870DM2 does not hit the high bar of more expensive devices when it comes to design and premium materials, but it is very expandable, and even upgradable.