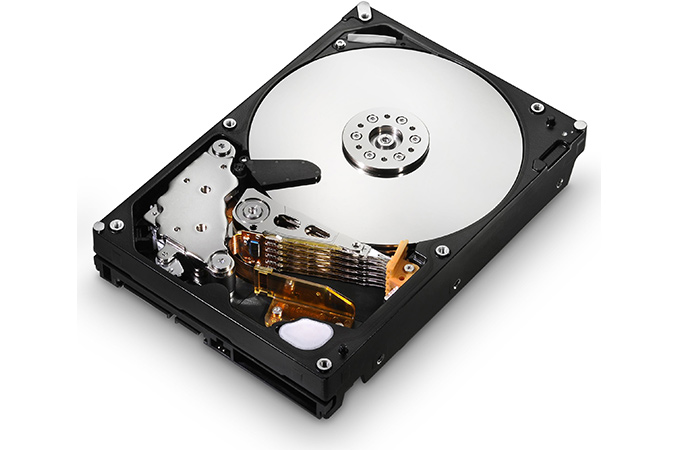 Leading industry watchers like IDC and Gartner early this year predicted that the first quarter of 2016 would not be good for the PC industry and various companies agreed with that. The reasons for the declines are well known: global economic issues, the slowdown in China, the strong U.S. dollar as well as competition from smartphones and other devices. As sales of PCs were not strong as predicted, this negatively affected the hard drive market.
According to Gartner, PC shipments worldwide totaled 64.8 million units in the first quarter of 2016, a decrease of 9.6% from Q1 2015. The company notes that this was the first time since 2007 that shipment volume fell below 65 million units. Analysts from IDC are even more pessimistic because based on their findings, shipments of PCs in the first quarter totaled 60.6 million units, a year-over-year (YoY) drop of 11.5%. As we noted in our previous coverage of the HDD market earlier this year, the decline of HDD shipments in 2015 significantly outpaced the regress of the PC market. As it appears, the same happened in the first quarter of 2016 as the total available market of hard drives dropped to a new multi-year low.
Shipments of HDDs Total 99.8 Million Units in Q1 2016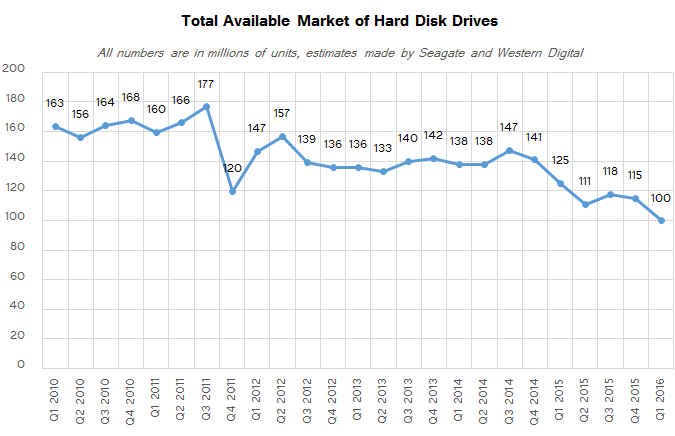 Seagate, Toshiba and Western Digital, the three remaining producers of HDDs, shipped a total of 99.8 million hard drives in Q1 2016, or 20% less than in the same period a year ago according to their estimates (see counting methodology below). According to estimates from Nidec, the company that sells the majority of small precision motors for HDDs (over 80% of them, based on its own estimates), the industry sold 98 million hard drives in Q1, but it is worth noting that Nidec is typically very conservative. In the same quarter of last year, Seagate, Toshiba and Western Digital sold 125 million HDDs, whereas just six years ago the industry shipped 163 million units. In fact, even in Q1 2006, sales of HDDs totaled 101.7 million units, according to iSuppli (via EDN), which means that we might be talking about a 10-year low in hard drives shipments.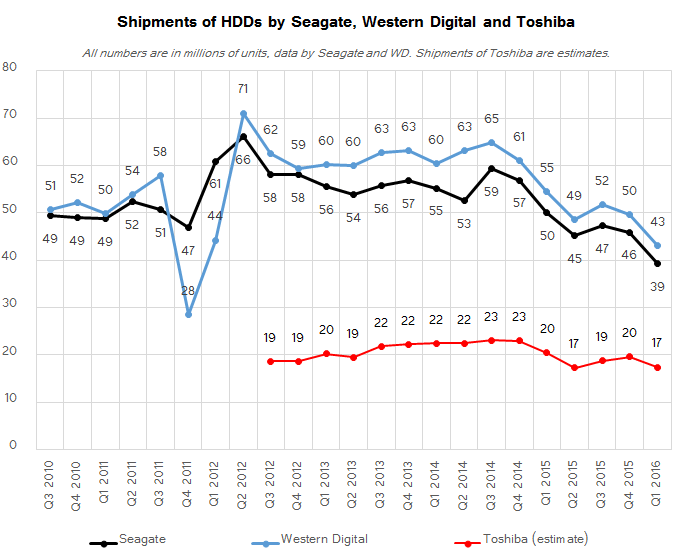 Sales of PCs in general (and hard drives in particular) are seasonally not strong in the first quarter of the year, which is why it is not surprising that they declined to around 100 million units from 115 million units in Q4 2015. What is alarming is that despite this seasonal change, Q1 2015 shipments of HDDs were higher than sales of hard drives in each of the remaining quarters last year. If this year follows the same negative pattern, then HDD shipments will be below 100 million units in the second quarter and will remain below that level in the second half of the year. Western Digital estimates that total available market (TAM) of HDDs will decline to 95 million units in the second quarter, which means a decline of around 15% from the same period last year. A moderately good news is that Western Digital seems to be optimistic about the second half and believes that HDD TAM will remain above 400 million units mark in 2016 (compared to 456 million units in 2015), which means that shipments of hard drives will grow in calendar Q3 and calendar Q4. IDC has asserted that inventory reductions, cautious buying and other additional elements of the equation that directly affected makers of components in the recent quarters are wrapping up, Western Digital's optimism could well be justified.