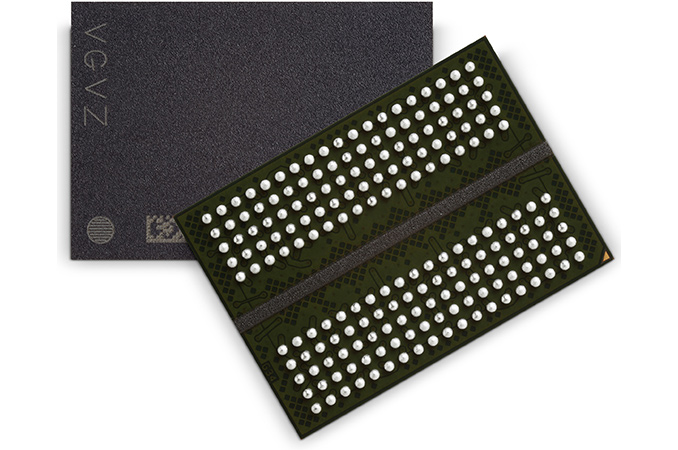 This past week Micron has quietly added its GDDR5X memory chips to its product catalogue and revealed that the DRAM devices are currently sampling to partners. The company also disclosed specifications of the chips they currently ship to allies and which potentially will be mass-produced later this summer. As it appears, the first samples, though running at much higher data rates than GDDR5, will not be reaching the maximum data rates initially laid out in the GDDR5X specification.
The first GDDR5X memory chips from Micron are marked as MT58K256M32JA, feature 8 Gb (1GB) capacity, and are rated to run at 10 Gb/s, 11 Gb/s and 12 Gb/s in quad data rate (QDR) mode with 16n prefetch. The chips use 1.35 V supply and I/O voltage as well as 1.8 V pump voltage (Vpp). Micron's GDDR5X memory devices sport 32-bit interfaces and come in 190-ball BGA packages with 14×10 mm dimensions. As reported, the GDDR5X DRAMs are manufactured using 20 nm process technology, which Micron has been using for over a year now.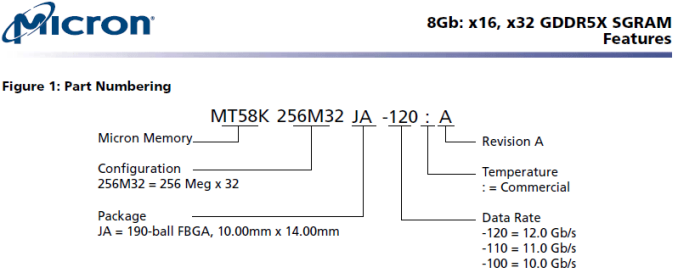 The GDDR5X memory standard, as you might remember from our previous reports, is largely based on the GDDR5 specification, but has three crucial improvements: significantly higher data-rates (up to 14 Gb/s per pin with potential up to 16 Gb/s per pin), higher and more flexible chip capacities (4 Gb, 6 Gb, 8 Gb, 12 Gb and 16 Gb capacities are supported) and better energy efficiency thanks to lower supply and I/O voltage.
The first samples of GDDR5X memory chips fully leverage key architectural enhancements of the specification, including quad data rate (QDR) data signaling technology that doubles the amount of data transferred per cycle over the memory bus (compared to GDDR5) and allows it to use a wider 16n prefetch architecture, which enables up to 512 bit (64 Bytes) per array read or write access. However, the maximum data rates of Micron's sample chips are below tose initially advertised, possibly because of a conservative approach taken by Micron and its partners.
The addition of GDDR5X samples to Micron's parts catalog has three important implications. First, the initial development of Micron's GDDR5X memory chips is officially complete and the company has achieved its key goals (to increase performance of GDDR5X without increasing its power consumption). Second, one or more customers of Micron are already testing processors with GDDR5X memory controllers, which means that certain future GPUs from companies like AMD or NVIDIA do support GDDR5X and already exist in silicon. Third, the initial GDDR5X lineup from Micron will consist of moderately clocked ICs.
GPU Memory Math
AMD Radeon R9 Fury X
AMD Radeon
R9 290X
NVIDIA GeForce
GTX 980 Ti
NVIDIA GeForce
GTX 960
GDDR5X 256-bit
interface
GDDR5X 256-bit
interface
GDDR5X 128-bit
interface
GDDR5X 128-bit
interface
Total Capacity
4 GB
4 GB
6 GB
2 GB
8 GB
4 GB
B/W Per Pin
1 GB/s
5 Gb/s
7 Gb/s
7 Gb/s
12 Gb/s
10 Gb/s
12 Gb/s
10 Gb/s
Chip capacity
8 Gb
2 Gb
4 Gb
4 Gb
8 Gb
No. Chips/Stacks
4
16
12
4
8
4
B/W Per Chip/Stack
128 GB/s
20
GB/s
28
GB/s
28
GB/s
48
GB/s
40
GB/s
48
GB/s
40
GB/s
Bus Width
4096-bit
512-bit
384-bit
128-bit
256-bit
128-bit
Total B/W
512 GB/s
320
GB/s
336
GB/s
112
GB/s
384
GB/s
320
GB/s
192
GB/s
160
GB/s
Estimated DRAM
Power Consumption
14.6 W
30 W
31.5 W
10 W
20 W
10 W
Thanks to GDDR5X memory chips with 10 Gb/s – 12 Gb/s data rates, developers of graphics cards will be able to increase peak bandwidth of 256-bit memory sub-systems to 320 GB/s – 384 GB/s. Which is an impressive achievement, because this amount of bandwidth is comparable to that of AMD's Radeon R9 290/390 or NVIDIA's GeForce GTX 980 Ti/Titan X graphics adapters. The latter use 512-bit and 384-bit memory interfaces, respectively, which are quite expensive and intricate to implement.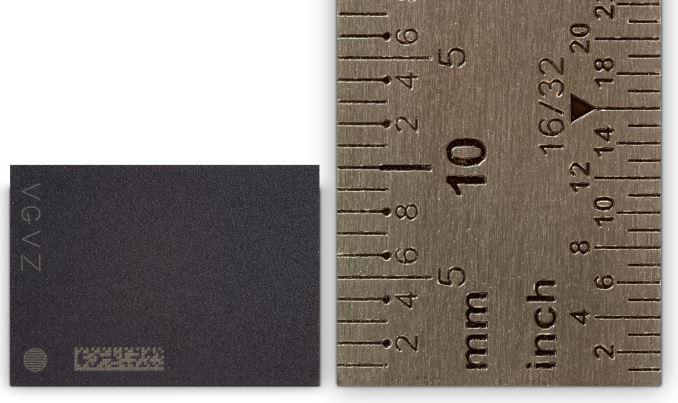 Micron originally promised to start sampling of its GDDR5X with customers in Q1 and the company has formally delivered on its promise. What now remains to be seen is when designers of GPUs plan to roll-out their GDDR5X supporting processors. Micron claims that it is set to start mass production of the new memory this summer, which hopefully means we're going to be seeing graphics cards featuring GDDR5X before the end of the year.
More information about GDDR5X memory:
Source: Micron