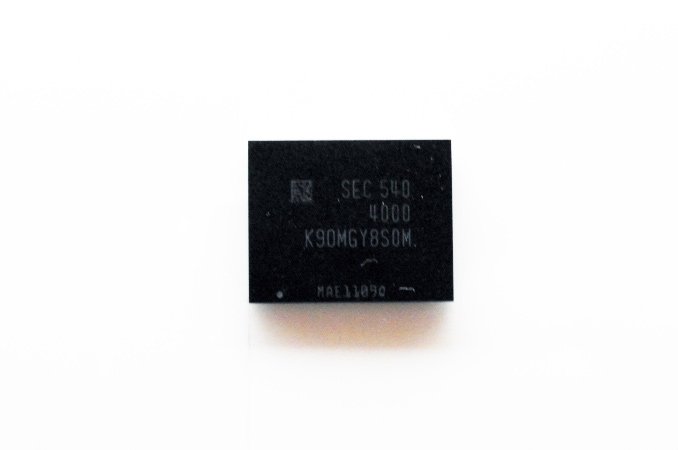 In the recent years SSDs in M.2 form-factor have greatly reduced the amount of space required for storage sub-systems inside modern PCs. However, as computers get even smaller, there is pressure for SSDs to further shrink as well. Solid-state drives in BGA packaging are considerably smaller than SSDs in M.2 form-factor and for a couple of years platform developers like Intel have been promoting such drives among PC makers. Intel said in 2014 that an M.2-2260 SSD could take 15% of space inside a 2-in-1 hybrid PC, whereas usage of a BGA SSD could save a great amount of space and could allow to increase battery size by around 10%. Moreover, in many cases usage of BGA storage can shrink Z-height of devices as well as improve thermal performance compared to M.2 modules, according to Intel.
As a result, the market for BGA form factor SSDs has been growing in size and importance at a quick pace. To that end, at the 2016 Samsung SSD Forum Japan, Samsung demonstrated its first SSD in a BGA (ball-grid array) packaging. Despite of tiny form-factor, Samsung's PM971 SSD offers rather high performance thanks to PCIe interface and a special controller. Meanwhile the little drive will be targetted for use inside PCs, tablets, 2-in-1s and other types of small computers or embedded applications.
First BGA SSD From Samsung
Samsung's PM971 SSD is based on Samsung's new Photon controller as well as MLC V-NAND flash memory. It is impossible to say at this time whether the Photon controller of the PM971 SSD has anything to do with the controller used inside the 750 EVO drives (the controller is smaller than usual as it has only two processing cores), but it looks very likely.

Samsung plans to offer three versions of the SSD, featuring 128 GB, 256 GB, and 512 GB capacities. The PM971 SSD supports sequential read speed of up to 1500 MB/s as well as sequential write speed of up to 600 MB/s, suggesting that it relies on PCIe 3.0 interface. The PM971 SSD can perform 190K random read IOPS as well as up to 150K random write IOPS, according to information disclosed by Samsung.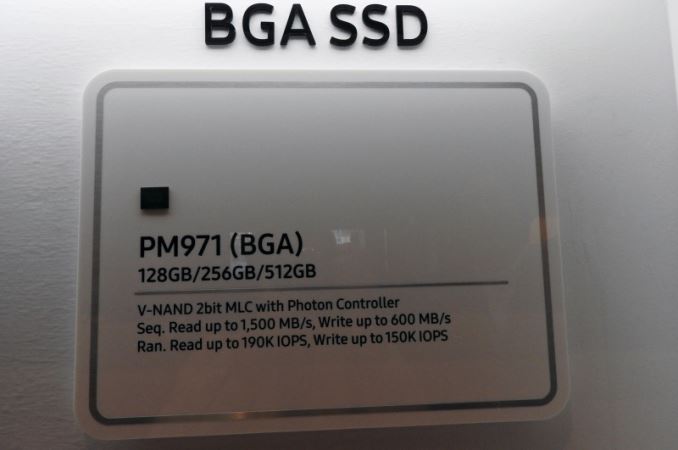 Samsung PM971 SSD. Image by PC Watch.
At the event, Samsung did not reveal anything about internal architecture of its BGA SSD, which is rather interesting because the NAND controller has to extract maximum performance out of a limited number of NAND devices over a limited number of channels (provided, of course, that internal architecture relies on industry standards). Moreover, it is unknown whether the drive is compatible with the proposed M.2 specification for BGA SSDs. The only thing that is known about the SSD right now is that it is smaller than an SD card, according to PC Watch web-site.
Samsung is aiming for tablets and 2-in-1 hybrid PCs with its BGA SSDs, The company expects device manufacturers to adopt the product in the second half of 2016 or in the first half of 2017.
Standards for BGA SSDs Proposed
While we're on the subject of BGA SSDs, this is a good time to touch upon the recent developments in the standardization of SSDs in this format. Even with the recent growth of the market, SSDs in BGA packaging are not something completely new. Intel, Toshiba, SanDisk, Microsemi, Silicon Motion and some others have all offered SSDs in BGA form-factors for years to various makers of embedded applications, whom in turn needed to save space or run their storage sub-systems in harsh environments. Early last year Toshiba rolled-out its first BGA SSDs with PCIe interface, and in September several members of PCI SIG (the organization, which develops PCIe interface, its derivatives and standards for PCIe-based devices) proposed a set of mechanical standards for BGA SSDs, which could open the doors for many manufacturers to enter the emerging market.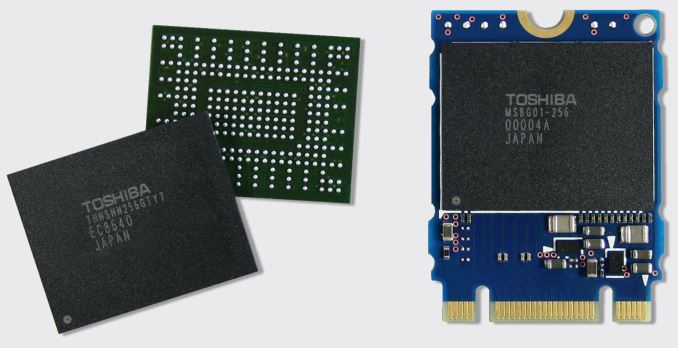 BGA SSDs with PCIe 3.0 or SATA interfaces will be a part of the PCI SIG's M.2 specifications. At present select members of the organization (HP, Intel, Lenovo, Micron, SanDisk, Seagate and Toshiba) propose four types of soldered-down solid-state storage solutions: Type 1620, Type 2024, Type 2228 and Type 2828. M.2 types traditionally define width and length of the package in millimeters, so, the smallest BGA SSD will have measurements of 16 × 20 mm, whereas the largest BGA SSD will feature 28 × 28 mm packaging. SSDs in a BGA package may have Z-height up to 2 mm (measured with solder balls collapsed), but may be slimmer.
BGA SSDs that comply with the proposed M.2 types use the same signals as the M.2 socket 3 (so, they are compliant with both PCIe 3.0 and SATA 3.2 protocols and can utilize up to four PCIe lanes), but use 1.2V, 1.8V and 3.3V power rails. All the BGA SSDs contain the common core ball map of Type 1620 (which look pretty much the same as the core ball map of Toshiba's BG-series SSDs) for data and power, but the larger drives also feature additional mechanical retention balls. Some BGA SSDs can be placed on M.2 modules in a bid to enable design flexibility for device makers (and upgradeability option for end-users), but only on the condition that the modules have voltage conversion circuitry to provide 1.8V or 1.2V as required.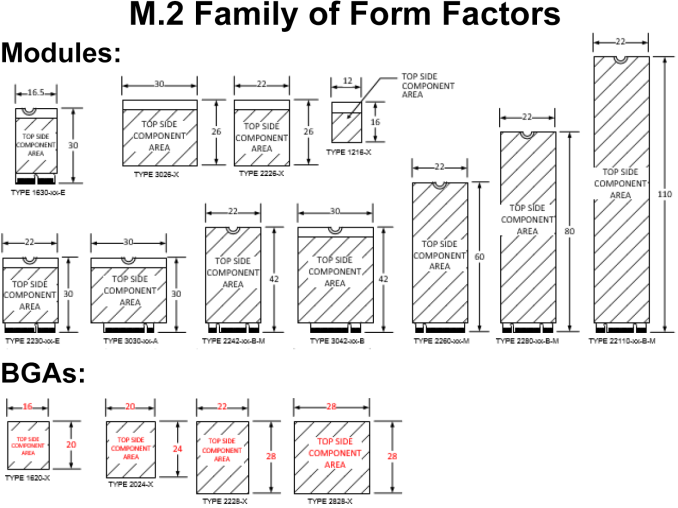 A BGA SSD not only integrates NAND flash memory, but also a NAND controller, DRAM and all the things that could be needed for a fully-functional solid-state storage solution. From the software perspective, M.2 spec BGA SSDs are just solid-state drives with PCIe or SATA interfaces. And unlike MCPs (multi-chip packages) consisting of DRAM and NAND that companies like Micron and Samsung offer to makers of mobile devices, BGA SSDs are complete storage systems that can be attached directly to appropriate host interfaces.
The proposed BGA M.2 form-factors intend to unify packaging of single-chip SSDs and make such SSDs industry-standard devices available from various makers. It is unknown at this time whether Samsung's PM971 will be compliant with the proposed specs, but it's worth noting that the company is a member of PCI SIG and typically makes products in standard packages and form factors.
Source: PC Watch