It was the summer of 2001, Computex was heating up (both literally and figuratively) and
NVIDIA took the world by storm with the launch of their nForce chipset
. Our contacts at VIA were sweating nervously as they faced new pressures from not only SiS but now the biggest name in graphics. Having seen what NVIDIA did to 3dfx, VIA's concerns were understandable; especially considering the incredible amount of hype that was drummed up around the launch of the original nForce.
As they always say, hindsight is 20-20 and you all now know that the launch of NVIDIA's first chipset wasn't flawless. It was no less than 3 months after the launch of the chipset at Computex that we saw our first reference board from NVIDIA; it was a matter of several weeks after that before third party boards started appearing on the market, and at extremely high prices. Because of this large gap between the announcement and the shipping date for motherboards, it has only been recently that NVIDIA has garnered any significant OEM design wins based on their nForce chipset.
Because of everything that happened with the original nForce launch, we were quite skeptical when we heard that NVIDIA would be showing off nForce2 at Computex this year. However when we arrived in the humid city of Taipei we caught wind of NVIDIA's slight change in nForce2 launch strategy; motherboard manufacturers were able to show off all of their nForce2 solutions (and even their CK8 Hammer chipset) but NVIDIA didn't publicly disclose any details about the chipset. Instead, we were given a look at nForce2 behind closed doors and told not to speak about the specifics until now.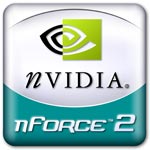 Today we're finally able to tell you all about NVIDIA's second try at an Athlon chipset – nForce2. But before you get too excited, it will still be a matter of weeks before we can get our hands on a reference board to actually benchmark. And in terms of availability, you won't be able to purchase nForce2 motherboards until September in all reality. So although NVIDIA has learned from some of their mistakes, their release schedule is far from perfect. We've complained about this in other chipset reviews as well, but it doesn't make sense to officially launch a chipset unless motherboards are available or will be made available within a matter of a couple of weeks. That's how Intel does it and it doesn't hurt to take a few pages out of the big blue book every now and then.
Let's start.