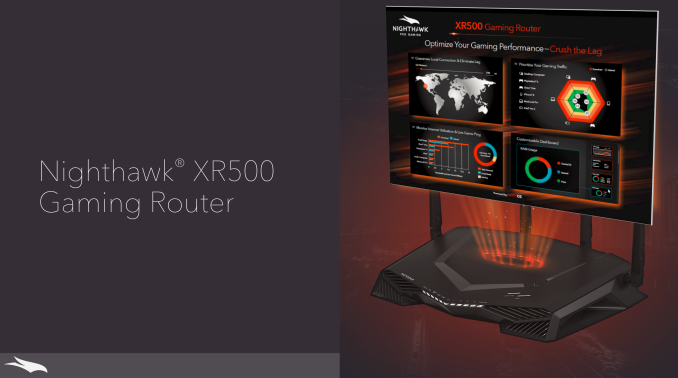 Netgear is introducing a number of new products at CES 2018 in hitherto untapped market segments within the networking domain. Netgear is introducing the Nighthawk Pro family at CES 2018 to play in that segment.
The Nighthawk Pro has two members - the XR500 Gaming Wi-Fi Router, and the GS810EMX 10G/Multi-Gig LAN Switch. The XR500 takes Netgear's proven Nighthawk X4S AC2600 platform with a dual-core Qualcomm networking SoC with an altered industrial design. The firmware (DumaOS) has been developed in collaboration with Netduma. DumaOS has already been deployed in Netduma's own R1 router. Based on the Netgear partnership, it appears that Netduma is evolving into a router firmware developer. Similar to the Killer Networks-developed firmware for the Linksys WRT32X, DumaOS also claims to reduce lag and ping times with QoS features and prioritization of gaming traffic. Geo-filtering for various games is also available. The router is shipping today for $300. Netgear's marketing slides for the XR500 are available in the gallery below.
The more interesting member of the Nighthawk Pro family is the first NBASE-T smart switch to target the consumer market. We have already seen the Asus XG-U2008 10GBASE-T unmanaged switch (2x10G + 8x1G) in the market for $249. Today, Netgear is going one step further by introducing the GS810EMX NBASE-T switch (termed as 10G/Multi-Gig in the marketing material) with 2x NBASE-T ports and 8x 1G ports. The NBASE-T ports can operate automatically at 1, 2.5, 5, or 10Gbps. It is a smart switch with link aggregation, VLAN, QoS, and other gamer-focused features such as RGB lighting. It is based on a Marvell platform, and is passively cooled. The switch is available today for $300. Netgear's marketing slides for the GS810EMX are available in the gallery below.
On the mesh networking side, the Orbi Outdoor Satellite was also launched last week to enable Orbi users to expand their Wi-Fi network to outdoor locations. The unit is in a IP56 weather-resistant enclosure. It is available now for $330.
At CES 2018, Netgear is also launching the ARMOR cybersecurity service. It is powered by BitDefender. It provides subscription-based protection for all home network and mobile devices, with special emphasis on easily managing network security. In many ways, it builds upon Securifi's IoT Device Security Service by adding features such as dynamic URL blocking and endpoint protection. It comes with a 90-day free trial, and the subscription rate is $7/month or $70/year. Netgear's marketing slides for the ARMOR service are available in the gallery below.
In other Netgear news, we also have a couple of new SMB switches to complement the existing NBASE-T switches: the XS512EM 12-Port NBASE-T Smart Managed Plus Switch with 2 SFP+ Ports at $900 and the XS724EM 24-Port NBASE-T Smart Managed Plus Switch with 2 SFP+ Ports (rackmount) at $1700. A couple of Insight-enabled 28-port smart switches have also been launched.