People are often concerned with the performance of their SSD; is it running as fast as advertised. TRIM is an essential part of keeping your SSD performance up (see this article for details) and it has been very beneficial for Windows 7 users. However, for Mac users, TRIM is only available if you purchase an SSD straight from Apple when buying your Mac. The actual TRIM command is supported by OS X, so with minor kext modifications, it's possible to enable TRIM on non-Apple SSDs as well. Terminal is needed for this and although it's simply a matter of copying and pasting the commands, not all users are comfortable with using Terminal at all.
To make enabling TRIM more user friendly, Oskar Groth (also known as Cindori) developed an app called TRIM Enabler. The app has now reached version 2.0 and is finally fully compatible with OS X Lion. The 1.x version worked in Lion but it included an old kext from Snow Leopard that caused worse performance for some users. TRIM Enabler 2.0 patches the kext file for you and also repairs permissions, something you would have to do manually if using the Terminal method. TRIM Enabler also supports S.M.A.R.T. monitoring on some SSDs, allowing the user to see for example the lifetime reads and the amount of retired blocks.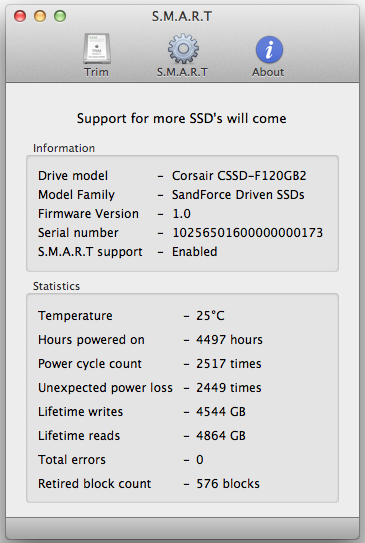 As always, use such utilities at your own risk. Especially SandForce based SSDs have had problems with TRIM in OS X and it's generally not recommended to enable TRIM with them--plus the built-in garbage collection in SF SSDs is fairly effective. I would recommend force-enabling TRIM in OS X only if you do something disk intensive where performance matters, and only if you have an SSD where idle garbage collection is proving insufficient; otherwise you most likely won't notice the change in performance and you run the risk of unintended consequences. On the other hand, TRIM Enabler makes disabling TRIM as easy as enabling it, so giving TRIM a try shouldn't hurt anything. Moreover, you can always enable TRIM later on if you experience poor performance, and even disable it right after it has TRIM'ed the empty blocks in case TRIM causes problems with your SSD.
TRIM Enabler 2.0 can be downloaded here!