We've talked in the past about how OEMs take the Android Open Source Project (AOSP) and use it to build software tailored for devices in the context of x86 optimizations, and today two partners are sharing some more details about their specific timelines for Android 4.0 releases. Those two are Sony Ericsson and Motorola, who have outlined in their respective blog posts the path from code to getting a fully baked ROM pushed out over the air to handsets.
The two posts describe the process as we've understood it for a while now, and with Android 4.0 things don't seem any different. Google works with a specific OEM and SoC vendor around some chosen reference hardware (in this case Galaxy Nexus), and simultaneously (or close to it) releases the source code and device when things are finished. At that point, SoC vendors begin working on their own ports and build in necessary drivers or optimizations of their own.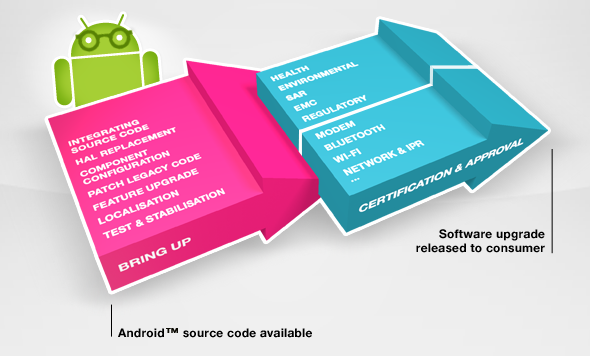 That software package then is turned over to OEMs who add their own specific software (in the case of Motorola, for example - MotoCast, Smart Actions, and likely Blur) and make necessary tweaks to accommodate individual carrier requirements and device nuances. After the OEM finishes up its own testing, the update then passes over to carriers for their own testing, and here things have been a bit fuzzy. Motorola gives out an interesting tidbit today in their post, noting that while each carrier is different, the testing period is on the order of months:
Each carrier has different requirements for phases 2 and 3. There may be a two-month preparation cycle to enter a carrier lab cycle of one to three months.
Sony Ericsson also notes that this certification and testing phase is the longest in the process:
The Certification and approval phase that is the most time consuming process when it comes to getting a new software release out on our phones. This is one of the major tasks that are legally required from us as phone manufacturer, but is a task that the custom ROM community doesn't have to take into consideration.
Motorola has noted as well that the Droid RAZR, Bionic, and Xoom are all guaranteed to get an ICS port before the second half of 2012, and the list of Motorola devices being upgraded to 4.0 will likely grow. Meanwhile Sony Ericsson noted that the entire 2011 Xperia family will receive an update to 4.0 and that dates will come later.
Source: Motorola, Sony Ericsson